Reflections from the Movie: Paul, Apostle of Christ

Tony Cooke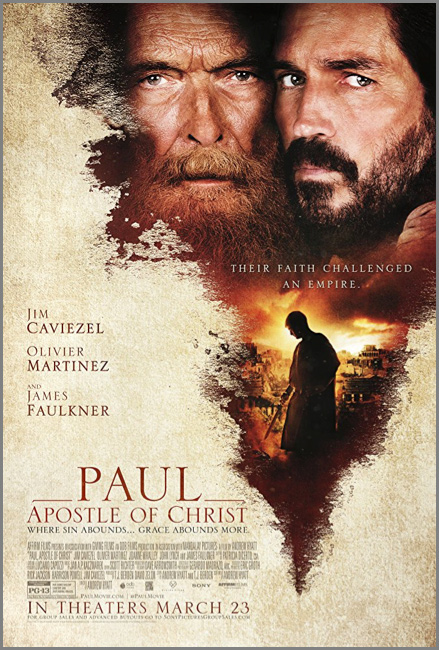 Lisa and I recently celebrated my 59th birthday in Warner Robins, Georgia. We were with good friends, Pastor Dave and Kendall Watrous, and it was a great day. I taught a Timothy seminar in the morning (I never get tired of these), had a celebratory cupcake after lunch, and then we all went to see the newly released movie, Paul, Apostle of Christ. In every biblical movie I've seen, the directors have taken certain artistic creativity and liberties, and that is to be expected. There are always some things I would have presented a bit differently, or statements that I would have re-worded, but that is not what I want to focus on in this review.
The great value of this movie is that it graphically presents the intense persecution faced by early believers in the Roman Empire. To be honest, it's not the most comfortable or cheery movie that you will see. One reviewer refers to it as "gritty," and that is an honest assessment. When we think of communing with Christ, it is easy for 21st century believers to think of a nice sanctuary with trendy decorating, awesome lights, great music, and an upbeat message designed to boost our self-esteem and enable us to be more successful and victorious in life. We are not used to thinking of incomprehensible suffering in a dungeon in Rome known as the Mamertine prison.
That's where Paul spent his final days before being executed under a crazed emperor named Nero. This was the focus of the movie, and it was from this pit that Paul writes the following (2 Tim 4:6-8 NLT) to his protégé:
As for me, my life has already been poured out as an offering to God. The time of my death is near. I have fought the good fight, I have finished the race, and I have remained faithful. And now the prize awaits me—the crown of righteousness, which the Lord, the righteous Judge, will give me on the day of his return. And the prize is not just for me but for all who eagerly look forward to his appearing.
As a matter of fact, the best history indicates that Jesus' entire apostolic band, with the exception of John, died as martyrs in the first century. Rather than denying their faith, and rather than renouncing the reality of Jesus' resurrection, they gave their lives. How do we process this when we (at least in America) have lived our entire lives in a land of religious freedom? We have heard repeatedly that God wants to bless and prosper us, and there are many Scriptures supporting that type of thinking. However, that's not the entire picture.
The same Jesus who came to give us life and have it more abundantly (John 10:10) also told his disciples that they were going to face suffering and persecution in this life. Consider some of the "other promises" Jesus made to his original band of disciples:
"Beware of men, for they will deliver you up to councils and scourge you in their synagogues" (Matt 10:17).
"Then they will deliver you up to tribulation and kill you, and you will be hated by all nations for my name's sake" (Matt 24:9).
"They will lay their hands on you and persecute you, delivering you up to the synagogues and prisons. You will be brought before kings and rulers for my name's sake" (Luke 21:12).
"If they persecuted me, they will also persecute you. If they kept my word, they will keep yours also" (John 15:20).
This was the environment in which Christianity was born, and under which it flourished. There are fascinating "prophecies" of suffering and persecution relative to the calling of the early church's two greatest leaders—Peter and Paul. We see the following communication when Jesus spoke to Peter following the resurrection (John 21:18-19):
Most assuredly, I say to you, when you were younger, you girded yourself and walked where you wished; but when you are old, you will stretch out your hands, and another will gird you and carry you where you do not wish." This He spoke, signifying by what death he would glorify God. And when He had spoken this, He said to him, "Follow Me."
History tells us that Peter was eventually crucified in Rome, fulfilling Jesus' words.
Paul's journey was not to be an easy one either. When Jesus was commissioning Ananias to minister to Paul (Saul of Tarsus) after his Damascus Road experience, he tells Ananias that Paul "is a chosen vessel of mine to bear my name before Gentiles, kings, and the children of Israel. For I will show him how many things he must suffer for my name's sake" (Acts 9:15-16).
Paul's radical determination to obey God no matter the cost is seen in his statement to the Ephesians elders: "I go bound in the spirit to Jerusalem, not knowing the things that will happen to me there, except that the Holy Spirit testifies in every city, saying that chains and tribulations await me. But none of these things move me; nor do I count my life dear to myself, so that I may finish my race with joy, and the ministry which I received from the Lord Jesus, to testify to the gospel of the grace of God" (Acts 20:22-24). For Paul, faith and obedience did not mean comfort and earthly prosperity, but resulted in the advancement of the Gospel.
In addition to Jesus' statements predicting some of the sufferings Peter and Paul would face in their future ministries, there are other statements decades later that Jesus makes to the seven churches regarding persecutions they were facing. He tells the church at Smyrna, "Do not fear any of those things which you are about to suffer. Indeed, the devil is about to throw some of you into prison, that you may be tested, and you will have tribulation ten days. Be faithful until death, and I will give you the crown of life" (Rev 2:10).
Likewise, Jesus commends the faithfulness of believers in Pergamum with these words, "I know your works, and where you dwell, where Satan's throne is. And you hold fast to my name, and did not deny my faith even in the days in which Antipas was my faithful martyr, who was killed among you, where Satan dwells" (Rev 2:13). Nowhere, in any of these statements does Jesus tell believers, "If you just had more faith, you could avoid suffering persecution and live a victorious life." For Paul, Peter, and many of the earlier believers, faith involved persevering through persecution. It should also be remembered that there were occasions when believers were delivered from suffering and persecution (e.g., Peter and Paul were both miraculously set free from imprisonments in Acts 12 and Acts 16 respectively).
Based on their training and experience, these two apostles knew how to admonish others about persecution. Peter's first epistle has much to say to Christians dealing with persecution, including the statement, "Let those who suffer according to the will of God commit their souls to Him in doing good, as to a faithful Creator" (1 Pet 4:19). Likewise, Paul tells Timothy, "all who desire to live godly in Christ Jesus will suffer persecution" (2 Tim 3:12).
Hebrews 11:33-34 (NLT) honors the faith of those "shut the mouths of lions, quenched the flames of fire, and escaped death by the edge of the sword." Also mentioned are those who suffered for their faith. The author of Hebrews proceeds to say (11:35-38 NLT):
But others were tortured, refusing to turn from God in order to be set free. They placed their hope in a better life after the resurrection. Some were jeered at, and their backs were cut open with whips. Others were chained in prisons. Some died by stoning, some were sawed in half, and others were killed with the sword. Some went about wearing skins of sheep and goats, destitute and oppressed and mistreated. They were too good for this world, wandering over deserts and mountains, hiding in caves and holes in the ground.
The Word of God honors and esteems those who suffered for their faith. Revelation 12:10 states, "And they overcame him by the blood of the Lamb and by the word of their testimony, and they did not love their lives to the death." I am thankful that I have grown up and live in a country where freedom of religion is a foundational principle, but even today, countless believers around the world face challenges and persecutions we in the West have never experienced.
My purpose in writing this is not to be morbid or depressing. My heart is filled with gratitude for the sacrifices so many have made over the centuries. Their faith and courage should inspire us greatly. Also, we should pray for our brothers and sisters in Christ who are living in troubled, oppressed areas of the world. Hebrews 13:3 (NLT) admonishes us, "Remember also those being mistreated, as if you felt their pain in your own bodies."
The late Paul Harvey would occasionally describe some situation in another part of the world that was totally bizarre to the Western mind. Often times, these stories involved behaviors and practices that would be very foreign to a person who had grown up in America. He would often conclude these descriptions with the simple statement, "It is not one world." Even though we all live on the same planet, different people in different locations and eras have had very different types of life experiences. The Gospel is true for everyone, but based on peoples' backgrounds, cultures, and experiences, different individuals may have radically different perspectives and priorities. Watching a movie such as Paul, Apostle of Christ, or even reading some of the Scriptures mentioned in this article, can help us appreciate some of the different worlds in which different people live.