Reflections on William Branham
Rev. Tony Cooke
Many modern Pentecostal and Charismatic believers have heard a good bit about William Branham. He was considered by many to be the leading prophetic voice during the healing revival of the 40's and 50's. 
A few years ago, I was able to visit his grave in Jeffersonville, Indiana (right across the Ohio River from Louisville) and found it to be a fascinating piece of history. You will notice in the pictures below that there are references to Branham being likened to Elijah and John the Baptist and referred to as the Seventh Angel of the book of Revelation.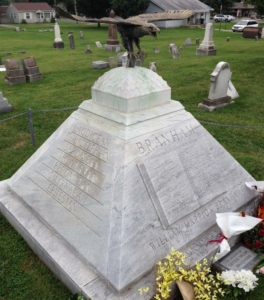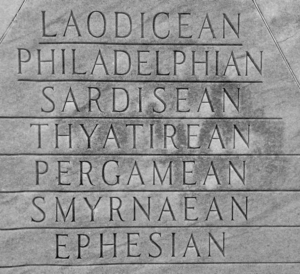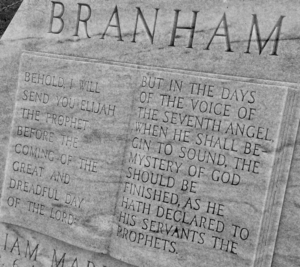 Some may recall what Freda Lindsay wrote in her account, My Secret Diary. Her husband, Gordon Lindsay, was very close to Branham. Freda wrote:
One day Kenneth Hagin came into our office. He handed Gordon a piece of paper on which was written a prophecy he said the Lord had given him. The prophecy stated that the leader of the deliverance movement was soon to be taken in death because he was getting into error and the Lord was having to remove him from the scene for that reason. Gordon took the prophecy and placed it in his desk.
After Brother Hagin left, I asked, "What do you think about this Is this Branham?"
Gordon answered gravely, "Yes, it is Branham. He is getting into error. He thinks he is Elijah. He thinks he is the messenger of the covenant. The sad thing is that unscrupulous men around him are putting words into his mouth, and due to his limited background, he is taking them up."
Freda then describes the accident from which Branham died, and concludes her remarks with the words, "A tremendous ministry had veered from the course."
You can read Brother Hagin's expanded account of this same story in his book, He Gave Gifts Unto Men (it is toward the end of the very insightful chapter entitled "Foretelling vs. Forthtelling").  While we can and should be thankful for the good that people do, we should also take warnings from pitfalls into which others have fallen.
William Harrell also has a section about Branham in his book, All Things Are Possible, and Gordon Lindsay documented his experiences until 1959 with Branham in his book, Branham: A Man Sent from God.
May God help each of us stay in the path of truth, listen to godly counsel and correction when it is needed, and not be influenced by voices that would lead us into error.