Reflections From Visiting Spurgeon's Grave
Rev. Tony Cooke
On a recent trip to Europe (August 2022), Lisa and I were able to visit Charles Spurgeon's grave at the West Norwood Cemetery in London. Before traveling to England, we had been in Nice, France and also visited Menton, France. Spurgeon made numerous visits to that beautiful coastal town for his health's sake and passed away there in 1892.
After the pictures of the gravesite, I share several reflections from our visit.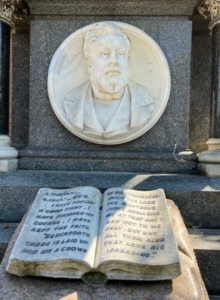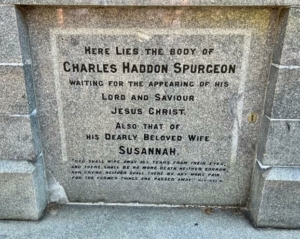 Key Facts About Spurgeon's Life
Spurgeon (1834-1892) did not have an extensive education and had no college degree (like his friend, D. L. Moody). At the time of his death, his personal library had more than 12,000 books. Nearly 6,000 of these volumes are now housed at "The Spurgeon Center" in Kansas City, MO.
Over the course of his pastorate, more than 14,000 people were baptized and joined the Metropolitan Tabernacle. Dr. A. T. Pierson suggests that approximately 10 to 12,000 of those who were part of the church over the years had been converted under Spurgeon's preaching. The year before he died, the church had a membership of more than 5,300. The facility had a seating capacity of 5,500 with standing room for an additional 500.
One author wrote that Spurgeon "is history's most widely read preacher (apart from the biblical ones). Today, there is available more material written by Spurgeon than by any other Christian author, living or dead." Also, that his 63 volumes of sermons "stands as the largest set of books by a single author in the history of Christianity."
Though Spurgeon did not believe that the extraordinary gifts of the Spirit were for the present age, he nonetheless operated in what we would call the word of knowledge—periodically calling out things about different individuals by the Holy Spirit as he preached. Another reputable minister also spoke of hundreds who were healed as a result of Spurgeon's prayers, even though he did not discuss such things personally.
After Spurgeon's death, nearly 60,000 people came to pay respect over a three-day period as his body lay in state at the Metropolitan Tabernacle. Approximately 100,000 people lined the streets to pay their respects as a two-mile processional took Spurgeon from the church to the cemetery for burial.
Click here to read more details about Spurgeon's life and ministry.
https://archive.spurgeon.org/spurgn2.php
(1) https://www.christianitytoday.com/history/issues/issue-29/charles-h-spurgeon-did-you-know.html
(2) These are documented in my book, Miracles and the Supernatural Throughout Church History.
Why I Love Visiting Historical Sites
Whether it is the biblical sites in Israel, Greece, Turkey, etc., or Luther sites in Germany, I've really come to love visiting historical sites, both biblical and those relating to church history. Of first century Christians, I've visited the locations where Paul, Peter, John, Andrew, and Mark are said to be buried. Historically, I've visited the sites where Luther, John Bunyan, Wesley, Whitefield, D. L. Moody, Smith Wigglesworth, C. S. Lewis, Billy Graham, and now Spurgeon were laid to rest. I don't travel to these places to get some kind of spiritual impartation but to honor their memories and further my understanding of their ministries, and perhaps to learn something about the cultures/locations in which they ministered. 
When I visit ancient ruins of biblical sites, where Jan Hus was martyred, John Wesley or Billy Sunday's house, where the Booth's began the Salvation Army, or the monasteries where Luther lived, I always find myself inspired to study their lives, the challenges they faced in their respective generations, and the great contributions they made to the advancement of the gospel. Whether we ever physically visit the kinds of places I've described, I believe it is vital that we learn from our spiritual predecessors—Christianity wasn't invented in our generation; neither was ministry. I want to partake of the rich lessons we can gather from the giants! 
Duration or Donation?
In studying Spurgeon's passing, I found that John Calvin, Jonathan Edwards, George Whitefield, and William Tyndale also died at that same relatively young age of 57. Of course, life expectancy in previous centuries was not what it is today, but I realized that when a minister stands before the Lord, his or her life will not be judged so much by its duration as by its donation. And if you are at all inclined to presumptuously judge someone who did not live long on this earth, remember that Jesus died at thirty-three and yet he made the ultimate contribution through his life, death, and resurrection.
 
Still, I think we all want to live a long and fruitful life, and I had the following thoughts as I considered the various lengths of ministers' lives as listed below:
 
1. I am thankful for advances in medical care and treatment. Some of the ministers from previous centuries could have no doubt lived longer if they had had access to the kind of medical care that is available today.
 
2. I was reminded that we can have something to do with how long we live. The book of Proverbs makes it clear that there are things we can do to lengthen or shorten our days (Proverbs 3:2, 16; 4:10; 9:11; 10:27). I was reminded that Hezekiah received an extension of fifteen additional years because he repented (2 Kings 20:1-6) and that Epaphroditus almost died because he neglected the proper care of his body (Philippians 2:25-30). And of course, Paul spoke of some who had died prematurely because they had not rightly discerned the Lord's body (1 Corinthians 11:30).
 
3. When I think of how much we have benefitted from those who have gone before us, it reminds me how much we should faithfully and diligently use our time here to be preparing future generations of leaders who will carry on the ministry after we have finished our respective courses. Lord, "teach us to consider our mortality, so that we might live wisely" (Psalm 90:12 NET).
 
An asterisk (*) indicates that the person was martyred.
 
20's
Keith Green, 28
Jim Elliot, 29*
David Brainerd, 29
Robert Murray M'Cheyne, 29
 
30's
Jack Coe, 38
Dietrich Bonhoeffer, 39*
Martin Luther King Jr, 39*
 
40's
Oswald Chambers, 43
Jan Hus, 46*
Ulrich Zwingli, 47*
 
50's
Aimee Semple McPherson, 50
Matthew Henry, 51
William Seymour, 52
William Branham, 56
John Calvin, 57
Jonathan Edwards, 57
George Whitefield, 57
William Tyndale, 57*
Charles Spurgeon, 57
A. J. Gordon, 58
John Knox, 59
Nicolaus Zinzendorf, 59
John Alexander Dowie, 59
A. A. Allen, 59
 
60's
Catherine Booth, 61
Martin Luther, 62
D. L. Moody, 62
John Wimber, 63
John Wycliffe, 64
John G. Lake, 65
Gordon Lindsay, 66
Phoebe Palmer, 66
A. W. Tozer, 66
Kathryn Kuhlman, 68
 
70's
William Barclay, 70
R. A. Torrey, 72
Billy Sunday, 72
Hudson Taylor, 73
Jerry Falwell, 73
A. B. Simpson, 75
Donald Gee, 75
John Osteen, 77
F. F. Bruce, 79
David Wilkerson, 79
 
80's
Charles Wesley, 80
Maria Woodworth Etter, 80
F. F. Bosworth, 81
Charles Finney, 82
John Newton, 82
William Booth, 83
Lester Sumrall, 83
David Yonggi Cho, 85
Kenneth E. Hagin, 86
C. Peter Wagner, 86
John Wesley, 87
Smith Wigglesworth, 87
Leonard Ravenhill, 87
Andrew Murray, 88
T. L. Osborn, 89
Frederick K. C. Price, 89
 
90's
Oswald Sanders, 90
Corrie Ten Boom, 91
Oral Roberts, 91
George Muller, 92
Freda Lindsay, 95
Billy Graham, 99