Are You "Looking After" or "Looking Up?" Rev. Tony Cooke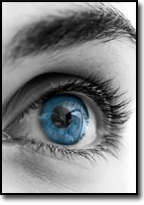 Perhaps you've heard about the little boy who was given an orange by a man. The boy's mother asked, "What do you say to the nice man?" The little boy thought for a second, handed the orange back, and said, "Peel it." There's a little bit of gratitude lacking there, wouldn't you say?
As we approach Thanksgiving, this is a great time to stop and remember how much we have to be thankful for. Lisa and I are so grateful for the privilege of being able to share our heart with you each month, for those who have supported financially and through prayer, and we thank God for the tremendous opportunities we've had this year to strengthen churches and leaders.
With a "Global Economic Crisis" being declared this past month (with all of its accompanying angst), I was reminded of the strength of a German minister named Martin Rinkart who ministered in the 1600s during the Thirty Years' War. This was a most devastating time in German history, as the nation's population was reduced from 16 to 6 million due to war, plagues, and famines. It is said that in one year alone Rinkart buried 4,000 people. Even though he carried out his ministry in such a difficult time, Rinkart had an unswerving confidence in God, and he ended up writing one of the most loved hymns of the German church, "Now Thank We All Our God." The first verse reads:
Now thank we all our God, with heart and hands and voices,
who wondrous things hath done, in whom his world rejoices;
who from our mother's arms hath blessed us on our way
with countless gifts of love, and still is ours today.
It's remarkable to think that someone who witnessed that much pain and suffering could have such praise and thanksgiving welling up out of his heart, but he did. This is no "doom and gloom" newsletter, and I thank God that He's made a covenant with us, and that He's given us inside information! This is the victory that has overcome the world — our faith (1 John 5:4).
Focus is Essential
One of the recurring themes of Scripture has to do with our focus—what are eyes our fixed upon. Jesus described end-time events and said that there would be "distress of nations, with perplexity" (Luke 21:25). He then described two different directions that people could look:
In the next verse, Jesus referred to, "Men's hearts failing them for fear, and for looking after those things which are coming on the earth."
Two verses later, He said, "…when these things begin to come to pass, then look up, and lift up your heads; for your redemption draweth nigh."
We all have to answer the question: Are we "looking after" or "looking up?"
In the Old Testament, there are some beautiful "Beholds" (compliments of Isaiah and Zechariah) that directed the people of God to focus their attention on Him!
1. BEHOLD YOUR KING! – Zechariah 9:9
This messianic prophecy foreshadows Jesus' triumphal entry into the city of Jerusalem. "Behold your King!" corresponds to Matthew's portrayal of Jesus as the King. Beholding Him as such reminds us that we under the Lord's authority and reign.
2. BEHOLD MY SERVANT! – Isaiah 52:13
Isaiah 52:13 says, "…Behold, My Servant shall deal prudently; He shall be exalted and extolled and be very high." Jesus is not only the King of Kings, but He came and lived as One who served. Mark's Gospel especially emphasizes Jesus as a servant. When we see Jesus as the Servant, we are reminded of His willingness to meet our needs at the Father's request.
3. BEHOLD THE MAN! – Zechariah 6:12
Luke's Gospel underscores Jesus' humanity. Because Jesus was made like us in all things, and was in all points tempted as we are (yet without sin), He is able to aid us in our challenges, and is touched with the feelings of our infirmities (Hebrews 2:17-18; 4:15). Seeing Him in His humanity reminds us of how truly He identified Himself with us.
4. BEHOLD YOUR GOD! – Isaiah 40:9
The prophet Isaiah uttered many of the most beautiful and lofty descriptions of God, including this one which urges His people to behold their God.
Isaiah 40:9
9 O Zion, You who bring good tidings, Get up into the high mountain; O Jerusalem, You who bring good tidings, Lift up your voice with strength, Lift it up, be not afraid; Say to the cities of Judah, "Behold your God!"
John's Gospel reveals the Deity of Jesus. It's wonderful that Jesus is the King, a Servant, and fully man, but behind it all is His Deity. He was and is God manifested in the flesh. His Deity reminds us of his absolute ability to accomplish His good will and pleasure.
We saw what happens when people focus on the turbulence on the earth, but what happens when we set our gaze steadfast upon the Lord, even in troubled times? Psalms 34:5 says, "They looked to Him and were radiant, and their faces were not ashamed." That sounds a lot better than hearts fainting for fear, doesn't it?
The world is providing plenty for us to look at, and I do believe we need to be wise. I'm not saying that we should be like the ostrich and stick our heads in the sand. Our assignment in life is not to live in denial of the challenges around us, but to believe in a God who is bigger than those challenges, and to walk in faith and wisdom.
In closing, let me just mention a few more Scriptures that pertain to where our focus should be:
"Look to Me, and be saved, all you ends of the earth! For I am God, and there is no other." (Isaiah 45:22)
"…lift up your eyes and look at the fields, for they are already white for harvest!" (John 4:35)
"…we do not look at the things which are seen, but at the things which are not seen. For the things which are seen are temporary, but the things which are not seen are eternal." (2 Corinthians 4:18)
"…looking for the blessed hope and glorious appearing of our great God and Savior Jesus Christ…" (Titus 2:13)
"…looking unto Jesus, the author and finisher of our faith…" (Hebrews 12:2)
"…keep yourselves in the love of God, looking for the mercy of our Lord Jesus Christ unto eternal life." (Jude 21)
May God give us all 20-20 vision as we behold Him, look to Him, and keep our focus on Him!
https://tonycooke.org/wp-content/uploads/2022/09/TCMLogo2022-300x138.png
0
0
Tony Cooke
https://tonycooke.org/wp-content/uploads/2022/09/TCMLogo2022-300x138.png
Tony Cooke
2014-10-15 19:00:59
2022-07-22 07:55:26
Are You "Looking After" or "Looking Up?" by Tony Cooke