Is it Live, or is it Memorex?

By Tony Cooke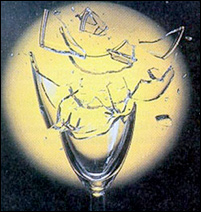 I remember a decades-old television commercial from Memorex, a company that made cassette tapes. A glass was shown sitting on a table while the voice of Ella Fitzgerald was heard singing. When a certain high note was hit, the glass shattered and the viewer was asked, "Is it live, or is it Memorex?" The point is that the quality of their product was so high that taped recordings were essentially indistinguishable from the live voice.
If you stop and think about it, our lives are supposed to be a duplication, of sorts, of the Lord Jesus Christ.
Luke 6:40 says, "A disciple is not above his teacher, but everyone who is perfectly trained will be like his teacher." 
Ephesians 5:1 in the Amplified reads, "Therefore be imitators of God [copy Him and follow His example], as well-beloved children [imitate their father]."  
"He who says he abides in Him ought himself also to walk just as He walked" (1 John 2:6).
This makes me wonder what kind of "reproduction quality" is happening in our lives. Is it possible for us to be so infused with and transformed by God's Spirit that what comes out of us is "indistinguishable" from God Himself? The Spirit of God had worked so deeply and profoundly in the life of the Apostle Paul that he seemed to wrestle at times with the question, "Is this me, or is it God in me?"
Galatians 2:20 (KJV)
20 I am crucified with Christ: nevertheless I live; yet not I, but Christ liveth in me…
1 Corinthians 15:10
10 I laboured more abundantly than they all: yet not I, but the grace of God which was with me.
What a delightful dilemma! The indwelling work of the Holy Spirit within Paul's human spirit was such that he said, "I live" or "I worked," but then he would have to clarify and say, "…but it really wasn't me… at least it certainly wasn't just me; it was Christ living and working through me."
Paul did not believe that Christ dwelling in him meant that he had been thrown into a state of passivity, inactivity, or irresponsibility. Certainly he rested in the finished work of Christ, recognizing that God was the source of all life and power within him, but still he recognized that he was an active participant with God. He recognized his complete dependence upon God, but he also recognized that God desired his active cooperation and involvement in serving, obeying, and fulfilling Heaven's plan for his life.
For example, Paul said in Colossians 1:29 (Amplified), "For this I labor [unto weariness], striving with all the superhuman energy which He so mightily enkindles and works within me." So back to an earlier question, "Was this Paul, or was this God?" I don't think we can answer that as an either/or; I think it is clearly a both/and. It was God working in and through Paul, AND it was Paul yielding to and cooperating with God.
Don't Expect God To Do What He Told You To Do
We need to accurately discern what God's role is in our lives, and what is our role; what are His responsibilities and what are our responsibilities? If people simply think that God is going to do everything, they can slip into a sense of irresponsibility and passivity that is certainly not supported or encouraged by the New Testament. On the other hand, if people think that they are going to do it all (without the empowerment and enablement of God), they are going to end up worn out and exhausted.
Paul did not say, "I don't live at all; it's all Christ." Neither did he say, "I didn't do any work of any kind, it was only God's grace doing it all." Paul said, "Nevertheless, I live…" and "I labored more abundantly than they all…" He qualified his role, though, by recognizing God as the Source of his life and his labors.
I remember hearing about an individual who read Romans 8:26 ("…the Spirit Himself makes intercession for us…") and said that he had quit praying since and was just letting the Holy Spirit do all of his praying for him. No, we can't expect God to do what He's clearly told us to do, but we can trust Him to help and empower us as we obey Him.
What About Works? 
Ephesians 2:9 and Titus 3:5 emphatically state that our salvation is NOT based on our works! The gift of salvation is God's part. He offers that to us freely based on the finished work of Christ. However, if you read just a bit further, Ephesians 2:10 and Titus 3:8 says that we are saved for good works and that we are to maintain good works. That is our part! 
Together, salvation by grace through faith AND good works which result from and follow that salvation point us toward "the whole counsel of God." This does not present a contradiction; rather, a progression. Salvation, of course, starts with God saving us when we were completely incapable of saving ourselves. But having saved us and made us His children through faith, He works in us to do the degree that we see Philippians 2:13 (AMP) becoming a reality in our lives: "Not in your own strength] for it is God Who is all the while effectually at work in you [energizing and creating in you the power and desire], both to will and to work for His good pleasure and satisfaction and delight."
Is this you, or is this God? It is neither you or God exclusively. It is God working in you and it is you yielding yourself in submission and obedience to God. The verse which precedes that statement tells believers to, "work out your own salvation with fear and trembling" (Philippians 2:12, NKJV). Notice that Paul did not say to work for your salvation, but rather, to work it out. The Amplified renders verse 12, "…work out (cultivate, carry out to the goal, and fully complete) your own salvation with reverence and awe and trembling…"
We are seated with Christ in heavenly places (Ephesians 2:6), but we also have to walk in this world (Ephesians 4:1) and stand against spiritual wickedness (Ephesians 6:10). In being seated, we rest in the finished work of Christ. In walking and standing, we act on the finished work of Christ.
What About Cleansing?
Does God cleanse us or do we cleanse ourselves? Every Christian I know would heartily rejoice in the fact that God, through the blood of the Lord Jesus Christ, has cleansed us from all sin! As a matter of fact, we read of this great truth in Hebrews 9:14: "…how much more shall the blood of Christ, who through the eternal Spirit offered Himself without spot to God, cleanse your conscience from dead works to serve the living God?"
While Hebrews 9:14 stresses God's part in our cleansing, various other Scriptures emphasize our responsibility in cooperating with and obeying God in the overall process of living a holy life here on earth. 2 Corinthians 7:1 (NKJV) says, "Therefore, having these promises, beloved, let us cleanse ourselves from all filthiness of the flesh and spirit, perfecting holiness in the fear of God."
Someone might say, "Wait a minute! If God cleanses us, then how do we cleanse ourselves? Wouldn't that be unnecessary?" That's a very logical question, but we need to understand that these types of Scriptures are not contradictory; they are complementary. There is a God-ward side of our redemption (what He did for us) and a man-ward side (how we respond to what He did).
The book of Ephesians illustrates this perfectly. Chapters 1-3 can be summed up in a single word: Done. Those first three chapters of Ephesians emphasize what Christ has done for us. There we find that we have been "blessed with every spiritual blessing in heavenly places" (1:3), have been "accepted in the beloved" (1:6), and that we are seated with Christ in heavenly places (2:6). All of that speaks of what He has already done for us in and in us.
But Paul doesn't stop with "Done." In Ephesians 4-6 he proceeds to instruct believers about "Do." He addresses what we are to do and how are we to live in the light of what Christ has done for us. The Bible doesn't just teach about the spiritual life we have from Christ, but it also teaches us about the practical lifestyle we are to lead because of Christ. Ephesians 4:1 sets the tone for the remainder of the epistle: "I… beseech you to walk worthy of the calling with which you were called…"
Is it God or is it us? The truth is that it is both. God does His part and we do our part.    Jude 24 says that God, "…is able to keep you from stumbling" and 1 Peter 1:5 says that we are "kept by the power of God…" God's part is clearly articulated, but as we read other Scriptures, we see that we have a part to play as well. John said, "he who has been born of God keeps himself" (1 John 5:18) and also, "Little children, keep yourselves from idols" (1 John 5:21). Jude also instructed believers, "keep yourselves in the love of God" (Jude 21). James even said that a component of pure religion is, "to keep oneself unspotted from the world" (James 1:27).
Paul said that Christ gave Himself for us so that He might, "purify for Himself His own special people" (Titus 2:14). Then he tells Timothy, "keep yourself pure" (1 Timothy 5:22). The Apostle John said, "everyone who has this hope in Him purifies himself, just as He is pure" (1 John 3:3). So, does God purify us, or do we purify ourselves? The answer is a resounding yes! We should never think that we can do anything of spiritual or eternal significance apart from His enablement, assistance, and empowerment, but neither should we think that true discipleship involves a passive, inactive, or disengaged state on our part. The wonderful, finished work of Christ does not nullify our responsibility to be "doers of the Word" (James 1:22). As we trust and follow the Lord Jesus Christ, we actively yield to, obey, and cooperate with His plan and purpose being worked out in our lives.
https://tonycooke.org/wp-content/uploads/2022/09/TCMLogo2022-300x138.png
0
0
Tony Cooke
https://tonycooke.org/wp-content/uploads/2022/09/TCMLogo2022-300x138.png
Tony Cooke
2014-10-15 19:00:57
2022-07-22 07:55:26
Is it Live, or is it Memorex? By Tony Cooke