Fortune Cookie Christianity

Tony Cooke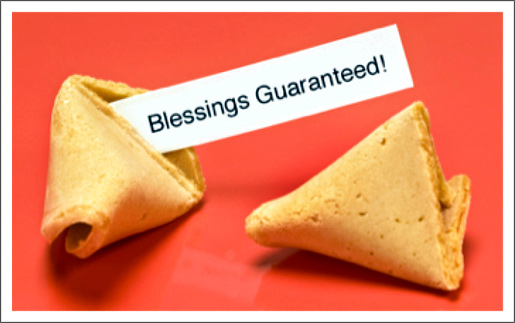 I'm sure you've eaten at Chinese restaurants where the server delivers fortune cookies after the meal. I can't imagine that many people take such messages seriously, but people seem to enjoy breaking open the cookies to see what they say. Occasionally, a fortune cookie delivers a humorous message, such as:
Inside every old person is young person wondering what happened.
It's about time I got out of that cookie.
Your reality check is about to bounce.
A closed mouth gathers no feet.
I cannot help you, for I am just a cookie.
Usually, though, the messages in fortune cookies are common sense statements about life, an affirming statement, or a vague, positive prediction. For example:
A smile is your passport into the hearts of others.
A dream you have will come true.
Be patient; good things take time.
Wealth awaits you very soon.
You will conquer obstacles to achieve success.
At some level, it seems that all people want to be told that they are going to be OK and that they are going to make it. In other words, all people desire hope, affirmation, and encouragement, and that is most understandable. I would like to think that most people take fortune cookies very lightheartedly, if not entirely dismissively, Christians, however, take the Bible seriously. When we see a promise from God in the Bible, our heart can leap, and when we read something in Scripture that affirms or encourages us, we can draw great strength. So what is the difference between the "fortune" in a cookie and a verse of Scripture? I think it can be summed up in the simple phrase, "Consider the source."
It should go without saying that a Christian should not read the Bible the way a superstitious person might read a fortune cookie. Messages in cookies typically tell people what they want to hear, but the Bible tells us what we need to hear. I'm absolutely not against a Christian reading and being inspired by a single verse or an inspirational quote—those can be helpful sources of encouragement to us.
The Holy Spirit can certainly quicken a single verse to our hearts, and I know that he often does, but our entire spiritual life should not be based on random, isolated verses. According to Jesus, we are to live by "every word that proceeds from the mouth of God" (Matt 4:4). This means that serious disciples will read and study Scripture comprehensively and in context.
A prominent Bible website reports that in 2018, the most popular verse based on more than two billion pageviews was Jeremiah 29:11 (NIV), which reads, "For I know the plans I have for you," declares the Lord, "plans to prosper you and not to harm you, plans to give you hope and a future." [1]
That is certainly a great statement. I find it encouraging, and I'm guessing you probably do as well. I don't want to take any anyone's encouragement or quench the hope they can find in such a verse, but at some point, it is important for people to read the entire context surrounding that verse. In other words, what is the full story?
Jeremiah, who wrote those words, had been trying (unsuccessfully) to get Israel to repent from their sin. The nation had begun to come under judgment and the Babylonians had already plundered some of Jerusalem's wealth and had already taken many people, including King Jehoiachin into captivity. There was a false prophet named Hananiah who was giving the people in Jerusalem a very rosy, optimistic forecast. He was telling them that things were going to work out really well and that all of their wealth and all of their exiles would soon be returned.
Jeremiah, on the other hand, told God's people that because they had been consistently unrepentant, the captivity would continue for seventy years. They would not be experiencing liberation anytime soon, and those who were captive in Babylon should settle down, plant gardens, have children, etc. Here is a more full context surrounding Jeremiah 29:11.
Jeremiah 29:7, 10-14 (NKJV)
And seek the peace of the city where I have caused you to be carried away captive, and pray to the LORD for it; for in its peace you will have peace. For thus says the LORD: After seventy years are completed at Babylon, I will visit you and perform My good word toward you, and cause you to return to this place. For I know the thoughts that I think toward you, says the LORD, thoughts of peace and not of evil, to give you a future and a hope. Then you will call upon Me and go and pray to Me, and I will listen to you. And you will seek Me and find Me, when you search for Me with all your heart. I will be found by you, says the LORD, and I will bring you back from your captivity; I will gather you from all the nations and from all the places where I have driven you, says the LORD, and I will bring you to the place from which I cause you to be carried away captive.
If I read Jeremiah 29:11 superficially, like most people read a fortune cookie, I might get the impression, "Because God loves me, I'm going to have a really great day today!" When the original recipients of Jeremiah 29:11 read the full message, they might have said, "We're going to be in captivity for seventy more years, but eventually we are going to see God restore us to our homeland." Those two understandings are quite different, don't you think?
I am concerned that many people today treat Scripture as though its sole purpose is to provide encouragement and motivation; the Bible is read for success but not for sanctification. We should certainly enjoy getting hope and encouragement from Scripture, but if all we are looking for is a quick motivational boost, we will miss so much of what God wants to communicate to us. Consider what Scripture is really designed to accomplish in our lives:
2 Timothy 3:16-17 (NKJV)
All Scripture is given by inspiration of God, and is profitable for doctrine, for reproof, for correction, for instruction in righteousness, that the man of God may be complete, thoroughly equipped for every good work.
Notice that all Scripture (not just isolated verses) is profitable for:
Doctrine: this is what we need to learn, what we need to believe. Truth.
Reproof: Conviction of sin, revealing error, and rebuke to those in sin.
Correction: Made up of three Greek words meaning "to make straight again."
Instruction in Righteousness: Refers to the way parents would train a child.
We need to read Scripture the way God wants us to read Scripture thoroughly, not the way someone might read a fortune cookie! Not only do we need to read the New Testament, but the Old Testament has great benefit for us as well. Some today are very dismissive of the Old Testament, but Paul writes:
1 Corinthians 10:6-11 (NLT)
These things happened as a warning to us, so that we would not crave evil things as they did, or worship idols as some of them did. As the Scriptures say, "The people celebrated with feasting and drinking, and they indulged in pagan revelry." And we must not engage in sexual immorality as some of them did, causing 23,000 of them to die in one day. Nor should we put Christ to the test, as some of them did and then died from snakebites. And don't grumble as some of them did, and then were destroyed by the angel of death. These things happened to them as examples for us. They were written down to warn us who live at the end of the age.
Here are a few excellent quotes. If we apply these, we will read Scripture the way God desires.
"Apply yourself wholly to the Scriptures, and apply the Scriptures wholly to yourself." (Johann A. Bengel)
"Nothing less than a whole Bible can make a whole Christian." (A. W. Tozer)
"I study my Bible as I gather apples. First, I shake the whole tree that the ripest might fall. Then I shake each limb, and when I have shaken each limb, I shake each branch and every twig. Then I look under every leaf." (Martin Luther)
"We must allow the Word of God to confront us, to disturb our security, to undermine our complacency and to overthrow our patterns of thought and behavior." (John Stott)
"Ninety-nine Christians in every hundred are merely playing at Bible study; and therefore ninety-nine Christians in every hundred are mere weaklings, when they might be giants." (R. A. Torrey)
God bless you as you dig deep into God's Word, reading it thoroughly, comprehensively, and in-depth.