Great Thoughts for the New Year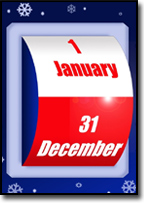 Getting a Fresh S.T.A.R.T. in the New Year
Stop Making Excuses – Proverbs 28:13 – A man who refuses to admit his mistakes can never be successful. But if he confesses and forsakes them, he gets another chance. (The Living Bible)
Take an Inventory of Your Life – 2 Corinthians 13:5 – Examine yourselves as to whether you are in the faith.
Act in Faith – Matthew 9:29 – "According to your faith let it be to you."
Refocus – Philippians 3:13 – …but one thing I do, forgetting those things which are behind and reaching forward to those things which are ahead…
Trust – Proverbs 3:5-6 – Trust in the LORD with all your heart, And lean not on your own understanding; In all your ways acknowledge Him, And He shall direct your paths.
(This acrostic was developed by Rev. Jim Mooney)
Great Quotes for the New Year
"I am amazed by how many individuals mess up every new day with yesterday. They insist on bringing into today the failures of yesterday and in doing so pollute a potentially wonderful day."
– Gary Chapman
An interesting map is on display in the British Museum in London. It's an old mariner's chart, drawn in 1525, outlining the North American coastline and adjacent waters. The cartographer made some intriguing notations on areas of the map that represented regions not yet explored. He wrote: "Here be giants," "Here be fiery scorpions," and "Here be dragons." Eventually, the map came into the possession of Sir John Franklin, a British explorer in the early 1800s. Scratching out the fearful inscriptions, he wrote these words across the map: "Here is God."
– Unknown
"Achievers are resolute in their goals and driven by determination. Discouragement is temporary, obstacles are overcome, and doubt is defeated, yielding to personal victory. You need to overcome the tug of people against you as you reach for high goals. Accept the challenges, so that you may feel the exhilaration of victory."
– General George S. Patton
"Nothing will ever be attempted, if all possible objections must first be overcome."
– Samuel Johnson
"Neither a wise man nor a brave man lies down on the tracks of history to wait for the train of the future run over him."
– Dwight D. Eisenhower
"The Bible says, 'Where there is no vision, the people perish.' Have you a vision? And are you undeviatingly pressing and pushing toward its accomplishment? Dreaming alone will not get you there. Mix your dreams with determination and action."
– B.C. Forbes
"Twenty years from now you will be more disappointed by the things that you didn't do than by the ones you did do…Sail away from the safe harbor. Catch the trade winds in your sails. Explore. Dream. Discover."
– Mark Twain
"The sea is dangerous and its storms terrible, but these obstacles have never been sufficient reason to remain ashore…unlike the mediocre, intrepid spirits seek victory over those things that seem impossible…it is with an iron will that they embark on the most daring of all endeavors…to meet the shadowy future without fear and conquer the unknown."
– Ferdinand Magellan, Explorer
"Progress is impossible without change, and those who cannot change their minds cannot change anything."
– George Bernard Shaw
"The best thing about the future is that it comes only one day at a time."
– Abraham Lincoln
"The world of achievement has always belonged to the optimist."
– J. Harold Wilkins
"Optimism is the faith that leads to achievement. Nothing can be done without hope and confidence."
– Helen Keller
"Outlook determines outcome."
– Warren Wiersbe
"What lies behind us and what lies before us are tiny matters compared to what lies within us."
– William Morrow
"Great minds have purposes, others have wishes. Little minds are tamed and subdued by misfortune; but great minds rise above them."
– Washington Irving
There are two great days in a person's life — the day we are born and the day we discover why."
– William Barclay
"The tragedy of life is what dies inside a man while he lives."
– Albert Schweitzer
"One hundred years from now it will not matter what kind of car I drove, what kind of house I lived in, how much money I had in my bank account, or what my clothes looked like. But one hundred years from now the world may be a little better because I was important in the life of a child."
– Anonymous
"In primitive societies, no one has a watch, but everyone has time. In advanced societies, everyone has a watch, but no one has any time."
– Gerhard Geschwandtner
"You do not move ahead by constantly looking in a rear view mirror. The past is a rudder to guide you, not an anchor to drag you. We must learn from the past but not live in the past."
– Dr. Warren W. Wiersbe
"Live out of your imagination, not your history."
– Stephen R. Covey
"The best way to predict the future is to create it."
– Unknown
Why We Can't Embrace Every Negative Prediction
"The telephone has too many shortcomings to be seriously considered as a means of communication." (A corporate memo from telegraph operator Western Union, 1876)
"Everything that can be invented, has been invented." (U.S. Patent Office Commissioner Charles Duell, 1899)
"The horse is here to stay, but the automobile is only a novelty – a fad." (The president of the Michigan Savings Bank advising Henry Ford's lawyer Horace Rackham not to invest in the Ford Motor Company. 1903)
"The wireless music box has no imaginable commercial value. Who would pay for a message sent to nobody in particular?" (Response from associates of RCA founder David Sarnoff, circa 1920's, when he proposed investing in the young radio industry)
"[Television] won't be able to hold on to any market it captures after the first six months. People will soon get tired of staring at a plywood box every night." (Twentieth Century-Fox studio boss Darryl F. Zanuck, 1946)
"There will never be a bigger plane built." (A Boeing engineer after the first flight of the 247, a twin-engine plane that carried ten people)
"With over 50 foreign cars already on sale here, the Japanese auto industry isn't likely to carve out a big slice of the U.S. market." (Business Week, August 2, 1968)
"The concept is interesting and well-formed, but in order to earn better than a 'C' the idea must be feasible." (Yale University management professor's comment on a paper written by Fred Smith proposing an overnight delivery service, circa early 1970's. Smith went on to start Federal Express)
"There is no reason anyone would want a computer in their home." (Ken Olsen, President of Digital Equipment Corp., 1977)
"That kid can't play baseball." (Milwaukee Braves minor league manager Tommy Holmes, 1952, appraising Henry Aaron, who went on to break Babe Ruth's all-time record for home runs)
"He'll never be any good." (Baltimore Colts owner Robert Irsay, 1983, evaluating future Pro Bowl and Super Bowl champion quarterback John Elway)
"You will never amount to very much." (A Munich teacher to a ten-year-old Albert Einstein, 1889)
"Can't act. Can sing. Balding. Can dance a little." (MGM executive, 1929, about Fred Astaire's screen test)
"You ain't going nowhere, son. You ought to go back to driving a truck." (Grand Ole Opry manager Jim Denny, 1954, firing Elvis Presley after one performance)
"We don't like" their sound. Groups of guitars are on their way out." (Decca Recording Company, 1962, upon turning down the Beatles)
"Get rid of the pointed ears guy." (NBC television executive to Star Trek creator Gene Roddenberry, 1966, recommending the new show eliminate the Vulcan character Mr. Spock)
More Great Stories
At the beginning of a new year, a high school principal decided to post his teachers' new year's resolutions on the bulletin board. As the teachers gathered around the bulletin board, a great commotion started. One of the teachers was complaining. "Why weren't my resolutions posted?" She was throwing such a temper tantrum that the principal hurried to his office to see if he had overlooked her resolutions. Sure enough, he had mislaid them on his desk. As he read her resolutions he was astounded. This teacher's first resolution was not to let little things upset her in the New Year.
Last year when I called my parents to wish them a happy New Year, my dad answered the phone. "Well, Dad, what's your New Year's resolution?" I asked him. "To make your mother as happy as I can all year," he answered proudly. Then mom got on, and I said, "What's your resolution, Mom?" "To see that your dad keeps his New Year's resolution."
Charles Schultz, in a peanuts comic strip showed a conversation between Lucy and Charlie Brown. Lucy said that life is like a deck chair. Some place it so they can see where they are going; some place it so they can see where they have been; and some place it so they can see where they are at present. Charlie Brown's reply: "I can't even get mine unfolded."
A boy told his father, "Dad, if three frogs were sitting on a limb that hung over a pool, and one frog decided to jump off into the pool, how many frogs would be left on the limb?"
The dad replied, "Two."
"No," the son replied. "There's three frogs and one decides to jump, how many are left?"
The dad said, "Oh, I get it, if one decides to jump, the others would too. So there are none left."
The boy said, "No dad, the answer is three. The frog only DECIDED to jump."
Does that sound like last year's resolution? Great inspiration and great resolutions, but often times we only decide, and months later we are still on the same limb of do-nothing.
And Finally… Scriptures to Live By
Joshua 1:2-9
2 Now therefore, arise, go over this Jordan, you and all this people, to the land which I am giving to them — the children of Israel. 3 Every place that the sole of your foot will tread upon I have given you, as I said to Moses. 4 From the wilderness and this Lebanon as far as the great river, the River Euphrates, all the land of the Hittites, and to the Great Sea toward the going down of the sun, shall be your territory. 5 No man shall be able to stand before you all the days of your life; as I was with Moses, so I will be with you. I will not leave you nor forsake you. 6 Be strong and of good courage, for to this people you shall divide as an inheritance the land which I swore to their fathers to give them. 7 Only be strong and very courageous, that you may observe to do according to all the law which Moses My servant commanded you; do not turn from it to the right hand or to the left, that you may prosper wherever you go. 8 This Book of the Law shall not depart from your mouth, but you shall meditate in it day and night, that you may observe to do according to all that is written in it. For then you will make your way prosperous, and then you will have good success. 9 Have I not commanded you? Be strong and of good courage; do not be afraid, nor be dismayed, for the LORD your God is with you wherever you go."
Philippians 3:12-14
12 Not that I have already attained, or am already perfected; but I press on, that I may lay hold of that for which Christ Jesus has also laid hold of me. 13 Brethren, I do not count myself to have apprehended; but one thing I do, forgetting those things which are behind and reaching forward to those things which are ahead, 14 I press toward the goal for the prize of the upward call of God in Christ Jesus.
https://tonycooke.org/wp-content/uploads/2022/09/TCMLogo2022-300x138.png
0
0
Tony Cooke
https://tonycooke.org/wp-content/uploads/2022/09/TCMLogo2022-300x138.png
Tony Cooke
2014-10-15 19:07:09
2014-10-15 19:07:09
Great Thoughts for the New Year