Prone to Wander?

Tony Cooke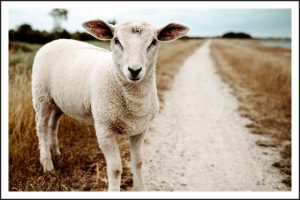 The lyrics of an old hymn—Come Thou Fount of Every Blessing—have been rolling around inside me recently. The specific part of the lyrics I keep thinking of are:
Jesus sought me when a stranger,
Wandering from the fold of God;
He, to rescue me from danger,
Interposed His precious blood.
Prone to wander, Lord, I feel it,
Prone to leave the God I love;
Here's my heart, O take and seal it,
Seal it for Thy courts above.
The part that seemed to be getting my attention was the "Prone to wander" part. Looking at things from the perspective of the new creation, I want to dispute that. I want to say, "I am a new creation in Christ. I have the life and the nature of God on the inside of me. I do NOT want to wander away from any sense of closeness with the Lord." I like that position and approach.
At the same time, I have to recognize that even born-again people still have the flesh and the mind to deal with, and that can create a distracting pull on people. Some manage it better than others, but even great spiritual leaders like Paul said that he had to manage fleshly elements; he was not immune from the influence of the flesh. What did he do? He said, "I discipline my body like an athlete, training it to do what it should. Otherwise, I fear that after preaching to others I myself might be disqualified" (1 Corinthians 9:27, NLT).
It is important to keep in mind that wrong actions proceed from wrong thinking and wrong believing. Deception followed by deviation is as old as the Garden of Eden. "So when the woman saw that the tree was good for food, that it was pleasant to the eyes, and a tree desirable to make one wise, she took of its fruit and ate" (Genesis 3:6, NKJV). When we see people get off-track, we often focus on their actions, but at the root of their actions is usually deception.
The reality is that if we don't keep our eyes on Jesus, and if we don't stay built up in the Word and the Spirit, our flesh will fight for the ascendancy and will lead us off-track. Paul said, though, that we are to "cast off the works of darkness, and let us put on the armor of light. Let us walk properly, as in the day, not in revelry and drunkenness, not in lewdness and lust, not in strife and envy. But put on the Lord Jesus Christ, and make no provision for the flesh, to fulfill its lusts" (Romans 13:12-14, NKJV).
As spiritual leaders, it is vital that we understand that believers sometimes wander, and we have a responsibility to help them. The prevalence of this theme in Scripture is noteworthy. The following verses all note this idea and also communicate the attitude and compassion with which helpers should respond.
Isaiah 53:6 (NKJV)
All we like sheep have gone astray; we have turned, every one, to his own way; and the LORD has laid on Him the iniquity of us all.
Matthew 18:12-14 (NKJV)
If a man has a hundred sheep, and one of them goes astray, does he not leave the ninety-nine and go to the mountains to seek the one that is straying? And if he should find it, assuredly, I say to you, he rejoices more over that sheep than over the ninety-nine that did not go astray. Even so it is not the will of your Father who is in heaven that one of these little ones should perish.
Galatians 6:1 (NKJV)
Brethren, if a man is overtaken in any trespass, you who are spiritual restore such a one in a spirit of gentleness, considering yourself lest you also be tempted.
James 5:19-20 (NKJV)
Brethren, if anyone among you wanders from the truth, and someone turns him back, let him know that he who turns a sinner from the error of his way will save a soul from death and cover a multitude of sins.
Deception and deviation from the will of God is no laughing matter. Sin is serious, and as someone said, "Sin will take you farther then you want to go, keep you longer than you want to stay, and cost you more than you want to pay." Satan will show people the short-range pleasure of sin, but he will blind them to the long-range sorrow of sin. Sin may seem fun for the season of sowing (Hebrews 11:25 speaks of "the passing pleasures of sin), but it can be extremely painful during the season of reaping!
That people turn away from Jesus is nothing new; it even happened in Jesus' own lifetime.
John 6:66-69 (NLT)
At this point many of his disciples turned away and deserted him. Then Jesus turned to the Twelve and asked, "Are you also going to leave?" Simon Peter replied, "Lord, to whom would we go? You have the words that give eternal life. We believe, and we know you are the Holy One of God."
What a fascinating encounter, and what great insight Peter displayed. He wasn't moved or influenced by other disciples who were abandoning Jesus. He recognized that Jesus had the words of eternal life, and he stayed close to him. However, at a later time, Peter would yield to fear and deny three times that he even knew Jesus (Matthew 26:69-75).
After Jesus' resurrection, the Lord did not dismiss this as something of no importance, but had a meaningful encounter and conversation with Peter. Jesus allowed Peter to reaffirm his commitment to him, and restored him wonderfully. He reiterated to Peter that the calling and assignment on his life was still intact and valid (John 21:15-19).
Sometimes Christians wander because of internal, fleshly issues. For example, James tells us that temptation does not come from God, but that "each one is tempted when he is drawn away by his own desires and enticed. Then, when desire has conceived, it gives birth to sin; and sin, when it is full-grown, brings forth death" (James 1:14-15, NKJV). At other times, Christians are pressured to pull away from following Jesus because of persecution or other external pressures. This was the case with those who received the book of Hebrews, and very stern warnings were issued about the dangers of turning away from following the Lord. Among those warnings are:
Hebrews 2:3 (NLT)
So what makes us think we can escape if we ignore this great salvation that was first announced by the Lord Jesus himself and then delivered to us by those who heard him speak?
Hebrews 3:12-13 (NLT)
Be careful then, dear brothers and sisters. Make sure that your own hearts are not evil and unbelieving, turning you away from the living God. You must warn each other every day, while it is still "today," so that none of you will be deceived by sin and hardened against God.
Hebrews 12:25 (NLT)
Be careful that you do not refuse to listen to the One who is speaking. For if the people of Israel did not escape when they refused to listen to Moses, the earthly messenger, we will certainly not escape if we reject the One who speaks to us from heaven!
Being faithful to God is important! We do this only with the help and the grace of God. We should take the warnings of Scripture seriously, but we should also always remember the greatness of the mercy, grace, and compassion of God. Our responsibility is not to condemn but to restore.
Amidst the stern warnings of the book of Hebrews is a strong admonition and encouragement. This is what I believe for you!
Hebrews 10:35-39 (NLT)
So do not throw away this confident trust in the Lord. Remember the great reward it brings you! Patient endurance is what you need now, so that you will continue to do God's will. Then you will receive all that he has promised. For in just a little while, the Coming One will come and not delay. And my righteous ones will live by faith. But I will take no pleasure in anyone who turns away.
But we are not like those who turn away from God to their own destruction. We are the faithful ones, whose souls will be saved.
May you rejoice and remain confident in "him who is able to keep you from stumbling, and to present you faultless before the presence of his glory with exceeding joy" (Jude 24).