No One Can Do It Alone

Tony Cooke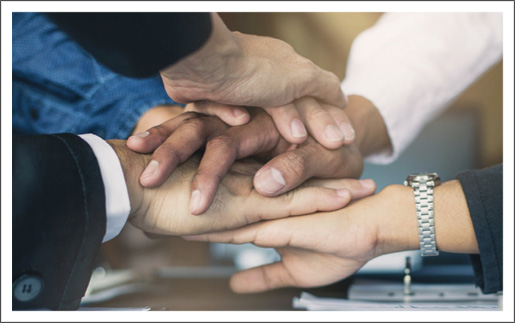 In the lobby of Good News Church in Moscow, there is a large plaque expressing gratitude to the partners who helped make that wonderful facility a reality. Each time we entered and exited the building on my recent visit, Rick Renner stopped and placed his hands on that plaque. He prayed a brief prayer thanking God for their partners, asking him to bless them. I was impressed with and moved by his action; it reminded me never to take the kindness of others for granted.
The reality is that all of us, whether we are pastors or not, have been profoundly impacted by the efforts of others. We are beneficiaries of the farmers who have grown the food that we eat, the construction workers who built our homes and the roads on which we drive, and the teachers who have shared knowledge with us. Albert Einstein said, "Many times a day I realize how much my own outer and inner life is built upon the labors of my fellow men, both living and dead, and how earnestly I must exert myself in order to give in return as much as I have received." Likewise, it is said that Isaac Newton asserted, "If I have seen further, it is by standing on the shoulders of giants." We are all beneficiaries from the contributions of others. We should be grateful, and we should also seek to benefit others.
As I was pondering these things, I was reminded of people who have helped me over the years, and the list seemed endless: parents, teachers, spiritual leaders, coaches, and friends, to name a few. I also thought of leaders who gave me opportunities to serve, of co-workers whose examples continue to inspire me, of pastors who allow me the privilege of ministering to their congregations, and of partners who support Lisa and me, enabling us to do what we do. All of us have much to be thankful for, and we are mindful that God actually designed his entire family so that we would have a need to rely on, encourage, and assist one another.
As I observed Rick praying briefly for their partners, I was reminded of all of the churches that exist because of the faithful involvement and participation of their members. It is people working together, giving together, praying together, and serving together that make things happen. I was also reminded of Jesus' own ministry—he didn't do it by himself! Of course, he had the supernatural presence of the Father and of the Holy Spirit, and he was quick to acknowledge his complete dependence with statements such as, "the Son can do nothing of Himself, but what He sees the Father do" (John 5:19, NKJV).
But just as Jesus had help in the supernatural realm, he also had wonderful assistance in the natural realm. Did you ever wonder how Jesus' ministry was financed? Do you think God miraculously deposited money into his account? That's not how it happened. Luke records in some detail how Jesus' ministry was subsidized:
LUKE 8:1-3 (NLT)
Soon afterward Jesus began a tour of the nearby towns and villages, preaching and announcing the Good News about the Kingdom of God. He took his twelve disciples with him, along with some women who had been cured of evil spirits and diseases. Among them were Mary Magdalene, from whom he had cast out seven demons; Joanna, the wife of Chuza, Herod's business manager; Susanna; and many others who were contributing from their own resources to support Jesus and his disciples.
Jesus had ministry partners! In addition to these few women who are mentioned by name, Luke writes that there were "many others who were contributing from their own resources to support Jesus and his disciples." The verb tense of the word contributing implies repetition. In other words, these didn't just give a one-time gift (although there's nothing wrong with that). In this particular case, the giving was regular and consistent. William Barclay renders the statement, "It was their habit to minister to their needs out of their resources." Jesus had consistent divine assistance in his ministry, and he had consistent human assistance in his ministry as well.
There is another great story shared by the beloved Physician about the power of partnership in Jesus' ministry. Luke writes "One day as Jesus was preaching on the shore of the Sea of Galilee, great crowds pressed in on him to listen to the word of God" (Luke 5:1, NLT). I am not saying that Jesus was troubled or bothered, but there was pressure in this situation. Luke notes, "great crowds pressed in on him." What did Jesus do when he sensed this pressure? He did not run away from the pressure. Rather, he established a partnership that enabled him to reach more people. Consider what happens in this situation.
LUKE 5:2-3 (NLT)
He noticed two empty boats at the water's edge, for the fishermen had left them and were washing their nets. Stepping into one of the boats, Jesus asked Simon, its owner, to push it out into the water. So he sat in the boat and taught the crowds from there.
You probably remember the rest of the story. After using Simon's (Peter's) boat, Jesus told him to take the boat back out and cast out his nets for a catch of fish. Peter was reluctant but said, "Master, we have toiled all night and caught nothing; nevertheless at your word I will let down the net" (Luke 8:5, NKJV). This time, the catch of fish was so great that the net began to break. Jesus was blessing Peter—this was a tremendous sign to him. But this story isn't just about Jesus in a partnership with Peter, there's more to it.
When Peter's net began to break, the power of partnership is again displayed. Luke 5:7 (NKJV) states, "So they signaled to their partners in the other boat to come and help them. And they came and filled both the boats, so that they began to sink." Peter understood partnership! Even as a fisherman, he wasn't a solo act; he had partners. Even when all the partners worked together, they were having trouble keeping up with work.
All of this started when Jesus asked Peter to be his partner in the work of the gospel. Peter wasn't using his boat at that moment, and Jesus asked if he could borrow it—utilizing its potential for the preaching of the gospel. Peter was later blessed beyond measure, and in turn, asked for help from his partners. When this plays out, Peter is overwhelmed, and yet again the issue of partnership arises.
LUKE 8:8-11 (NLT)
When Simon Peter realized what had happened, he fell to his knees before Jesus and said, "Oh, Lord, please leave me—I'm too much of a sinner to be around you." For he was awestruck by the number of fish they had caught, as were the others with him. His partners, James and John, the sons of Zebedee, were also amazed. Jesus replied to Simon, "Don't be afraid! From now on you'll be fishing for people!" And as soon as they landed, they left everything and followed Jesus.
Isn't that amazing how that when Jesus was in the process of calling Peter to ministry, he was teaching him about the significance of partnership? And Jesus not only taught Peter about partnership with himself, but there was also a display of the value of Peter partnering with his friends and co-workers.
The Apostle John was fully aware of the women who supported Jesus and the disciples during Jesus' earthly ministry, and he personally witnessed Peter loaning Jesus his boat, and the events that followed. Is it possible that these experiences contributed to what John writes decades later about the support of Gospel workers?
3 JOHN 5-8 (NLT)
Dear friend, you are being faithful to God when you care for the traveling teachers who pass through, even though they are strangers to you. They have told the church here of your loving friendship. Please continue providing for such teachers in a manner that pleases God. For they are traveling for the Lord, and they accept nothing from people who are not believers. So we ourselves should support them so that we can be their partners as they teach the truth.
Lisa and I feel greatly blessed to have experienced this kind of hospitality and generosity from many as we have traveled these past fifteen years. We want to take this opportunity to say THANK YOU, from the bottom of our hearts to those who have encouraged us, prayed for us, hosted us, and supported us financially over the years.
We also want to encourage you, no matter who God has led you to partner with, to realize how important your involvement is. I trust that you are a strong supporter of your local church, and as God leads you to support other ministries, missionaries, and outreaches, do so with joy and confidence, knowing that you are helping to fulfill God's plan for robust and meaningful partnerships among his people. When everyone works together, so much can be accomplished for his glory and the advancement of his kingdom!