It Is Finished (Not "I Am Finished")

Tony Cooke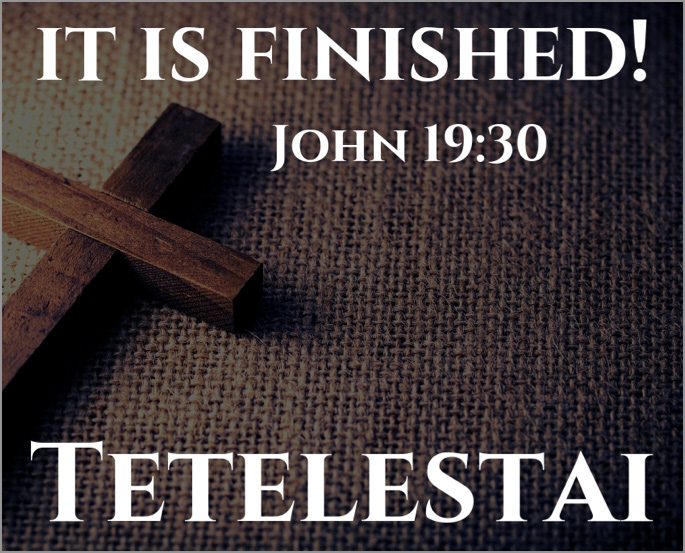 "It is finished!" The Lord Jesus uttered these radical, eternity-altering words in his final moment upon the cross (John 19:30). His precious blood had been shed. The price for man's redemption had been paid. Jesus' mission had been accomplished. The significance and impact of these golden words ("It is finished") is powerfully summed up in these verses from the book of Hebrews.
Hebrews 7:27 (NLT)
Unlike those other high priests, he does not need to offer sacrifices every day. They did this for their own sins first and then for the sins of the people. But Jesus did this once for all when he offered himself as the sacrifice for the people's sins.
Hebrews 9:12, 28 (NLT)
With his own blood—not the blood of goats and calves—he entered the Most Holy Place once for all time and secured our redemption forever. Christ died once for all time as a sacrifice to take away the sins of many people.
Hebrews 10:10 (NLT)
For God's will was for us to be made holy by the sacrifice of the body of Jesus Christ, once for all time.
Of Tetelestai, the Greek word for "It is finished," Warren Wiersbe writes:
The word was a common one and was used by merchants to mean "The price is all paid!" Shepherds and priests used it when they found a perfect sheep, ready for sacrifice; and Christ died as the perfect Lamb of God. Servants, when their work was completed, would use this word when reporting to their masters. Christ, the obedient Servant, had finished the work the Father gave Him to do. Christ willingly and deliberately gave up His life; He laid down His life for His friends. [1]
Jesus' death on the cross was so effective and so final that no one would ever have to add anything to what he had done. Jesus would never have to come back and die again for the sins of the world or for anyone's sins. No human would ever have to supplement Jesus' work with his own religious activities or efforts in order to come into right standing with God. What Jesus did was enough; it was sufficient, and it was absolutely effective. He completed his assignment of dying for lost humanity.
Because of his finished work, anyone putting their faith in him partakes of the benefits of his sacrificial and substitutionary death. Paul describes this forgiveness as he writes to believers regarding the forgiveness they received when they put their faith in Jesus. He states, "He canceled the record of the charges against us and took it away by nailing it to the cross" (Col 2:14, NLT).
Jesus Did Not Say, "I Am Finished."
While Jesus' death paid the penalty of sin and fulfilled what the Old Testament had required and predicted, Jesus himself was not finished. There was more for him to do, and in one sense, we could say that he was just getting started. After he said, "It is finished," he was resurrected, he ascended, he sat down at the right hand of God, and he reigns yet today. He will come again, not as the suffering Savior, but as the King of Kings and Lord of Lords. Note how Mark describes Jesus' on-going work after his ascension:
Mark 6:19-20 (NKJV)
So then, after the Lord had spoken to them, He was received up into heaven, and sat down at the right hand of God. And they went out and preached everywhere, the Lord working with them and confirming the word through the accompanying signs. Amen.
Clearly, when Jesus sat down, he did not retire or drift off to sleep in a rocking chair. Rather, he continues to actively and vibrantly direct the affairs of the Church. In The Work Book: What We Do Matters to God, I describe and detail five specific works that Jesus continues yet today.
Jesus is Working Today as Our Advocate, Intercessor, and High Priest.
Jesus is Working Today as Our Healer.
Jesus is Working Today as the Head of the Church.
Jesus is Working Today as Our Sustainer and Perfecter (the Author and Finisher…).
Jesus is Working Today as Our Shepherd.
When Jesus declared, "It is finished," it is abundantly clear that he was not saying that he was finished. While he had redeemed us from sin when he hung on Calvary's cross, he had much yet to do, and he has much yet to do even now. Paul even tells us, "Christ must reign until he humbles all his enemies beneath his feet" (1 Cor 15:25, NLT).
Jesus Did Not Say, "You Are Finished."
There are so many wonderful things that can and should be said about the finished work of Christ. Knowing what he accomplished for us on the cross can do so much in helping us realize that we are totally forgiven, completely redeemed, and totally justified. We don't need to try to earn (by our good works) any of the redemptive benefits that were freely purchased for us by Jesus; they are all received by simple faith. When it comes to our standing with God, it is completely appropriate to "rest in the finished work of Christ." We are to trust entirely on what he did for us.
However, it is important to realize that the Christian life is about far more than simply receiving the benefits of redemption. We are also called to grow in the grace of God (2 Pet 3:18). The fact that we have received forgiveness and the New Birth does not negate our need for continuing growth and maturity. Just as there is the finished work of Christ that brings justification into our lives, there is also an on-going work of the Word and the Spirit that enables us to develop and progress spiritually.
Peter describes this on-going development and maturation in his second epistle. He had just told believers that God's divine power "has given to us all things that pertain to life and godliness" (2 Peter 1:3, NKJV), but then proceeds to tell them:
2 Peter1:5-7 (NKJV)
Giving all diligence, add to your faith virtue, to virtue knowledge, to knowledge self-control, to self-control perseverance, to perseverance godliness, to godliness brotherly kindness, and to brotherly kindness love.
The fact that we are complete in Christ (Col 2:10) does not necessarily mean that we are mature in Christ. Being born, naturally speaking, does not mean that you are fully-grown. Growing up spiritually is part of the Christian life.
This need for on-going spiritual growth is also why Paul writes, "There has never been the slightest doubt in my mind that the God who started this great work in you would keep at it and bring it to a flourishing finish on the very day Christ Jesus appears" (Phil 1:6, MSG). That Christ finished his work of redeeming us on the cross does not conflict with the Holy Spirit's continuing work in our lives of bringing us into maturity.
Paul not only recognized the continuing work of spiritual development in the lives of the Philippians, but he indicates in the strongest terms that spiritual progress was still happening in his own life.
Philippians 3:12-14 (NLT)
I don't mean to say that I have already achieved these things or that I have already reached perfection. But I press on to possess that perfection for which Christ Jesus first possessed me. No, dear brothers and sisters, I have not achieved it, but I focus on this one thing: Forgetting the past and looking forward to what lies ahead, I press on to reach the end of the race and receive the heavenly prize for which God, through Christ Jesus, is calling us.
Paul's attitude was that if he was still breathing, he was not finished!
Part of being a mature (or maturing) believer involves obedience to the call of God, and doing what God has called us to do. This has nothing to do with "earning" forgiveness or working our way into heaven. The work that we do in serving God (by the enablement of the Holy Spirit) is not an issue of earning anything from God; rather, it is a matter of expressing something from God. Ministry and Christian work is expressing the love and nature of God toward others.
The finished work of Christ has enormous ramification for us; it means we can know we are loved, forgiven, accepted, and justified because of what Jesus did for us. It does not mean that we lack interest in spiritual growth, that we neglect obedience to God, or that we fail to work to help and serve others. Paul probably understood Jesus' redemptive work and its benefits better than any other person, and while he personally rested in the finished work of Christ relative to his own salvation, he also labored extensively and expansively for the Lord relative to his ministry and calling.
How did Paul spend his life as a believer? He fought a good fight. He finished his race. He kept the faith (2 Tim 4:7, NKJV). Far from living a leisurely life of merely basking in God's love, Paul writes, "I also labor, striving according to His working which works in me mightily" (Col 1:29, NKJV). He also states, "I labored more abundantly than they all, yet not I, but the grace of God which was with me" (1 Cor 15:10, NKJV). The redemptive work of Christ and the grace of God did not keep Paul from being an active, vibrant servant of God; as a matter of fact, he was energized and empowered by that grace to work for the Lord.
I find tremendous inspiration in reading after men and women who had a great sense of urgency about the work of God that is yet to be done. For example, William Booth said:
While women weep, as they do now, I'll fight. While little children go hungry, as they do now, I'll fight. While men go to prison, in and out, in and out, as they do now, I'll fight. While there is a drunkard left, while there is a poor girl lost upon the streets, while there remains one dark soul without the light of God, I'll fight. I'll fight to the very end.
Booth's words remind us that we are far from finished!
May God grant us multitudes of laborers who share this same type of compelling vision concerning the people that God loves and the work that God has for his Church to accomplish. Without a doubt, the work of Christ acquiring redemption for the world (through the cross) has been accomplished; it is finished. However, the work of Christ distributing redemption to the world (through the Church as empowered by the Holy Spirit) continues yet today, and it should be undertaken with the greatest of urgency.
Personally, we should rest in the finished work of Christ, but that does not mean we become passive believers. Functionally, we should partner with the Holy Spirit and engage wholeheartedly in the on-going work of Christ. Jesus said, "It is finished." He did not say that he was finished, and he certainly did not say that we were finished.