The Role of Women in the Ministry, Part 1

Beth Jones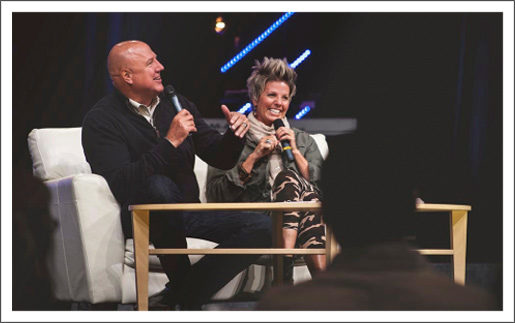 Beth Jones and her husband, Jeff, are the founders and senior pastors of Valley Family Church in Kalamazoo, Michigan, planted in 1991 and named by Outreach magazine as one of the fastest growing churches in America in 2009 and 2010. They also lead Jeff and Beth Jones Ministries, an organization dedicated to helping people get the basics. Beth and Jeff have four children and they make their home in the Kalamazoo area.
Beth grew up in Lansing, Michigan, was raised as a Catholic and at the end of her freshman year in college; she came into a personal relationship with Christ through the testimony of her roommate. It was there, at age 19, she realized God's plan for her to preach and teach the gospel through writing and speaking. She has been following that call ever since.
Beth is the author of 20 books, including the popular 7 Basics book and the Getting a Grip on the Basics series, which has been translated into over a dozen foreign languages and is being used by thousands of churches around the world. She also writes The Basics Daily Devo, a free, daily edevotional for thousands of subscribers.
The heart of Beth's message is a passion to help people get the basics! Through down-to-earth teaching, she helps people connect-the-dots and inspires them to follow Jesus and live the successful, fruitful lie God desires for them.
Beth attended Boston University in Boston, Massachusetts and received her ministry training through Campus Crusade for Christ and Rhema Bible Training Center in Tulsa, Oklahoma.
For more spiritual growth resources or to connect with Beth, please visit:
www.valleyfamilychurch.org
www.jeffandbethjones.org
www.facebook.com/jeffandbethjones
www.twitter.com/bethjones
www.instagram.com/bethjones
The following article is an excerpt from Pastor Beth's book entitled, BREAKING THROUGH THE STAINED GLASS CEILING. To obtain your copy of this book, please visit www.jeffandbethjones.org.

Read Part 2 of this teaching.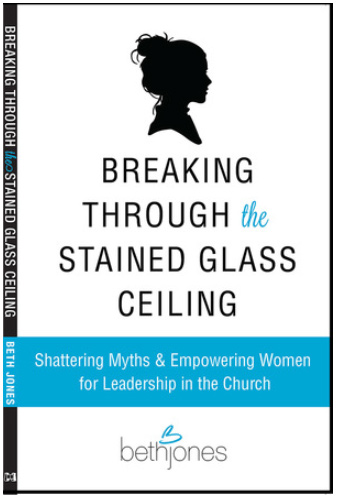 "I just want you to know; we're leaving the church." She said it as such a matter of fact. I was stunned and said, "Really? Why?"
At the time in 1992, my husband Jeff and I had been pioneering Kalamazoo Valley Family Church (now Valley Family Church) for about ten months when this young lady who had been faithfully serving as a lead teacher in our children's ministry, told me she and her husband were leaving the church.
"It's because of you," she said.
"Me? What did I do?" I asked, as I prepared to hear what I had done to force them out.
"My husband doesn't believe in women preachers," and with that, she turned and walked away.
I was surprised and hurt. It was a sock in the stomach. Her remarks that day were the first of many such opinions I would hear over the years. Little did I know how controversial this topic could be!
The Bible Says Women Can't…
I was raised as a Roman Catholic; our church leaders were priests and nuns—and the option of being a nun was never on my radar. When I became a born-again Christian, it was dramatic. Jesus radically changed my life! I loved Him. I loved following Him. I loved telling people about Him. When I felt God's call to the ministry, I didn't know what that would mean since I didn't have much experience with the evangelical world or the "controversy" over women preachers or leaders.
I was in for a rude awakening.
I quickly learned some familiar phrases that I'd come to dread: "I don't believe in women preachers; so, how can you teach the Bible?" "Why does your husband let you teach the congregation? Doesn't the Bible say that women should be quiet in the church?" "You can teach the Bible, but only to other women—not to men—because you are supposed to be submissive and not have any authority over men." "My friends won't come to our church because we let women have leadership roles." "This conference is for the pastors (men)—the wives are going shopping."
A few comments stand out. Years ago, one man was trying to give me a compliment—I think. After I had spoken on a Sunday morning, he walked right up to me and said, "Personally, I don't care for women preachers, but my wife watches you on TV and she loves you." I was almost encouraged!
I remember a comment card I received about a month after we moved into one of our new church buildings. It was in the middle of our Grand Opening celebration and the card had these encouraging words, "Why does she speak? She doesn't have anything to say!"
Many years ago, I received this email from a very genuine-hearted young man in our church:
I have been attending the church for a little while now. It is an amazing place to worship and I love it. But I recently invited my friend from work to come to the church with me. I told him the name and he said, 'Oh.' Then I asked him what was wrong with VFC. He replied with, 'They have a woman pastor.' I then questioned him. He told me to check out 1 Timothy 2:9-15, which talked about a woman's conduct inside the church. Wow. I do not understand, if it says that women should not speak in the church, then why do they? I am not at all jumping on you, because I love how you are bringing lots of people to Christ. But I do not understand and I was kind of hoping you could explain it to me and help me to understand . . . I'm probably not the first one to ask you about this, but if you could take the time out of your busy schedule to answer this for me, I'd very much appreciate it. I still want to attend the church because of the beautiful and wonderful things that are going on there, but I don't want to disobey God at all, in any way. If I can prevent myself from disobeying Him, I will. Thank you very much.
I've learned that when people question or make disparaging statements about women in ministry, these comments are generally not intended to be personally hurtful—even though they hurt deeply. They are often the result of personal convictions or religious upbringing and traditions learned by sincere people who love God and His Word.
By the way, that couple? They did leave the church and I embarked on an interesting journey with the Lord and His call on my life.
The Struggle
Like thousands of women over the past several centuries, I've had many talks and tears with the Lord about this very topic, because in my heart I just wanted to please Him. I didn't want to disobey Him or His Word by thinking He had called me to lead and teach, when in reality He had not; nor did I want to disobey Him by not leading or teaching, when He had actually called me to do so.
To make matters more complicated, I felt strongly that the Lord wanted me to focus on leading and teaching in the church and writing books for the church. I've often felt conflicted about this and have asked God many times, "Why have You called me to lead and teach in the church—the very place that doesn't believe in women like me?" I've even tried on numerous occasions to get the Lord to release me from being focused on the church.
Eventually, like other women before me, I embraced what I did not understand. Although it has not always made sense, God put a deep love and burden for the church—His Church—in my heart. I am convinced that serving the church is my sweet spot. It's my lane to run in. I'm a pioneer, a shepherd and a Bible teacher at heart. (After all, my maiden name was Beth Shepard, and as a young girl, I sometimes wondered if it described my destiny! Beth means "house of God" and Shepard is a variation on "shepherd"—so, there ya go!)
The truth is, I love the church, the global Church and local churches. I love seeing what the Holy Spirit does in people's lives through His Body, the church. I love everything the church is about: worship, evangelism, teaching, discipleship, relationships, transformation, growth, outreach, influence, creativity, healing, redemption and restoration, community, team, equipping and training! I love the way God uses His Church to bring the gospel to entire cities and regions.
I'm one of those people whose adrenaline gets pumping when we talk about church planting and church growth. Any time I see an empty building in any town around the world, my first instinct is to say, "That would be a great place for a church" and in an instant I envision a church taking up residence there. Whenever I have a creative idea for reaching people with the gospel, it is always connected to the church. When I write a book, my driving motivation is always, "How will this help the church help people?"
I get happy and fired up every time I read this passage about the power of His Church:
"All this energy issues from Christ: God raised him from death and set him on a throne in deep heaven, in charge of running the universe, everything from galaxies to governments, no name and no power exempt from his rule. And not just for the time being, but forever. He is in charge of it all, has the final word on everything. At the center of all this, Christ rules the church. The church, you see, is not peripheral to the world; the world is peripheral to the church. The church is Christ's body, in which he speaks and acts, by which he fills everything with his presence." (Ephesians 1:20-23, MSG, emphasis mine)
Over the past 30-plus years, I've studied the Scriptures and the various theological arguments on the subject of women in ministry, and teaching and leading in the church. I've spoken to other godly people about this subject. I've read books by Christian men I highly respected and I've listened to sermon messages on this topic. I've prayed. I've lived it. I've learned a few things. This book is about what I've come to understand from the Word and my own personal experience about the sometimes controversial role of women in the church.
Questions, misunderstandings and comments have led to confusion and hurt for many women who have sensed God's hand on their lives and a strong call to serve Him with the leadership, executive, strategic, visionary and teaching gifts He's given them. Some have given up and any dreams they've had have wilted and died a painful, quiet death under the stained glass. Others live in a perpetual state of disappointment knowing how much they could bring to the table in helping their husbands and their churches, if only they were given freedom to use their leadership gifts. Still others have revolted in their own version of "pastors' wives gone wild" and have kissed the church goodbye.
I trust the lessons learned by me and the other women leaders profiled in this book will help those of you who feel called of God to teach, preach and lead in the church, but are restrained by the stained glass ceiling. I am also hopeful these pages will shed some light on this subject for the men who read this book.
Why This Book Now?
It's time. Time for thousands of women (and perhaps men) to settle these questions: What roles should women have in the church? Does the overarching counsel of God's Word teach that women must be silent in the church? Does the Bible teach that women cannot teach or preach in the church? Is it true that women are not supposed to teach men? Is it true that women are not to have any spiritual leadership role in the church?
This is a book about: Women. Leadership. Church. But, it's not a book just for women. It's a book for anyone interested in what could happen if thousands of women—called and gifted—were welcomed into leadership along with men in local churches around the globe to reach people for Christ and turn our church monuments in movements that will have a greater impact on this world.
This is a fresh biblical view of a topic that has been hotly contested for millennia. For those who are wondering what could help the church regain its relevance and influence in cities around the globe—this may be a huge missing piece and a secret weapon God wants to release in this hour.
This book is my story and the stories of a dozen other high capacity women called to leadership in churches around the world—and it's giving a voice to thousands of other women who have prayed, worked, cried and carried on as they seek to serve the Lord and fulfill His calling on their lives.
I will be the first to admit that this book is not an exhaustive theological treatise on this subject. I do not address every verse of Scripture that relates to the role of women in ministry and church life and I may raise more questions than I answer. I also understand the fact that because I, as a woman, am writing this book, it could be perceived as biased from the start. I get that. As a "male counter-balance," I have listed many excellent resources created by men on the subject of a woman's role in the church at the end of the book, and I highly recommend them.
In the same way that a male gynecologist who's delivered many babies can give authoritative, expert advice on having a baby, a woman who's delivered six children has a different take on what it's like to have a baby. They both speak with the authority of their perspective. He speaks with a medical authority, and she speaks with a different kind of authority. This book may fit into that category—a different look at this important Biblical subject. So, I hope you'll join me to the very last page as we explore the role of women in the church.
How I Got Here
Let me start by sharing a bit of my story. I hope that through sharing my experience—we can get acquainted and those of you who are on a similar journey will be encouraged in knowing you are not alone.
It was 1979. I was minding my own business when God tapped me. The idea of being in the ministry or involved in a church at any level was not a thought I had ever considered as a teen or young adult. My life goals were simple: attend college, major in biology, become a dentist, get married, have five kids (who would all wear matching outfits on Easter) and play tennis.
As a freshman in college, I figured I would just have a good time, get my degree, go to dental school and live the life I envisioned. But God had a different idea. First, He used Andrea, my childhood friend and college roommate to lead me to Christ. When Jesus came into my life, everything changed—especially my life goals and priorities. My number one goal, as the oldest of four sisters being raised by a single mom, was to lead the rest of my family to the Lord. Within a short few years, this was accomplished and everyone in my family had given their lives to Jesus, yet the idea of leadership in the church was still non-existent.
The only experience I had being a "leader" in church after I was born again started and ended after one of the most embarrassing moments of my life. It was Sunday. My mom and stepdad were already at church and I was supposed to meet them, but running late. I wanted my new dress to look perfect, so it took me a little longer than usual to get ready, but I finally made it to church when the worship leader was starting the second song. Everyone was standing as I looked around the sanctuary to spot my parents—yep, there they were in the second row. I made my way to the pew and stood there along with everyone else praising the Lord and feeling pretty good about this new dress and myself.
When our pastor told us to "turn and greet and have a seat," I made sure I greeted everyone to the north, south, east and west of me—after all, they needed to see how good I was looking! When I went to sit down, I smoothed my dress under my behind, only to discover something was missing—primarily, my dress! Unknowingly, in my hurry, I had tucked my dress and my slip into my panty hose. I sat down and tried to figure out a way to untuck. Then I began to go through the list, Who's behind me? Who saw me walk down the aisle? How long was I standing there with my hands in the air and my 'tush' exposed? I was mortified and humiliated! I have no idea what our pastor preached on that day. That experience sealed it—the idea of being a "leader" in church was not something I desired…at all!
That changed one afternoon in 1979. I was a sophomore in college at Western Michigan University and while sitting in my dorm room and meeting with Debbie, the Campus Crusade for Christ Group Leader who was mentoring me, God interrupted my plans! She shared a little book with me titled: Have You Discovered God's Plan for Your Life? I had not discovered God's plan. I didn't even know God had a plan. I figured God would bless my plan, and my plan was to become a dentist! As she was reading that booklet to me, she came to Romans 10:13-15 and it jumped off the page;
"'Everyone who calls on the name of the Lord will be saved.' How, then, can they call on the one they have not believed in? And how can they believe in the one of whom they have not heard? And how can they hear without someone preaching to them? And how can anyone preach unless they are sent? As it is written: 'How beautiful are the feet of those who bring good news!'" (NIV)
Time stood still for a few moments and I suddenly knew God was calling me. This was a monumental moment. I knew I couldn't be a dentist. If God was just looking for preachers—people who would tell others how to not spend an eternity apart from Him—how could I be a dentist and let people go to hell?
The way I saw it, if all people needed to do in order to be saved was to call on the name of the Lord, and if the only reason they hadn't called on the name of the Lord was because they had not heard, then, I had to tell them. It seemed as if God spoke to my heart with a huge announcement: "I interrupt your life to bring you this very important message. You are not going to be a dentist. You are going to tell people about Me." From that moment on, my life and purpose changed!
Although I had no idea what being called to the ministry would actually look like, somehow I knew that the primary way I would be telling people about Jesus would be through writing and teaching, and that one day when I got married, I would be working together with my husband to build a church and raise a family.
My Story Is Probably a Lot Like Your Story
As it turned out, this has indeed been God's plan for my life. I left Western Michigan University, transferred to Boston University and changed my major to learn all I could about Communications and Public Relations—for the purpose of preaching the gospel. After I graduated from college, I spent several years serving the Lord through various campus ministries, churches and non-profit organizations. Then I received my ministry training from Rhema Bible Training College.
In the process of time, I met my husband Jeff and after we were married, we did start a family—and a church—and I've been teaching and writing books. We had four children—well, actually five if you count the church!
When it comes to our family—Jeff and I love the privilege of being parents and I can say without hesitation, our kids have been our most important ministry and our greatest joy! Meghan, our oldest daughter, was three years old, Annie was ten months old, and I was pregnant with our third child, Luke, when we pioneered Valley Family Church in 1991 in Kalamazoo, Michigan. Three years later in 1994, we had our youngest son, Eric. Pioneering a church while raising four preschoolers meant that I was pregnant for about six years in a row, and Jeff and I lived with one nostril above water. Sleep was worth more than money. We leaned on God's "grace for the pace" daily and loved every second of it! (Well, maybe not every second.)
We were a little nervous about raising "pastor's kids!" Neither Jeff nor I were raised in a pastor's home, so we were clueless how to do this. You've probably heard stories about pastor's families and "pks," pastor's kids. We did too! Horror stories! That's what freaked us out! Since we didn't know what the "proper protocol" was, we just did our best to work at having a fun family, enjoying our marriage and raising kids who loved God and others. We had two major rules in our home: You can't call anyone 'stupid' and whatever you do, first ask, 'Would this please the Lord?' We weren't perfect and our kids weren't perfect but our approach seemed to work, and now that our kids are young adults, the verdict is in—our kids turned out to be really nice people. They love God and they all feel called to the ministry and are actively serving as leaders in our church. We have no complaints! Our family is one of the most rewarding things God has blessed us with. Then, there is that fifth child…
It turns out that Valley Family Church was our fifth child—we didn't realize it at the time—but in truth, she was! She was a growing child—demanding and strong-willed—we loved her with all our heart and she brought great joy into our lives! We gave birth to VFC with five adults and four kids and since that time, our church has grown to include thousands of people who call us home—along with a couple of campus launches and a church plant.
From the beginning, we felt it was our job to build a multi-generational church that would help people "get it." In simple terms, our church exists: to help people get it, and that means…
The lost get saved.
The saved get victory.
The victorious get trained.
The trained get going.
Our goal was to build a church that would successfully blend reaching lost, unchurched people; while at the same time, equipping believers to live the Spirit-filled life of faith so they could reach out to more lost and unchurched people. This is no easy task. For some, our church isn't deep enough, for others we are too deep. Perhaps this is a compliment?
The best and only way we know to measure our effectiveness is: fruit! Forty-percent of those who attend our church tell us they were not attending church anywhere prior to coming to our church—that makes us very happy! Those who did know the Lord before attending our church tell us they are growing at an exponential rate as God's Word comes alive in their hearts. The fruit we've seen in people coming to know Jesus Christ and the spiritual growth we've seen in their lives of others has truly been "our joy and our crown!"
In order to raise our own four children (Meghan, Annie, Luke, Eric) and our fifth child—Valley Family Church, we felt God called us to work together as a husband-wife team. In our roles at home, we are "mom and dad" and we share all that goes with raising a busy family. In our roles as the senior pastors, we are the "spiritual mom and dad" of the House and we share all that goes with raising a busy church family. We have our unique gifts, responsibilities and roles and yet, we work on many things together, including: teaching, strategy and execution. We cast vision, lead the staff and oversee the church as a husband and wife team and since 2003, we have split the weekend preaching 50/50. God has blessed our approach in leading our family and church as we have endeavored to live by Psalm 34:3, "Oh, magnify the LORD with me, and let us exalt his name together."
Thankfully, we've had help! The Lord has surrounded us with a great staff and team of volunteers. Early on, He called several special people to help us at home with our kids—and we are forever indebted to them. The Lord has called hundreds of other people to use their gifts to come alongside and help us build a church. Like most pastors, we feel that we have the best staff, lay leaders, volunteers and church family in the world! As a church, we have lived on God's fulfillment to His promise to command His blessing on our church as we all walk in unity, "Behold, how good and how pleasant it is for brethren to dwell together in unity… For there the LORD commanded the blessing—life forevermore" (Psalm 133:1, 3).
In addition to my role in working together with my husband to pioneer and grow the church, as I mentioned, a large part of my calling has been to write books to help people get the basics. God has enabled me to write around twenty books, including, the 7 Basics and the Getting a Grip on the Basics series, which are being used by hundreds of churches in America and have been translated into over a dozen foreign languages around the world.
So, that's part of my story. I'll share more later.
Gutter Balls
As you can see, although serving God in ministry was not on my original radar, I eventually figured out how to accept, embrace and step into God's calling to be a leader in our church. But to be honest, it was a process—and I had to learn how to quit throwing "gutter balls."
In the early years of planting our church, I was idealistic, optimistic and certain that everyone would want to help us win all of Southwest Michigan to Jesus. But after a few years of pioneering, I got weary of being rejected by those who did not approve of my role. Their negative comments wore me down to the point that for a few years, I let insecurity, intimidation, and the "fear of man" dominate me and I threw "gutter balls." That is, I backed off from following my heart, passion and purpose. I shrank back from doing much of anything public that looked like leadership, being on the platform or teaching God's Word. I threw gutter balls so I would not appear to be a leader.
Let me explain a gutter ball. When I was in junior high school, a group of us boys and girls went bowling one day. My mother taught my sisters and me a simple rule of thumb: ". . . in sports, don't beat the boys." (It was a different era then. I don't know too many teenage girls that would embrace that philosophy these days!)
Normally I wasn't a very good bowler, but that day I must have been in the zone because I found myself bowling strikes and spares. However, I knew if I continued to bowl well, I'd beat the boys and that was a "no-no." So, what did I do? I started throwing gutter balls—on purpose! I marched up to the line, acted like I was trying to get a strike, and then at the last minute I'd throw my bowling ball toward one of the gutters to make sure I didn't win.
Sadly, that mentality resurfaced as I navigated my role as a woman in church leadership. I had "reluctant leader syndrome." At times, it was just easier to throw a "ministry gutter ball" and not step up to the plate, or God's calling, in order to avoid being criticized. Fortunately, my husband wouldn't let me throw gutter balls for too long. He has always been my biggest encourager, and his consistent support has been immeasurable.
In addition to my husband's words of wisdom, my greatest comfort has been in sensing God's encouragement and approval. One day, as I drove around Kalamazoo praying for our city, I was feeling particularly "gutter-ball-minded" and the Lord quickened this verse to me, "Do not be afraid, but speak, and do not keep silent; for I am with you, and no one will attack you to hurt you; for I have many people in this city" (Acts 18:9-10, NKJV).
As I embraced this word, my heart was anchored. God has confirmed His calling time and time again. Every now and then I'll hear Him speaking, almost singing this Glen Miller song to my heart, "I've got a gal in Kalamazoo . . ." Knowing that I am "His gal" makes all the difference, and is a great source of encouragement in my calling.
Stained Glass or a Concrete and Rebar Ceiling?
You've heard my story, but what about yours?
I know you are out there because I have talked to hundreds of you. It's possible that in your organization or church world, the "stained glass ceiling" isn't made of stained glass, but of concrete and rebar. The idea of leading or teaching the Word to others is in a galaxy far, far away. Maybe you don't feel called to pastoral ministry, teaching or preaching, but you do feel that your leadership gifts and passion for the cause of Christ could serve the church in other ways—through creative arts, worship, media, communications, executive operations, connections, spiritual development, finance, kids and student ministries, outreach, technological, legal or justice initiatives or a host of other areas—if only you were given the chance.
In a galaxy far, far away . . .
I understand. We've seen it . . . and you've seen it. Women—who are tremendous wives and mothers, as well as spiritually mature and anointed with wisdom, faith, leadership, executive, administrative, organizational, creative, entrepreneurial and/or teaching gifts, and have paid their "faithfulness" dues—seem to be stuck in an orbit which only includes creating the bulletin, singing in the choir, playing the piano, hosting showers, doing secretarial work or making chicken divan casseroles for funerals.
An added dilemma for high-potential, high-capacity women called to the ministry is to watch ill-equipped, immature, incompetent, and inexperienced men move up the leadership ladder in church, passing by exceptionally qualified, godly women—simply or only because they are men.
The result of this standard operating procedure in the church is that many gifted, called, and anointed women have given-up and are using their gifts outside the church. They've been accepted as lawyers, brain surgeons, dentists, accountants, editors, broadcast journalists, engineers, architects, entertainers, film-makers, designers, entrepreneurs, university presidents, CEOs, governors, senators, prime ministers and presidents; but they have been banned from leadership in many churches. What a loss for the global Body of Christ and local churches everywhere.
Is that really God's plan?
Hang In There
Girls, what about you? Is the cause of Christ what you are most passionate about? Is God's Word burning in your heart like a fire shut up in your bones? Has God wired you to be a pioneer, innovator, church planter, campus pastor, teacher, preacher or leader in the church?
Are you discouraged because no one has validated your call as authentic and God-given? Do you feel pregnant with a vision and about to burst? Are you a woman who's felt God's call to the ministry—but you've experienced so much disapproval, rejection or criticism, you've given up? Have you been given limited opportunities to do what's in your heart, but it's usually the role no one else wants and there's no budget to support it? Have you prayed for God to just "take away" your desire to proclaim His Word? Have you asked the Lord if He gave you the wrong gifts? Have you faced the frustration of closed-door-after-closed-door in your local church? Have you felt despised, overlooked or misunderstood? Have you been tolerated, but not accepted? Have you been dismayed by the critics? Have you been throwing "gutter balls" or living in a state of perpetual "reluctant leader" syndrome? Perhaps you can relate to one or all of these questions. If you've had high hopes and extreme patience, I know that the deferral of your hope can make your heart sick. Hang in there! Don't give up! God hasn't forgotten about you.
Don't quit. Don't give up!
Let me encourage you. Shifts are happening in both the global and local church. I don't know how or when, but you can trust the Lord. He has your back. The Bible says, "And I thank Christ Jesus our Lord who has enabled me, because He counted me faithful, putting me into the ministry" (1 Timothy 1:12, NKJV). Don't be discouraged! If God is for you, who can be against you? Stay faithful! Do what you know to do. He will produce eternal fruit through your life and eventually others will recognize His hand upon you. The most important thing isn't the approval of man, but the approval that comes from God.
It's my prayer as we tackle this topic, breaking through the stained glass ceiling, that you sense the Lord encouraging you, strengthening you, and filling you with renewed hope in your calling.
The LORD will guide you continually, and satisfy your soul in drought, and strengthen your bones; you shall be like a watered garden, and like a spring of water, whose waters do not fail (Isaiah 58:11, NKJV).
Read Part 2 of this teaching.

This article is an excerpt from Pastor Beth's book entitled, BREAKING THROUGH THE STAINED GLASS CEILING. To obtain your copy of this book, please visit www.jeffandbethjones.org.
https://tonycooke.org/wp-content/uploads/2020/09/TCM-LogoColor-300x105.jpg
0
0
Tony Cooke
https://tonycooke.org/wp-content/uploads/2020/09/TCM-LogoColor-300x105.jpg
Tony Cooke
2014-10-15 19:06:03
2014-10-15 19:06:03
The Role of Women in the Ministry, Part 1 by Beth Jones