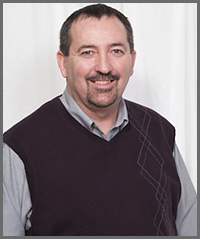 Pastor Ray Eppard graduated from Rhema Bible Training Center in 1979. He currently pastors Victory Worship Center and World Outreach in Staunton, Virginia, which he started in 1983. Pastor Ray has traveled to several different countries where he has primarily conducted leadership conferences for ministers and other leaders. Pastor Ray ministers the Word with simplicity and accuracy and with practical application that equips the believer for victory.
Pastor Ray and his wife Liz reside in the Shenandoah Valley with their sons Aaron & Zachary.
Reaching Your Community Through Athletics

Pastor Ray Eppard
It was August of 1974, one month before I turned 15. For me, summer time meant bailing hay, going swimming in the local streams, and playing ball. I mainly played baseball, but any type of ball would do. Spiritual interests were not high on my list of priorities. I attended the youth group meetings at my church, primarily just to have something to do.
Our youth leaders had developed a relationship with the host of a local bible study. The ages of that group ranged from young teens to late thirties. Our leaders told us that the bible study group had invited us to join them for a picnic and some volleyball followed by a bible study with a speaker. This sounded real good to me; hamburgers, hot dogs, and a ball game were all the essential elements for a great time. I could endure the bible study for food and a ball game but I still had some reservations.
I was familiar with this bible study. During the previous school year, the bus that I rode every day brought me into contact with Neil. We had nothing in common. Neil was an A student but I was not. I was athletic but he was not. He had just started taking Greek so he could know more about the Bible. Me — I liked sports and girls.
Neil kept inviting me to this bible study, and I declined every invitation. I felt I wouldn't fit in because I wasn't like him. I was sure they wouldn't like the things I liked. Now I find out they are playing volleyball, so maybe this won't be too bad. I decided to go.
I ate the hot dogs and hamburgers like they were going to be my last meal. I played volleyball with every fiber of my being. It was a great day. I was a 14-year-old enjoying what 14-year-olds enjoy. Then it came time for the bible study. I should show interest because they had earned it.
That day changed the course of my life. By the time they dismissed the bible study, I had received the Holy Spirit, spoke in tongues, and started a walk with God that I have continued until this day. I have been involved in church plants, missions, ministered on four continents, taught in bible schools, and been a senior pastor for over 30 years. Why do I "speak as a fool" as Paul would say?
I do this to make a point. Some would credit the speaker at the bible study; others may applaud the hosts or even my church's youth leaders. All of these deserve credit, and I know God will reward them for the impact they had on my life. However, the main reason the events of that evening took place is this: they were playing volleyball. Without the ball, I would not have been there. The game is what got me there.
Today we are facing a time when the number of people that have a connection to a church or ministry is decreasing, especially among young people. There is an increase in negative feelings toward the church in our society. We can curse the darkness or we can light a candle. I choose to do what I can to make a positive impact for the kingdom of God in the world. I believe that this is where the athletics come into play.
We are to be fishers of men. Too many people and ministries are fishing without bait. Look in the tackle box of any avid fisherman and you will find lots of different lures. A fisherman can explain the type of fish that each one is for. He also knows that sometimes the fish just are not biting and you may have to switch until you find what they will strike. The fisherman has to adapt to the fish. In the church, we don't change the Word, but we must change the lure or the bait at times. Athletics is one of our lures. It is bait. We have to change how we do ministry — this isn't the 50's. This is a different fish and requires different bait.
At our church, we have what we call ACTSports (Advancing Christ Through Sports). We take a low-key approach when it comes to the gospel. At the practices, there is a brief "devotional" that focuses on character traits, teamwork, and sportsmanship. At the last practice, there is a brief (3 minute) age appropriate gospel presentation typically using a sports analogy. Every year we have had young people accept Christ.
The ministry to those that don't accept Him at that time is just as vital. Sometimes we are sowing the seed into their lives; other times we are nurturing a seed that is already planted, but isn't ready for harvest. Our job is to help individuals move from where they are toward Christ. This doesn't always happen in one step, but it does help establish our brand in their minds for when they are ready to receive.
I learned the value of this many years ago from a successful advertising salesman in our church. One day he said to me; "Pastor, most people don't understand the purpose of advertising. They think it is to sell something." I knew he thought I was one of those people, and he was right. So I bit, and I asked "what is its real purpose?"
He spoke two words – Kleenex and Jaguar. Then he asked me what I thought about when he said those two words. I said, "a tissue and a car."
He told me that Kleenex is a brand of tissue and jaguar is a cat that a car is named after. Kleenex and Jaguar have successfully advertised or branded those words to the point that we no longer think first of the cat and we will call any tissue a Kleenex regardless of the brand.
He then imparted his wisdom, which I will never forget. He said, "The purpose of advertising is to get people to think about you when they need what you have. They don't always feel like they need what you have, but when they do, good advertising will get them to think of you first."
Our sports program is a part of our advertising, our branding process. It is how people get to know who we are and what we are about. This doesn't happen through our words but through our actions. We want them to have a positive experience so that when they see that they need Jesus, they will remember where they have encountered His love in the past.
This helps us address the reality that Paul speaks of in Romans 10 about the necessity of the unbeliever hearing the message. One problem the church has is finding a way to get them in the door. How do we get them to hear and listen?
In our ACTSports program, over 70% of the participants in each sports season are not a part of our church. That's right over 70%! Is that an opportunity or what? We are seeing whole families start attending our church after a season or two of involvement in ACTS. The "fields" are ready for harvest.
The overwhelming majority of kids play some form of organized youth sports at some point. There is no other single activity that has the potential to touch so many young people and their parents. God used my own experience to get me to see the opportunity that youth sports provide.
Most kids like sports of some kind and they want to have fun playing games. It can teach so many life lessons such as teamwork, determination, perseverance, the need for a positive outlook, and many others. These are things that we can teach in church, but this gives them the opportunity to put it into action right away. And if they are not in church then we don't get the chance.
It saddens me when I see the number of churches that fail to value ministry to children and youth and treat it as a secondary thing at best, even within their services. I feel this is one of our greatest opportunities in ministry today. Yet the church world as a whole doesn't see the need to spend the money. Ministering to children and youth does cost money, and the children's offering isn't very big. However, even people like Hitler saw that if they could impact one generation of youth they could change their society. How much more can we do with the help of the Holy Spirit?
It is very important that we don't undermine our efforts. To illustrate: we do not promote or try to sell people on attending our church through our athletic program. That's counter-intuitive, I know. I agree with what John Maxwell has said, "People don't care how much you know until they know how much you care." The program can't be about us.
If our primary purpose is to grow the local church, as noble as that is, then people will be able to sense that motivation. People from other churches will not want to be a part of it. The un-churched will conclude we're just another group promoting themselves and trying to get something out of them. That's not being a good fisher of men. Instead, they should be coming in contact with the love of Christ. Eventually, they will bite if we have good bait.
In conclusion, most of us have heard the expression about the "slippery creek bank." Having grown up swimming in local streams and being on the resulting wet rocks where you can slip into the water if you hang around the "slippery creek bank," I use this analogy as a part of our vision casting to the church. Athletics is a way to increase the size of our "slippery creek bank." We have to find ways to get them to hang around, and let our light shine in love. If we can establish a relationship with them and invest into their lives and the lives of their children, then the day will come when they will open their ears and their hearts to the gospel and slide down that slippery creek bank right into the kingdom of God.