The Dynamics of Miracles
Christopher Alam
Born in a muslim family with Middle Eastern origins, Christopher Alam received Jesus Christ as his Lord and Saviour in 1975. He was immediately confined in a mental asylum for his faith in Christ. Christopher responded quickly to the call of God and began to preach the Gospel. He was arrested several times and imprisoned for almost a year for preaching the Gospel. After being threatened with execution, Christopher finally escaped first to Belgium and then to Sweden, where he was given political asylum, eventually becoming a Swedish subject.
It was in Sweden that he met his wife, Britta, in the church that he attended. They were married in 1979. Christopher first attended the Torchbearers Bible School in HolsbyBrunn, in Sweden, then, together with Britta, attended RHEMA Bible Training Center in Broken Arrow, Oklahoma. Christopher also served with Operation Mobilization in the Benelux countries. He taught for several years as a full-time teacher at the Word of Life Training Center in Uppsala, Sweden, which was the largest Bible school in Europe at that time.
Dynamis World Ministries started as a missions organization with Christopher Alam's preaching behind the Iron Curtain long before the fall of Communism in Eastern Europe. From there, it then spread to Asia, Africa, and Latin America. In 1993 the Alam family and the ministry's headquarters moved from Sweden to Lancaster, Pennsylvania. Christopher Alam has preached the Gospel in over 75 nations so far, and over 1,500 churches have been started as a fruit of this ministry. The preaching of the Gospel is accompanied by signs, wonders, and miracles. Dynamis World Ministries has a full-time crusade team at its base in Zimbabwe in Africa.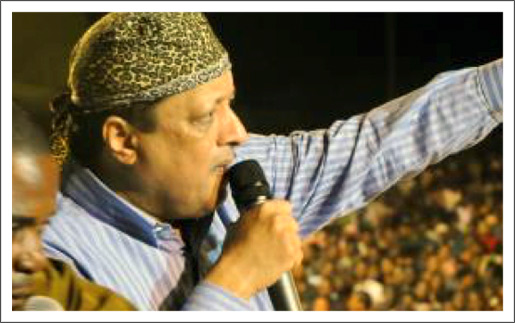 In addition to this, the ministry also runs an Orphanage and a church planting Bible school in Zimbabwe. Christopher Alam is also the General Overseer of AWAKE Churches, a fellowship of over 400 in Africa with its headquarters in Zimbabwe. Christopher Alam is ordained by the general council of the Assemblies of God and is part of their PennDel District. To find out more about Christopher's ministry, visit www.pentecostalfire.com.Last night a young man was carried to our Gospel Festival. He was totally paralyzed and unable to walk. As I prayed for the sick en masse from the platform, our Lord Jesus touched this young man. He stood up and began to walk, completely healed.
Now to understand this, here are the reasons and dynamics as to why and how such miracles take place.
1. Our Lord Jesus is risen from the dead, and He is alive today. That is why He does the same things today that He did 2000 years ago.
2. The Word of God is 100% inerrant and true, and God confirms His Word with signs following.
3. The Holy Spirit is still at work today with His supernatural power.
4. The Name of Jesus is mighty and has power over every kind of disease, infirmity and evil spirit.
Acts 3:16
"And his name through faith in his name hath made this man strong, whom ye see and know: yea, the faith which is by him hath given him this perfect soundness in the presence of you all."
5. The Gospel message is still powerful. Whenever Jesus Christ is preached as crucified and risen, miracles accompany the Gospel.
6. Faith in God and in His Word still makes impossible things possible. All things are possible for him that believes! (Mark 9:23)
7. Man has nothing to do with this. If I could perform such miracles, I would not be preaching the Gospel, but running a "miracle clinic" in New York City performing miracles and raking in millions. A preacher of the Gospel is merely a "mailman" delivering the priceless gifts of God to man. May we always be found faithful to the Gospel, and in delivering the gifts of God of salvation, healing, and deliverance from the throne of God to the people.
All glory to our Lord Jesus!