Doing Sundays Right

by John R. LaBruzzo CHA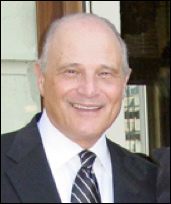 Known for his entrepreneurial and intuitive management style which has created value and profitability for clients and company's alike, John LaBruzzo brings thirty plus years of leadership experience to hospitality rooms and food and beverage operations, new project development and staff training and development in his consulting practice. With a functional speciality in food and beverage concepting and development; John has opened nine notable hotels from the ground up during his career as either General Manager or Development Team member. Among them, the Waverly in Atlanta, the Ritz Carlton in Washington, DC, The Peabody in Orlando and the Walt Disney World Swan and Dolphin Hotels in Orlando, Florida.
John is an expert on the dynamics of "brand in-culturation" that takes the promise of the operating brand and translating that promise into sustainable programs and techniques at the operating level. These programs and techniques are presented in either onsite training programs for staff and management or delivered via a series of direct application consulting initiatives to return properties to former product and performance levels. John's focus in the "brand in-culturation" segment of his consulting practice is made relevant in that his platform is one of direct experience and involvement as a general manager charged with opening new hotels or turning ailing ones around.
John has earned the coveted CHA designation of the American Hotel and Lodging Association and has presented programs on hospitality leadership at the major hotel schools around the country.
One of the first things they teach you in "Restaurants 101″ is not how you serve a table properly….ladies and older people first, serve from the left, pick-up from the right….or how to make a Caesar Salad… what they do teach you is how to prioritize and organize your work! This is done in order to effectively handle the fast-paced world of restaurant food and beverage…where guest come and go…. often all at the same time…all of whom are hungry!
The simple premise of daily setting priorities…. daily organizing and anticipating guest desires and daily getting ready to accommodate the guest experience quickly converts the student into the entrepreneur. The lesson learned is, whether you are cooking or serving…you prioritize, organize and address the needs of the guest who is there in your restaurant first and then make preparations for the guest who is yet to come.
Okay….so how does that relate to doing Sundays right if you are the Pastor of the church or a senior ministerial staff member?
Doing Sundays right begins with a clear understanding of what your church stands for (beyond denominational dictates) and your role in getting your church to that place that it has been called to serve ….did somebody say mission, vision and value" statements….yes! Knowing who and what you are gives you identity and drives the process (s) towards purpose at your church…. from which everything flows….graphics, music, lighting, message, ministry /outreach, organization and community support.
So….if you know who and what you are, you know your members….how does that translate into taking care of the "guest who is there and the guest who is yet to come?" See if these simple organizational and prioritizing ideas make sense for you and your church:
The Guest Who is There
Are the greeters in place….do they have the current bulletins or other materials ready to hand out?
Is the greeting team dressed properly (do you have a dress code for service team members?) and extending a warm welcome to the service?
Is the Hospitality desk staffed and providing direction and information for members and first time visitors?
Is the lighting and temperature set for the proper time of day and season?
Is the church lobby clean and attractive (flowers are fresh and plants are green and taken care of), background music playing?
There is no visual carry-over from a previous season or church promotion still in evidence.
The parking team is in place, in uniform and has made a pre-service pass to police the lot and main entrance of the church.
Restrooms are clean, stocked and checked on several times during the service.
Lighting and monitors for the stage and in the church are working and there are no burned out light bulbs are in evidence.
Nursery and child care centers are clean, staffed and the nursery team has held a pre-service strategy meeting.
Pastor and support team members have come together, prayed and are ready for service.
The order of service is ready to be implemented…music ministry sound check is complete and musicians and choir are in place.
Service begins and ends on time.
Departing guest are bid a fond farewell.
The Guest Who is Yet to Come
The church has a daily / weekly cleaning and maintenance plan in place to ensure that the building and associated facilities are clean and in good working order.
A weekly senior staff meeting is held to discuss church operational and financial issues and plan for the coming Sunday's services from which the "Order of Service" and bulletins will flow and be developed for publication.
Pastor and designated cleaning and maintenance person / staff make a weekly walk through of the church to check on the quality of the cleaning and maintenance in advance of the mid-week and weekend services.
Graphics to announce upcoming programs or emphasize current pastoral messages are updated and put in place.
Electronic marketing (telephone or email) initiatives are updated and put in place for the Pastors coming Sundays' message or other church related activities.
Staff service training is held to ensure that the Mission, Vision and Values of the church are consistently upheld via the execution of the church's guest service plan.
When it's all said and done the ongoing preparation and the execution of a church guest service plan is one of the biggest initiatives (after the preaching of the Word) that a church organization can undertake to ensure that Sunday's are "Done Right"….the same professors that told the Restaurant 101 students to daily plan for the creation of a memorable guest experience would close by emphasizing…. that if you are to be successful…you have to, without fail, INSPECT WHAT YOU EXPECT!
Blessings and success in saving souls and creating memorable church guest experiences.