A Prayer for the New Year

Lisa Cooke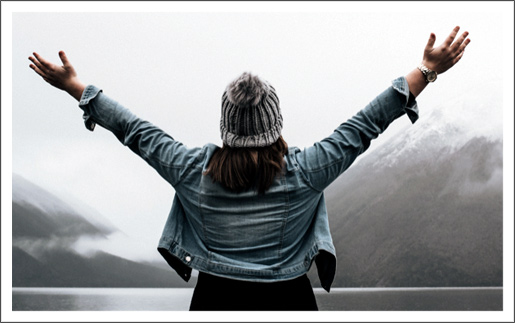 A prayer is forming in my heart as I begin to look at this New Year now upon us. A prayer for the people of God, that they would experience in growing measure the privilege of living "full lives, full in the fullness of God (Ephesians 3:19 The Message Bible)." Many of us will put the desire to grow closer to God on our New Year's Resolutions list, for we feel His Father's heart longing for our hearts to be completely His.
From experience, we know this is typically not an immediate achievement, but a progressive work of the Holy Spirit in cooperation with our surrender to His will. I really love the way the Message Bible renders Ephesians 3:20-21.
God can do anything, you know—far more than you could ever imagine or guess or request in your wildest dreams! He does it not by pushing us around but by working within us, His Spirit deeply and gently within us.
The Holy Spirit always works within us in a loving manner, not as a controller or as being co-dependent, but with the wellbeing of the child of God for the glory of God as His motivation. If His process seems slow or ineffective, remember that He knows us better than we know ourselves. He knows how we learn best, He knows our personalities, and He knows how to make lasting change in us. We can be patient with His process because we know that He will complete the work He has begun in us (Philippians 1:6).
But even with all that the Holy Spirit knows about us, what we know about Him will make a huge difference in how we grow into experiencing God as fully as possible.
He waits for our invitation. He respects our will, just as we are to respect the will of God. Mutual respect is the manner of all the best friendships, and our relationship with God is to be the highest and best of all relationships. Making a heartfelt request for His intervention in our lives is the first thing we are to do, even on a daily basis.
He waits for us to pay attention to His voice. Learning to hear the voice of the Spirit appears to be a lifelong endeavor, our skill sharpened by practice and focus. We are often reminded to pay attention to the still, small voice that Elijah heard, but the Holy Spirit can speak to us in many other ways as well. Let the sound of His voice, in whatever form He chooses, always cause us to turn our attention to the will and truth of God.
He waits for us to accept and do what we hear Him say. We know we are not to be "hearers only" (James 1:22) for God has given us an important part to play in our relationship with Him through our willingness to believe and subsequent obedience. Jesus has been our perfect example of one who accepts and does what the Father says, for in John 5:19 Jesus "gave them this answer: 'Very truly I tell you, the Son can do nothing by himself; he can do only what he sees his Father doing, because whatever the Father does the Son also does.'"
The ways of the Holy Spirit are the ways into the fullness of life with God as He has intended for His children. We don't have to settle for a life less than what God wants to give us, but we will need to intentionally find and then live the ways He leads us in to have all that is available to us here and now.
Here's to a year in the fullness of God!