When Christmas Put a War on Hold

Tony Cooke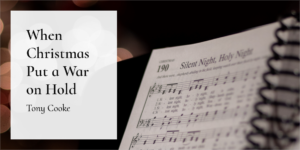 A pastor friend just contacted me and let me know he was going to be sharing some thoughts on a few of the Christmas Carols in their Sunday service and asked if I had any thoughts. My heart was immediately gladdened because many of the songs about Christ's birth carry such rich and profound meaning.
I immediately thought of what is often called "The Christmas Truce" that happened during WWI in 1914. It was Christmas Eve, and British soldiers and German troops were squared off against each other. They were all burrowed into their opposing trenches within a short distance from each other. There are hundreds of different accounts from the diaries of different soldiers, but one of the accounts is that a German soldier began singing the Christmas hymn, "Stille Nacht" (Silent Night).
The History Channel website reports what happened next:
Starting on Christmas Eve, many German and British troops fighting in World War I sang Christmas Carols to each other across the lines, and at certain points the Allied soldiers even heard brass bands joining the Germans in their joyous singing.

At the first light of dawn on Christmas Day, some German soldiers emerged from their trenches and approached the Allied lines across no-man's-land, calling out "Merry Christmas" in their enemies' native tongues. At first, the Allied soldiers feared it was a trick, but seeing the Germans unarmed they climbed out of their trenches and shook hands with the enemy soldiers. The men exchanged presents of cigarettes and plum puddings and sang carols and songs. There was even a documented case of soldiers from opposing sides playing a good-natured game of soccer.

German Lieutenant Kurt Zehmisch recalled: "How marvelously wonderful, yet how strange it was. The English officers felt the same way about it. Thus Christmas, the celebration of Love, managed to bring mortal enemies together as friends for a time." During World War I, the soldiers on the Western Front did not expect to celebrate on the battlefield, but even a world war could not destroy the Christmas spirit.[1]

[1] https://www.history.com/topics/world-war-i/christmas-truce-of-1914
In the midst of human hatred and hostility, it was only the Prince of Peace who could calm the rage.
If you stop and think about it, some Christmas hymns are absolutely rich in their theological depth. One author spoke of Charles Wesley's great hymn, "Hark the Herald Angels Sing."
"Like so many of Wesley's hymns, this text is really a condensed course in biblical doctrine in poetic form. Following the re-telling of the angelic visit to the shepherds in the initial stanza, the succeeding verses teach such spiritual truths as the virgin birth, Christ's deity, the immortality of the soul, the second (or new) birth, and a concern for Christ-like living."[1]

[1] Kenneth W. Osbeck, 101 More Hymn Stories (Grand Rapids: Kregel Publications, 1985), 31.

My prayer is that the songs of Christmas will remind you of the wonder of the Incarnation, and the marvelous implications it has for all of our lives. Think about these lines from various hymns:

"He comes to make his blessings flow, far as the curse is found, far as the curse is found."[1]

"Long lay the world in sin and error pining, 'til he appeared and the soul felt its worth."[2]

"Remember Christ our Savior was born on Christmas Day to save us all from Satan's power when we were gone astray. Oh, tidings of comfort and joy…"[3]

"Hail the Heaven-born Prince of Peace, hail the Sun of Righteousness. Light and life to all He brings, risen with healing in His wings."[4]

"Born Thy people to deliver, born a child and yet a King. Born to reign in us forever, now Thy gracious kingdom bring."[5]

[1] From "Joy to the World"
[2] From "Oh Holy Night"
[3] From "God Rest Ye Merry Gentlemen"
[4] From "Hark the Herald Angels Sing"
[5] From "Come Thou Long Expected Jesus"
When you sing or hear such songs this Christmas Season, I hope you will realize that there is absolute gold in many of these lyrics. Enjoy them. Drink deeply from their truths. And remember that the same Jesus who came once has promised to come again. Some day we will celebrate him in heaven, but in the meantime, we celebrate him here, together.
Merry Christmas.