The Tithe is Holy

Glen Johnson
Over 25 years ago, Glen Johnson founded Faith Center Church in Vancouver, WA.
The Vision of Faith Center is to reach our generation with the "Message of Victory!" Pastor Glen attended Rhema Bible Training Center and graduated with his ministry degree 1981. He has spoken at numerous Pastor and Leadership Conferences throughout the United States and the Philippines. Pastor Glen has made 13 visits to the Philippines and feels a real call from God to partner with pastors in the Philippines as well as here in the States. Pastor Glen married Theresa 25 years ago. They have one son, Joel, who is currently enrolled in Rhema Bible Training Center. Pastor Glen loves to golf, ride Harleys and spend time with family and friends. This article is an excerpt from Pastor Glen's book by the same title. The book can be ordered by contacting the church.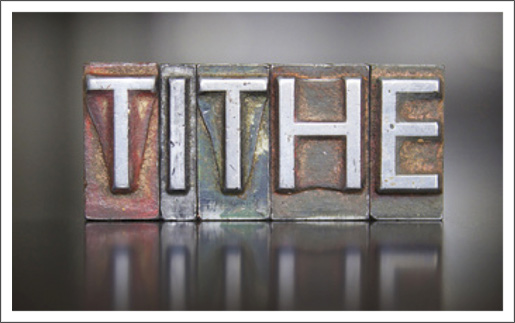 On January 26, 2010 at 1:15am, I suddenly woke up from a deep sleep and God spoke four words very loud and clear in my heart, "THE TITHE IS HOLY!"
When He spoke the words, immediately revelation began to come and scriptures began to open up to me. Things I thought I understood before began making even more sense and were revealed in me.
We, as parents, want our children blessed abundantly. We know that God is a God of abundance and He wants to see His children blessed as well.
Religion makes us feel that God is out to get us. In this assumption the world doesn't always look at God as a loving father, but as if He is just sitting up in Heaven waiting for us to make one wrong move, and then He will zap us.
That doesn't sound like a God of abundance or of blessings! Let's put our faith into action and begin believing that God has more for us.
Maybe it's time to try something bigger, act bigger, and believe for abundant blessings. He has more than enough to provide for us as His children. We just have to renew our mind to how big He is and not settle for less! God wants to bless us!!!
When the Lord spoke those four words to me, understanding began to flow into me like a computer download from heaven. I began to see clearly what He meant, and how we have made the tithe, in some ways, unholy.
And all the tithe of the land, whether of the seed of the land or of the fruit of the tree, is the Lord's. It is holy to the Lord.
-Leviticus 27:30
I began to understand that there are two ways that we have made the tithe unholy: (1) by refusing to tithe because of doctrinal issues, budget, rebellion, or fear and (2) we don't worship God with our tithe; it just gets thrown into a bucket, with very little thought.
Maybe doctrinally speaking, we disagree with tithing. Maybe we have blown our budget so bad that if we tithed, we couldn't pay our house payment. Maybe we are in rebellion and decide that we aren't going to obey the Lord no matter what He wants us to do. Maybe we're afraid that if we tithe, we won't have enough money left for other things.
So the number one way that we keep the tithe unholy is by refusing to do it. The Bible said that the tithe is the Lord's, and it is holy to Him.
An Acceptable Sacrifice
Next, I saw that the way we tithe has been unholy. We've just been throwing it in the bucket or offering plate. We haven't been worshipping God with our tithe. I began to go back and study the Bible in earnest on tithes and offerings. One of those scriptures that flooded over me when God spoke to me was:
Now you Philippians know also that in the beginning of the gospel, when I departed from Macedonia, no church shared with me concerning giving and receiving but you only. For even in Thessalonica you sent aid once and again for my necessities. Not that I seek the gift, but I seek the fruit that abounds to your account. Indeed I have all and abound. I am full, having received from Epaphroditus the things sent from you, a sweet-smelling aroma, an acceptable sacrifice, well pleasing to God.
-Philippians 4:15-18
I have read that scripture dozens of times, yet something I had never seen before jumped out at me. Notice it says, "A sweet-smelling aroma, an acceptable sacrifice…" If there is an acceptable sacrifice that must mean that there is an unacceptable sacrifice. So can we give an offering as an unacceptable sacrifice to the Lord? In Genesis 4:1-7, we see the story of Cain and Abel. In vs. 5, it says, God did not respect Cain or his offering. Cain's offering was unacceptable to God. Scripture isn't clear on why this was so but it is very clear that Abel's offering was acceptable and Cain's was not. Keeping our tithe holy will assure us of making our offer- ing's acceptable to God.
But when you give it as an acceptable sacrifice, Philippians 4:19, says, "And my God shall supply all your need according to His riches in glory by Christ Jesus."
Read that verse again — He will meet our need according to His riches in glory by Christ Jesus. That does not mean He'll meet our need "according to the great world recession that is going on." No, it says "ac- cording to His riches in glory by Christ Jesus!" If it doesn't work in the area of finances, then why would I believe it for salvation? But it does work!
We Changed the Process
I began to see how we had been giving the tithe in an unholy manner. After worship the congregation would sit down, we'd do the announcements, then it was time to take the offering. I would talk about giving and receiving for a minute, then we'd pass the buckets.
Then the video announcements would come up, and during the time that the tithe was being received, people would text on their phones, talk to their neighbor, or go to the bathroom. We were acting like the offering time was over after I talked about it, and then just came "the collection" part of the offering, which we did very casually.
But as I began to look in the Bible about tithing, I saw some things. I thought to myself, "What if we took communion the same way we've been receiving the offering?" If we took communion and people were talking to each other, texting on their phones, and going to the bathroom, you would say, "That's crazy! That's out of order! This is holy communion!"
And notice: the Bible doesn't say anywhere that communion is holy. But it does say that the tithe is holy.
After I saw that, we changed the whole process in our church of how we took the offering. Sometimes we put the buckets up front. Not because it's somehow holier up on the platform than it is in the chairs, but because we want the giving of our tithes and offerings to be a time of worship to the Lord. We go right from our worship time of singing praises to God to talking about giving to God. As we collect the tithes and offerings, we continue worshipping and people bring them to the front worshipping the Lord as they come.
Families are joining together as a family unit, either in their chairs or in the front, as they pray and present their offering to the Lord. Single people are joining other single people and presenting their offering together. People are now standing at the alter praying over their precious seed they are presenting to the Lord. It is no longer a bill being thrown into the bucket and then talking to your neighbor about their upcoming week, or where they want to go to lunch, but it is now truly a part of worship to the Lord.
https://tonycooke.org/wp-content/uploads/2022/09/TCMLogo2022-300x138.png
0
0
Tony Cooke
https://tonycooke.org/wp-content/uploads/2022/09/TCMLogo2022-300x138.png
Tony Cooke
2014-12-03 09:00:08
2014-12-03 09:00:08
The Tithe is Holy by Glen Johnson