10 Things Every Pastor Should Know Before They Build

by By Charlie Daniels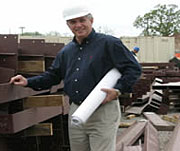 Charlie Daniels is the president and CEO of Daniels & Daniels Construction. He has over thirty years of construction experience. As a pastor's son, Charlie Daniels embodies the heart of a pastor. He knows the daily pressures that pastors have to deal with, and has a heart to serve them. That is what Daniels & Daniels Construction Company is all about. Each employee has to have that same heart in order to work here. From the top to the bottom we care about pastors and believe it is our duty and call to build churches.
Daniels & Daniels Construction is a full service construction firm offering construction management, general contracting, and design-build services. Their home office is located in Tulsa. Oklahoma, however they build churches nationwide. For more information on them visit them on the world wide web at www.churchesbydaniels.com or phone them at 918-496-8805.
1. Planning is very important! Start with monthly planning sessions. Do this by first organizing a group that you would like to be involved in the planning process. Begin having meetings at least once a month in order to brainstorm and plan what the church's basic needs and desires are. Your planning phase should last at least one year.
2. If possible hire a civil engineer before you purchase your property. This will help determine if the property is zoned properly, if it has any unusual easement issues, or if there are any restrictions imposed on the property. Soil tests and soil borings should be done as soon as possible.
3. It is helpful to get the entire building team involved in the planning process. This team includes architects, engineers, and your contractor. This can help you to match your design with your budget.
4. A good idea is to try and hire an architect that can prepare just a floor plan and building elevations that are close to the square footage requirements. Pay this architect by the hour for their services. Then take these very preliminary drawings to a couple of contractors (if you do not already have one) for a preliminary square foot price. This will give you a rough estimate of how much money you will need.
5. Talk to the bank and determine whether you can get a loan and how much they will loan you.
6. At this point, determine if the overall square foot price is affordable and choose your method of design, i.e. construction management, design-build, general contracting, etc.
7. Changes will come. It is important to be flexible. Proper planning is key to keeping you from pitfalls. Construction is not rocket science, however there are many field adjustments to be made. You will need someone to manage these adjustments for you.
8. The team concept creates the best results. If you can create a team with the architect, owner, and the builder this will create the best possible situation for a successful project.
9. Often times it is helpful for a pastor to hire a liaison to act as the owner's representative during the project. This individual should have experience in the area of construction project management if possible, and should be responsible to sign off on all payment applications in order to assure that the work being invoiced is actually completed. This helps to relieve the pastor of this responsibility, freeing him up to focus pastoring.
10. One of the most important things I have seen in building churches is for the Pastor to continually cast the vision. Proverbs 29:18 says, "Where there is no vision the people perish…" You must always keep the vision before the church.
Keys to Success…
In order to get the look you desire on a fixed budget, you must mix budget and design.
Start fundraising early. It is best to begin fundraising when you begin planning.
Start with a budget in mind in order to not design something you cannot afford to build. Another way to make sure you can build what you design is to build in phases.
Create a team with the architect, owner, and builder.
Cast your vision!
This article is designed to provide accurate and authoritative information in regard to the subject matter covered. It is shared with the understanding that neither the author nor Tony Cooke Ministries is engaged in rendering legal, accounting, psychological, medical or other professional services. Laws and regulations are continually changing, and can vary according to location and time. No representation is made that the information herein is applicable for all locations and times. If legal advice or other expert assistance is required, the services of a competent professional person should be sought.