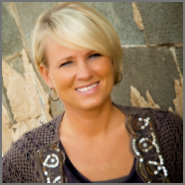 Aimee Flanders was raised in a Pastor's home in Sioux Falls, South Dakota. After graduating High School at the age of 16, she attended Rhema Bible Training Center. After graduating from Bible School, Aimee and her husband, Matt, married and were youth pastors in Sioux Falls for six years. During that time, Aimee also was the Worship Leader in the church. She and her husband Matt pastor Family Church in Lebanon, Missouri. They have a son, Jake, who is 21 years old. Aimee has recorded four albums and has been leading worship for 25 years.
Aimee is currently offering "Worship Team Boot Camps" for church worship teams that want to go to the next level, but aren't able to attend conferences. Worship Team Bootcamp is four hours of workshops which include, "Worship: The Ultimate Call," "Worship Team 101" and "Essentials of Effective Worship Services." You can contact Aimee at aflanders@familychurch.tv for more information.
There's Power in Praise

Aimee Flanders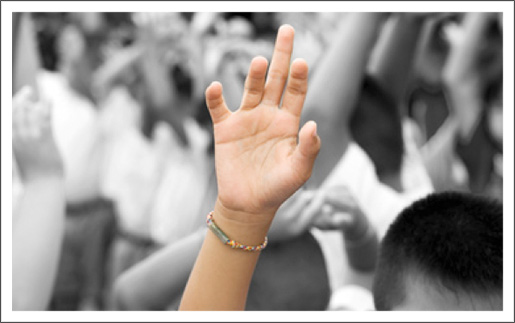 There's power in praise. Some would probably call this a cliché, but I don't know of a statement that holds more truth. I think sometimes we forget that praise is more than just a part of our church services. Amazing things happen when we praise.
Praise builds a throne of authority in your life. Psalms 22:3 says, "But you are holy, enthroned in the praises of Israel." Another translation says, "O God, you are enthroned upon our praises."
Praise releases the authority of God into your life as you exalt Him. Praise says to God, "Come sit down on the throne that I build you. Take my praise and destroy my enemies. I give you that seat of authority." When the enemy comes against you, praise God and build His throne higher. A lack of praise gives the enemy a higher place of dominion. The adversary is coming. He has his arsenal of disease, defeat, and discouragement. Are you ready? The way to be ready is to praise and exalt God and build Him a throne of authority in your life before the enemy even comes in sight. When you build that throne through praise, you dwell continually in that high place, the shadow of the Almighty (Psalms 91:1). That place becomes your ark of safety against the enemy.
My son, Jake, is in college now, but when he was little, I always had praise music and videos going in the house. We always sang praise songs on the way to school. I wanted him to learn at a young age how to build a throne of authority in his life. To this day he loves to praise God.
Praise is a weapon. The story of King Jehoshaphat in 2 Chronicles 20 is one of my favorites. The children of Israel were surrounded by armies and the Bible says that King Jehoshaphat sought the Lord and God spoke through the prophet. "Do not be afraid or dismayed because of this great multitude, for the battle is not yours, but God's" (Verse 15). "You will not need to fight in this battle. Position yourselves, stand still, and see the salvation of the Lord" (Verse 17).
In verse 21, it says that King Jehoshaphat appointed the singers (I think we would call them the worship team), and they went forth singing and praising the Lord. The best part is coming! We go on to read that when they began to sing and praise, the Lord set ambushes against those enemy armies, and in the Message Bible, it says they all ended up dead. They didn't even have to fight! Praise was their weapon and they saw their enemies defeated. Praise is a two-edged sword on our lips. Proverbs 8:21 says, "death and life are in the power of the tongue." When we praise, we choose life. Praise begins with the words we speak. Praise builds faith; faith creates miracles, and miracles glorify God! Praise will still the enemy in your life.
Praise creates an atmosphere for God to move. We don't just sing praise songs to give latecomers a chance to get to church before the preaching starts. When we praise God together in our services, there is an opportunity for supernatural things to happen. I say there is an opportunity because it doesn't just happen simply because we are singing. When we praise in faith and expectancy, the atmosphere is prepared for God to move. Our hearts are prepared to receive the Word.
In Acts 16, Paul and Silas created an atmosphere for God to move when they began to praise God is the darkest of situations. Even in the face of great pain, they chose to praise with faith and expectancy that God was going to show up! And He did!
In Joshua 6 we read about Joshua and the battle of Jericho. Now there was no way in the natural that those gigantic walls were going to fall, but when the children of Israel praised and marched around that city (and you know that took faith and expectancy), those walls fell down!
The dictionary says a wall encloses, surrounds, divides, separates and blocks off. There may be walls in your life that the enemy has built to keep you from God's best — walls of sickness, depression, financial problems; things that seem immovable. But if you will begin to praise God with faith and expectancy, you will see those walls fall. Praise sees beyond the circumstances, to the desired end.
If you will get ahold of the revelation of the power that is in praise, you will see God move, and things will change in your life!