HeartWork: How God Can Mend Your Heart and Change Your Story

Rick Burke
Rick Burke is the senior pastor at Cedar Point Church in Claremore, Oklahoma. On October 1, 2016, Rick celebrated ten years as the Senior Pastor at Cedar Point – a congregation that has grown from 65 to over 1,000 people attending four dynamic worship services.​ This article is an excerpt from Rick Burke and Kelly Riggs book, HeartWork: How God Can Mend Your Heart and Change Your Story. It is available for purchase at www.heartworkministry.com.
The Means to Defend Your Heart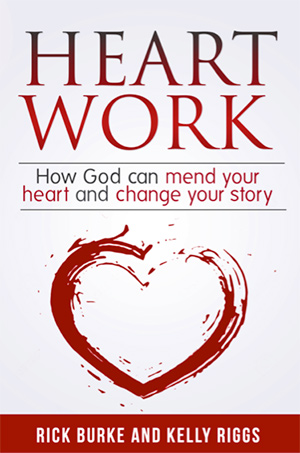 Ephesians 6:11-12
Put on the full armor of God, so that you can take your stand against the devil's schemes. For our struggle is not against flesh and blood, but against the rulers, against the authorities, against the powers of this dark world and against the spiritual forces of evil in the heavenly realms.
The first thing you must understand is that your heart is a battle ground. Quite simply, you are under attack.
Have you ever thought about what that looks like?
It looks like conflict, betrayal, and heartbreak. It feels like disappointment and pain. However, once you figure out the source of that attack, you can take steps to defend yourself and the process of mending your heart can begin.
The source of these attacks is your enemy. He is Satan, the father of lies (John 8:44).
Each day, Satan has one singular objective: he is out to defeat you. He does not play fair. He will use the people you love or people you don't know. He does not care who is damaged or destroyed in the process, and he will not relent until your heart is taken captive—or until you defeat him.
Yes, the battle that is being waged is a very real one. There is a winner, and there is a loser. There are injuries. There is very real pain. And the battleground where this tremendous battle is taking place is your heart.
However, unlike any other battle you know of, the outcome is already determined. The Scripture says very clearly that victory is assured!
In James 4:7, the Bible says, "Resist the devil, and he will flee from you." Resist him. In the Greek language, the word "resist" (anthistemi) literally means "to set yourself against something; to actively oppose something."
Yes, just as we are called to defend ourselves in real, physical battle, we must actively defend ourselves in this spiritual battle.
Paul, in Ephesians 6, describes the "armor" that God provides for this fight. It is an armor that consists of six different items: a helmet, a shield, a breastplate, a belt, shoes, and a sword. It is very important to note that Paul twice says that we should put on the "full armor" of God. To fight without any one piece means that you are more susceptible to defeat.
The helmet of salvation
The breastplate of righteousness
The belt of truth
Your feet fitted with the readiness of the gospel
The shield of faith
And the sword of the Spirit
A helmet to protect your head. A breastplate to protect your vital organs. With your shield of faith, Paul says, you can "extinguish all the flaming arrows of the evil one" (Ephesians 6:16).
Notice that God's armor includes an offensive weapon, a sword. While the breastplate and the shield are crucial to defending your most vital organ—your heart—the sword is necessary to actively oppose Satan. You need it to fight back.
God will prepare you for the battle.
Guarding Your Heart
Proverbs 27:3
Though an army besiege me, my heart will not fear; though war break out against me, even then I will be confident.
When Rick was living in New Mexico, he had a good friend named Donald who had retired from the Air Force. For years, Donald would swing by Rick's house at 6:30 a.m. to pick him up, and the two would head off to Cannon Air Force Base for an early morning workout.
Getting in and out of the base was really pretty routine. Both men had passes, which they showed at the gate, and after a cursory glance the guard would wave them through. Rick and Donald would head to the weight room, complete a workout, then head back out the way they came and give the guards a wave as they left.
Routine.
Nothing to it.
One morning, things changed. Rick and Donald arrived at the gate as usual, but rather than a quick look at their passes, the guard asked them to park the car and enter the guardhouse.
Inside the guardhouse, there was a line of people waiting. In a serious but respectful manner, the guard asked each man for his ID. Both were asked to verify the make and model of the vehicle in which they had entered. There was a form to fill out.
It was a fairly lengthy process just to go to the gym, but the change in procedure became permanent.
That day was September 12, 2001.
Clearly, the events of the previous day had created a heightened awareness of security at military installations around the globe. Those events created changes in security procedure and made everyone much more guarded against threats that might exist.
From that day on, access to the base would only be given with certainty that whoever was entering would not be a threat to the base, its personnel, or its mission.
You could likely share stories about how your life changed on 9/11 as well.
It is interesting that it wasn't until the tragedy of 9/11 that we as a nation became very serious about security and access.
Consider what God says about the safety and security of your heart:
Proverbs 4:20-23 (NLT)
My child, pay attention to what I say. Listen carefully to my words. Don't lose sight of them. Let them penetrate deep into your heart, for they bring life to those who find them, and healing to their whole body. Guard your heart above all else, for it determines the course of your life.
Guard your heart.
Your breastplate of righteousness is, in fact, the last line of defense to your heart. The implication is that being in a "right relationship" with God (righteousness) is that line of defense.
So, would you say that your diligence in guarding your heart is at a pre-9/11 status or a post-9/11 status? Are you hypervigilant in guarding your heart?
If not, what would it take to become serious about protecting your heart?