If Superheroes Could Preach

Jim Herring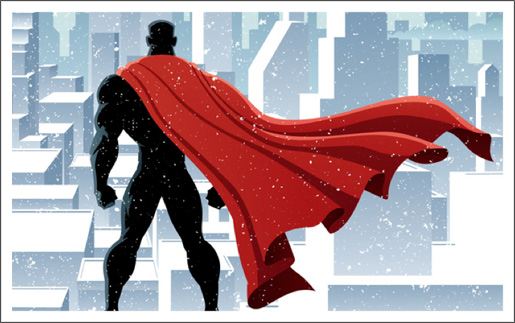 Summer is here and it is the time for blockbuster movies. Every summer there are always a few superhero movies: Superman, Batman, Superman vs. Batman, Captain America, Iron man, Captain America vs. Iron man, Wonder Woman, Spiderman, and the X-men. Most of the time these movies do very well at the box office. Why? Because we are intrigued with superheroes.
Why are we attracted to and fascinated by these heroes? Because God has placed within us the desire to do great things and to experience the supernatural.
For the Christian, this is good news! We serve a supernatural God that wants to empower us to do supernatural things.
God…
Empowered Moses to perform miracles in Egypt.
Caused the walls of Jericho to fall when the children of Israel shouted.
Calmed the raging storm with the words of Jesus' mouth.
Raised the dead through Peter and Paul.
Empowered Sampson to do supernatural exploits.
Empowered David to slay a lion, a bear, and the mighty Goliath.
Empowered Peter to walk on the water.
Empowered Elijah to call fire down from heaven.
God used men and women of the Bible to do great things and He wants to use us today.
John 14:12 (NKJV)
Most assuredly, I say to you, he who believes in Me, the works that I do he will do also; and greater works than these he will do, because I go to My Father.
We serve a supernatural God that wants to do supernatural things through His people!
The Apostle Paul understood and operated in the power of God.
Colossians 1:29 (AMP)
For this (presenting every man perfect in Christ) I labor [unto weariness]—striving with all the superhuman energy which He so mightily enkindles and works within me.
Ephesians 1:19-20 (AMP)
And [so that you can know and understand] what is the immeasurable and unlimited and surpassing greatness of His power in and for us who believe, as demonstrated in the working of His mighty strength, which He exerted in Christ when He raised Him from the dead and seated Him at His [own] right hand in the heavenly [places].
If we are to operate in this superhuman power, we must keep a few things in mind. Superheroes operate with power and there are great biblical and life lessons that we can learn from them. If superheroes could preach, what would they say?
Superman would say, "Know your kryptonite."
What is Kryptonite? Kryptonite was a rock from Superman's own planet that could weaken, hurt, and even destroy him. Here is the question we must answer. "What is in my past that has the power to destroy my present?"
Human kryptonite comes in many potent forms: pride, anger, selfishness, drugs, lying, laziness, backbiter, insecurity, gossip, lust, and passivity. The Bible is full of examples of people that did not deal with their kryptonite and it ruined their lives. Let's cover three important ones.
David's Kryptonite Was Lust
David got into trouble because he was in the wrong place at the wrong time. He was home when he was supposed to be at war. In addition, he was looking out of his window and saw a woman bathing. He should have protected her and turned around. He should have "bounced his eyes." He should have shut the curtains. He should have gone to another room in the castle.
If you are going to win the battle against lust, you must get aggressive. You can't play with lust. It will destroy you. Jesus even taught about the aggressive way we must deal with lust.
Matthew 5:27-30 (NKJV)
"You have heard that it was said to those of old, 'You shall not commit adultery.' But I say to you that whoever looks at a woman to lust for her has already committed adultery with her in his heart. If your right eye causes you to sin, pluck it out and cast it from you; for it is more profitable for you that one of your members perish, than for your whole body to be cast into hell. And if your right hand causes you to sin, cut it off and cast it from you; for it is more profitable for you that one of your members perish, than for your whole body to be cast into hell."
What does that mean for us? It means we must take drastic measures to win. We have to acknowledge our sin instead of hiding it. We must seek counseling and secure the help of an accountability partner. We must avoid tempting situations with the opposite sex. We must put filters on our computers and phones. We must learn to bounce our eyes, shut the curtain, and leave the room!
Saul's Kryptonite Was Pride
1 Samuel 15:16-17 (NKJV)
Then Samuel said to Saul, "Be quiet! And I will tell you what the Lord said to me last night." And he said to him, "Speak on." So Samuel said, "When you were little in your own eyes, were you not head of the tribes of Israel? And did not the Lord anoint you king over Israel?
The key phrase in this passage is, "When you were little in your own eyes." Saul was humble at one point in his life but something happened when he found success. Pride has a way of creeping into our lives when we find success, increase financially, become popular, or secure noticeable achievements. However, the Bible is very clear about the lethal nature of pride. It will cause destruction and a fall.
Proverbs 16:18 (NKJV)
Pride goes before destruction, and a haughty spirit before a fall.
As a Pastor, I get to help and minister to a great number of people. I am always encouraged when people are open to instruction and correction. Their lives always improve and get better. However, I am shocked at the number of people that resist correction because of pride and arrogance. Instead of seeing correction in it proper light, they respond based on their flesh and their feelings. According to the Bible, correction is a manifestation of the love of God. It is always for the purpose of restoration and making things right. Correction is God's method of conforming us into the image of Christ and protecting us from entering into enemy territory.
Proverbs 3:11-12 (NKJV)
My son, do not despise the chastening of the Lord, nor detest His correction; for whom the Lord loves He corrects, just as a father the son in whom he delights.
How do you deal with pride? There is only one way.
1 Peter 5:6 (NKJV)
Therefore humble yourselves under the mighty hand of God, that He may exalt you in due time…
Judas' Kryptonite Was Greed
John 12:2-6 (NKJV)
There they made Him a supper; and Martha served, but Lazarus was one of those who sat at the table with Him. Then Mary took a pound of very costly oil of spikenard, anointed the feet of Jesus, and wiped His feet with her hair. And the house was filled with the fragrance of the oil. But one of His disciples, Judas Iscariot, Simon's son, who would betray Him, said, "Why was this fragrant oil not sold for three hundred denarii and given to the poor?" This he said, not that he cared for the poor, but because he was a thief, and had the money box; and he used to take what was put in it.
The Bible tells us that Judas was a thief. He literally stole from Jesus—He stole from God! When we think about Judas, we do so with great disdain. How could someone steal from Jesus? How could someone rob our Lord who went around helping people and giving His life for others? What kind of dreadful, disgraceful and deplorable individual would steal from God? However, there is another truth worth intentional exploration. Judas robbed God by taking money out of the treasury. Today, people rob God every week in church by failing to put money into the treasure! The Bible tells us that people who fail or refuse to tithe are "robbing God".
Malachi 3:8-10 (NKJV)
"Will a man rob God? Yet you have robbed Me! But you say, 'In what way have we robbed You?' In tithes and offerings. You are cursed with a curse, for you have robbed Me, even this whole nation. Bring all the tithes into the storehouse, that there may be food in My house, and try Me now in this,' says the Lord of hosts, 'If I will not open for you the windows of heaven and pour out for you such blessing that there will not be room enough to receive it."
If you dislike confrontational truth, please stop reading now. If you are brave enough to continue reading, brace for impact. In God's eyes, there is no difference between someone who fails to tithe and Judas—they are both God robbers and thieves!
Unfortunately, greed does not just manifest at church.
People steal from family members.
People steal from their job.
People fudge on expense accounts.
People lie on their taxes.
People neglect their wife or husband to spend money on themselves.
Jesus gave us a warning about greed that we all need to heed.
Luke 12:15 (NLT)
Then he said, "Beware! Guard against every kind of greed. Life is not measured by how much you own."
What do I need to do if greed has been a problem?
Acknowledge it and repent
Choose to put God first
Choose to put others first
Remember, when you put God and others first, God promises to bless you!
Malachi 3:10 (NKJV)
"Bring all the tithes into the storehouse, that there may be food in My house, and try Me now in this," says the Lord of hosts, "If I will not open for you the windows of heaven and pour out for you such blessing that there will not be room enough to receive it."
Luke 6:38 (NKJV)
"Give, and it will be given to you: good measure, pressed down, shaken together, and running over will be put into your bosom. For with the same measure that you use, it will be measured back to you."
David's kryptonite was lust. Saul's kryptonite was pride. Judas' kryptonite was greed. What is your kryptonite? Regardless of the issue, it is time to deal with anything in the past so we can keep it from destroying our present.
Once I read a book and the author gave a personal account of a powerful exchange with the late Reverend Lester Sumrall. The author was a young man at the time and he was given the assignment of picking Dr. Sumrall up from the airport. The young minister asked, "What advice do you have for a young minister?" Dr. Sumrall responded, "Slay your giants when you are young or they will slay you when you get older."
It is time to slay our giants and destroy the kryptonite for good!