The Hidden Power Behind Worship

Philip Renner
Worship leader, award-winning recording artist, songwriter, and producer, Philip Renner became involved full time in worship ministry at the age of 15. But when a groundbreaking win in a prestigious Russian music contest brought him before an international audience with the offer of a lucrative recording contract, Philip suddenly came face to face with his own heart motives for doing music. Philip looked inward, then upward in a way he never had before. At that time, both his life and his music were transformed.
Philip is passionate about seeing people connect with their purpose in Christ and developing a real relationship with God. He travels abroad internationally to minister to audiences of all ages with a special emphasis on preaching and music. After being a missionary over the last 25 years, and serving under his father, Rick Renner, as a youth pastor among many other duties at Moscow Good News Church, Philip along with his wife and two children, have moved back to America to begin another chapter in his life of Worship Leading, teaching, and utilizing the gifts of the Holy Spirit to replicate what he has been doing in Russia for many years. You can learn more about or contact Philip through www.philiprenner.com.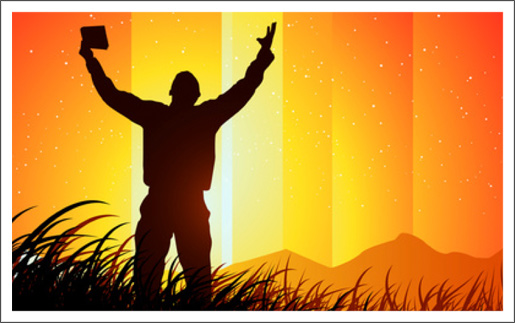 There have been so many times when I get on stage to lead worship that I have felt drained, uninspired, and burned out. I feel like I'm on automatic, yet I know that my heart is right. There is no hidden sin that I can recall, but I don't sense God's anointing and power the way I'm used to.
Every worship leader will go through this at one time or another, but I have good news: If you continue to seek God and you are persistent, you will eventually come out of that condition and begin to sense His presence and anointing even stronger than before!
The principle we have to learn, I must tell you, is that our Christian faith isn't based on what we feel. If that were the case, we would never wake up early to seek God; we would never witness to people on the street; we would never give of our tithes — and there are many more scriptural things that we would never do! Our flesh wars against our spirit, so if we did only what we felt like doing, we would always please the flesh.
Our walk with God is based on our inner convictions. We read the Bible and maintain our prayer life because we know that it is right, not because we feel like it. "Feeling" the presence of God is wonderful — but if you have lost the feeling for a time, continue to follow hard after God. As you do, His strength, sense of purpose, and anointing will all be restored to you.
When you are going through this kind of season, you may feel like you are in a desert. But you must remember that it's only when you are in a desert that you realize what true thirst is. Even in a desert, if you dig deep, you will find water. In the desert, you become so desperate for a drink that you're willing to try the unfamiliar to find a source of water. That's a great place to be spiritually, because you become willing to do even the things you have never done to get to the Source of living water!
I was in this "desert" state of mind when I first discovered fasting. I used to laugh at people who fasted. I thought they were spiritual freaks. I was sure if you practiced your music more and worked on getting the right arrangement and lighting, everything would be perfect. I was so focused on the production side of things that I forgot about the spiritual! Then came the moment when I realized in a whole new way that although having great production is wonderful, it is not the key factor in ushering in the anointing of the Holy Spirit. That's when I started to fast.
Fasting touches God's heart in such a strong way. There are many examples of fasting in the Bible. For instance, after Moses fasted for 40 days and nights, he saw the fiery hand of God write the Ten Commandments (see Exod. 24:18; 31:18). Queen Esther saved her people from total destruction after she and all the people fasted and sought God (see Esther 4:16).
Before Jesus started His ministry, He was led out into the wilderness by the Holy Spirit, where He fasted for 40 days (see Matthew 4:1,2). So we have to ask ourselves the question: If Jesus fasted and He was the Son of God, how much more should I fast with all my faults and character flaws?
Fasting is serious and must be taken seriously before God.
"Even now," declares the Lord, "return to me with all your heart, with fasting and weeping and mourning." Rend your heart and not your garments. Return to the Lord your God, for he is gracious and compassionate, slow to anger and abounding in love, and he relents from sending calamity.
— Joel 2:12,13 (NIV)
I love how this scripture says, "Rend your heart." It means, tear your heart into pieces, examining every piece. It also says to do it with "weeping and mourning." This shows me that fasting is something that is a very holy act before God, not just tradition.
True fasting is a state of humility before God, and it moves His heart.
Fasting is basically saying God, "I love You more than food, and when everyone else is eating, I will go pray." That is humility!
If you are fasting and not praying, you are basically just dieting. And if the fast is long and you're not praying, you are torturing your body.
When you fast, make sure you do more than just read the Word — speak the Word out loud so your ears can hear you. In your prayer time, speak to the Lord just as you would a friend, because that's what He is (see John 15:15).
There are days in a fast when you feel a supernatural strengthening, but there may very well be days where your strength is completely gone and you feel like you want to give up. In those times when you may feel dizzy, sick to your stomach, or sleepy and depleted, your only answer is prayer.
I remember the first fast that I ever did. My stomach was hurting for hours, and I told God, "This fast should not be torture. I'm going to go pray for a couple of hours, and when I come out, the pain will be gone, and I will feel like I have been fed." And that is exactly what happened!
It was when I was fasting that my eyes were opened to view Romans 12:1-2 in a different way than I had ever understood it before.
Therefore, I urge you, brothers and sisters, in view of God's mercy, to offer your bodies as a living sacrifice, holy and pleasing to God—this is your true and proper worship. Do not conform to the pattern of this world, but be transformed by the renewing of your mind. Then you will be able to test and approve what God's will is—his good, pleasing and perfect will.
— Romans 12:1,2
The first point that the apostle Paul makes is that you are to present yourself as a living sacrifice. I can tell you, when everyone around you is eating, you feel like a living sacrifice! If your stomach is in pain and it seems like you can barely walk up the stairs, you feel like a living sacrifice. When you have lost a great deal of weight and the fast that you know the Lord has called isn't over yet, you feel like a living sacrifice.
Through all of this, the thought that encourages me the most is this: When the sacrifice was on the altar, it was always consumed by fire. You can expect a fresh anointing of Holy Spirit fire through this kind of sacrifice. Paul continued by saying that this kind of sacrifice is holy and acceptable before God. Paul even said that this is your true and proper worship. He does not say this is extraordinary and crazy stuff. He calls it your proper worship!
The second point Paul made is "do not be conformed to the world" (v. 2). When you fast and pray, God's voice in your spirit becomes louder and easier to discern. Since you're not eating, your flesh is quieted, and that causes your spirit man to hear the Holy Spirit loud and clear. When this happens, God puts a hatred of sin in your life. Things that you used to be all right with you will begin to bother you. A new standard of righteousness will arise in you.
The third thing Paul said is that there will be a renewing of the mind. So many times during fasting, I have received my best songs, my best messages, and further vision from the Lord that has pushed me forward.
When you fast, it's like God is downloading ideas into your head that will be the next step to fulfilling your assignment. You will know it is God, and you will be able to test it as His good, pleasing, and perfect will.
One year I was fasting quite a lot. I would wake up in the morning, and the Lord would tell me to fast that day, even though I really wanted to eat. This happened maybe two or three times a week. I finally asked the Lord, "Why are You having me fast so much?" His answer was this: Fasting is spiritual warfare, and by the Spirit, I was destroying obstacles that would have stopped me in the future. Since I was dealing with those obstacles now in the Spirit, I would never have to deal with them later.
You can compare that process to the lance of the Roman soldier. The lance was designed to be thrown a long distance to penetrate enemy lines. This same principle applies to prayer with fasting — you will be able to penetrate the enemy from a long distance.
You will also open doors in the Spirit through prayer and fasting. The Lord showed me that doors that would have been shut in the future would be opened to me because of the sacrifice I was willing to make through prayer and fasting. I experienced this firsthand when I launched my ministry in Russia. I didn't plan to be very busy, but then out of nowhere, people would call and invite me to come preach and lead worship. Often these were people who had never met me and had no real reason to trust me. In the first 18 months, we had 240 meetings in 60 cities and 6 nations!
I asked God why was the favor so strong. He spoke to my heart that these were the doors that had been opened to me through fasting and praying. We also saw the miraculous in demonstration in times of worship. Through it all, I knew it was not talent that was making this happen, but the seeds that were sown before in fasting and praying.
Isaiah 58:8,9 tells you one of the blessings that is received through fasting and praying. You can boldly claim that blessing and make it your own if you choose to bring the kind of sacrifice God requires and describes in Isaiah 58, which is all about fasting.
Then your light will break forth like the dawn, and your healing will quickly appear; then your righteousness will go before you, and the glory of the Lord will be your rear guard. Then you will call, and the Lord will answer; you will cry for help, and he will say: Here am I.
— Isaiah 58:8,9 NIV
Fasting and praying is the hidden power behind praise and worship, and God has given you this weapon so you can use it. If you are going through a dry season in your walk with God and you don't really sense His presence, I encourage you to fast and pray. It will not be long before the fire and anointing that can grow dim at times comes back even stronger than it was before.
I know this happens in my life after a time of fasting. I often see the manifestation of the gifts of the Holy Spirit become stronger through worship, and I can more easily sense when God wants to take the service in a brand-new way.
It is time for all of us who are worship leaders to covet the gifts of the Spirit and to believe God more fervently than ever before that He will move in the supernatural during our times of leading worship. We must set our faith that we will feel the heartbeat of God through the drumbeat; that through the notes sung by the solo, God will heal people in the audience; and that, most importantly, any unbelievers will see that we're not putting on a show but genuinely love God.
Prophecy, words of knowledge, and tongues with interpretation should all be a regular part of worship. These gifts are for everyone, not only the pastor of the church. You might ask yourself the question, But moving in the gifts of the Spirit will take a long time during worship, so how can I add that element to the worship service? I don't have enough time to do that, because I am on a tight schedule! Personally, I plan a lesser number of songs in order to make sure I have time to follow the Holy Spirit, whichever way He wants to go in a service.
Really, it's about being led by the Holy Spirit and about time management during worship. You have time for whatever you make time for. I have seen God teach me in these areas during times of fasting and praying.
Please confirm all that I've shared with you with your pastor. I can only tell you what has helped me in my own experience of leading worship and ministering to people. I have found that through prayer and fasting, God accelerates a process that transitions us further and further into the greater glory of His anointing. Then we in turn can lead others into a more intimate relationship with Jesus as we experience the joy of His presence through the power of worshiping Him.