The Christian Triple Double

Jim Herring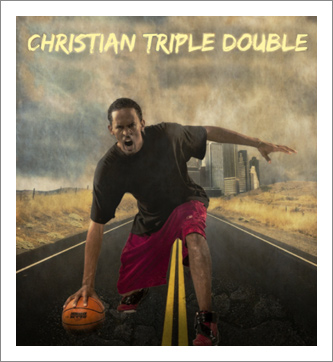 I love basketball. I love all the dazzling dunks, pinpoint passes, sensational shots, and posterizing plays. In addition to all these points of interest, occasionally a player reaches the illustrious "triple double." In the basketball world, a triple double occurs when a player registers ten or more in three categories. For instances, on February 8th, LeBron James recorded a triple double against the Sacramento Kings. He had 21 points, 10 rebounds, and 10 assists. This does not occur often and it indicates that a player did a phenomenal job in several important statistical categories. When a player consistently reaches a triple double, it indicates he or she is an "all-around" great player. They make a significant contribution to the success of the team in several key areas. Then I began to think about that in the context of being a Christian. What makes a great "all around" Christian? What are the areas we need to have a triple double in? Here are a few things that Jesus said.
Matthew 20:28 (NKJV)
Just as the Son of Man did not come to be served, but to serve, and to give His life a ransom for many."
We see two key things that Jesus demonstrated for us. He came to serve and to give. In addition, Jesus gave us a very important and direct command.
John 13:34–35 (NKJV)
A new commandment I give to you, that you love one another; as I have loved you, that you also love one another. By this all will know that you are My disciples, if you have love for one another."
When you survey these two passages, three things should become the goal and focus of every Christian. What is it that makes a great "all around" Christian?
Serving
Giving
Loving
Think about this question for a moment. How much better would the world be if everyone focused on serving, giving, and loving others?
Serving
Often we want to be served but Jesus gave us an example to follow. Greatness is not defined by how many people serve you, but by how many people you serve.
I love a quote by Dr. Martin Luther King, Jr. that illustrates how powerful serving truly is. He said, "Everybody can be great because anybody can serve."
Regardless of your position in life, you can choose to serve others. If you are married, you can definitely focus on serving your spouse. If you are a parent, you can focus on serving your children. If you work, you can focus on serving your company or employer. You can serve your team, your coach, your friend, someone at the mall, a family member, etc. You can choose to serve others but this will only occur if you value others.
So here are two questions for you.
Who are you serving?
Do you need to improve?
Giving
Another important area to focus on if you want to secure a Christian "triple double" is giving. Jesus demonstrated and taught that we should serve and give. Winston Churchill once said, "We make a living by what we get, but we make a life by what we give."
There are two important things I want you to remember about giving. First, giving can manifest in many forms. You can give your time, talents, wisdom, resources, and connections. Second, giving is an expression of love. When you give with the right heart and motives, then giving is a beautiful expression of love.
God gave and demonstrated His vast love for us.
John 3:16 (NKJV)
For God so loved the world that He gave His only begotten Son, that whoever believes in Him should not perish but have everlasting life.
Notice, "God so LOVED that He GAVE".
Giving is important because it reveals love, obedience, and what is truly important in your life. Jesus said, "Where your treasure is, there your heart will be also" (Matthew 6:21).
Two more questions for consideration.
Who are you giving to?
Do you need to improve?
Finally, loving others is a command of the Lord.
Loving
God's love should be the guide that we live by. In fact, the Bible tells us to live a life of love.
Ephesians 5:2 (NLT)
Live a life filled with love, following the example of Christ. He loved us and offered himself as a sacrifice for us, a pleasing aroma to God.
It is great to know we need to live a life of love, but how do we do that? What does living a life of love look like?
1 Corinthians 13:4–7 (NLT)
Love is patient and kind. Love is not jealous or boastful or proud 5or rude. It does not demand its own way. It is not irritable, and it keeps no record of being wronged. It does not rejoice about injustice but rejoices whenever the truth wins out. Love never gives up, never loses faith, is always hopeful, and endures through every circumstance.
Your final two questions.
Who are you loving?
Do you need to improve?
Serving, giving, and loving should be the goal of every person. Focus on securing a Christian "triple double" daily and you will be a great "all around" Christian! You will also be an invaluable spouse, friend, employer, employee, parent, servant, and teammate!