Around the World with Matt & Lizzy

Julie Beemer
With more than 20 years living and ministering overseas as a missionary, Julie Beemer, along with her husband Matt, have ministered to more than 6 million people in over 3000 services, pioneered nine Bible Colleges in five nations, and have supplied thousands of books to Africa and the Middle East. They were founding pastors of a City-leading church in the UK and have led dozens of short-term missions to 20 Nations. Julie ministers in bible colleges, women's conferences and children's services in the USA and in Europe. Her work includes aid distribution to villages and refugees. Matt and Julie live in beautiful Abuja, Nigeria, and have two amazing children who were both born in England. To learn more about Julie and her family, go to www.club1040.com.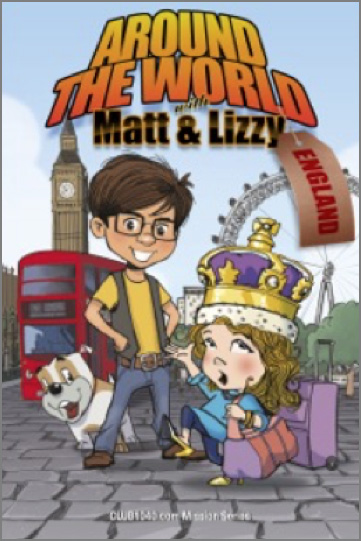 God impressed upon my heart to write this series of children's books as a tool to help you equip your children to be global leaders and Nation changers.
While working at the International school in Nigeria, I met the children of various Embassies, United Nations and European Union officials, and even the Nigerian President's children. Though many of these parents were not Christian, their children were being educated to lead the next generations. Many had attended school in several different countries, spoke up to five different languages and were being groomed for similar careers as their parents. These children had been raised with a global understanding to be the next generation of global leaders—but they were not Christians.
After seeing the level to which these parents were training their children, it made me think about the children in our churches. Then God gave me a way to help parents, grandparents and educators introduce our Christian children to foreign languages, about currency, geography and most importantly who they are in Christ and that Gods Word will cause them to be global leaders of their generation.
I want to stir the hearts of parents, grandparents and educators to begin training their children to the highest level they can. The word says to TRAIN children in the way that they should go. And to the prophet Jeremiah, God said, "Before I formed you in the womb I knew you; before you were born I sanctified you; I ordained you a prophet to the nations." He ordained our children with a mighty purpose before they were born.
Today is the day to give our children the very best we can in order that they can lead globally with God's love and truth. I believe our children are who need to stand tall above the others in every area of influence so THEY can be OUR future leaders.
When God looks out over our children, He will find amazing, full of faith leaders to be the next president who understands the global context that the world has become. Or, the next doctor who will find a cure for Ebola or some other ravaging disease in the third-world; or the next singer, artist, or movie maker with a true heart for the world He cares most about; or, true godly leaders who will make an impact on their generation for Christ as a mother, missionary, or church leader.
Around the World with Matt and Lizzy is that tool to teach them about all that Jesus made ready and available to us as Christian parents. It is a tool to put us into remembrance that we have a great opportunity today to impact this generation for Christ!
Each book in this series is designed to inspire children to have God's heart for the world while teaching practical travel tips, biblical truths, and educate your children about the countries that Matt, Lizzy and their trusty British Bull-dog Bentley travel to.
I believe as your children read this book, rich deposits will be added to their heart. I'm declaring Psalms 112:2 over your children: "Their children will be mighty in the land; the generation of the upright will be blessed" (NIV).
You can help me create future books through promoting this project on social media. Please post pictures of your children enjoying this book on your Facebook page and share with me on my "MattandLizzy" Facebook page, Instagram @mattandlizzy or Twitter pages @mattandlizzy. Also, every book that is purchased helps me to finalize future books—I currently have nine more countries in the pipeline!
To purchase "Around the World with Matt and Lizzy—England" books you can text LIZZY to 41444 or go to www.MattandLizzy.com.