Pastors Massoud and Sarah Sadeghi were born and raised in Iran. In their growing up, they had learned of God as being the most holy, but yet as an untouchable, impersonal, and unreachable God. As every nominal Muslim, they lived their lives without any hope of salvation and constantly tried to find a way to please God, with the hope of maybe doing enough good deeds in His sight so that they may gain His approval and be found worthy enough just to enter heaven. It wasn't until early 1995 (long after they had moved to the United States to receive higher educations), that they were reached with the life-changing gospel of Jesus Christ. At that occurrence, their lives took a completely different direction; seeing the picture of God completely different than the one they had known previously. Every book, every chapter, every line, and every word in the Bible was a world of joy and full of life to them. Now seeing God as a loving Father like it is revealed in the story of the Prodigal Son, and sensing the deep joy and peace flowing like a river from the Words of Jesus like those recorded in the Gospel of Matthew ("Come to Me, all you who labor and are heavy laden, and I will give rest. Take My yoke upon you and learn of Me; For I am gentle and lowly in heart") quenched the life-long thirst of their souls. By sharing these two scriptures, they have witnessed to many Muslim hearts and have seen many touched and melted by seeing a true picture of God as a loving Father. They have seen many Muslim hearts taste the real peace that only Jesus can give. 
To receive proper training to be ready for ministering effectively, they moved to Tulsa, Oklahoma, and attended Rhema Bible Training Center in 2004. After completing their training, they returned to Seattle and established Nejat Church Ministries in 2007 and in Vancouver, Canada, in 2009. For more information about Nejat Church Ministries, you can visit their website at www.nejatchurch.com, call (425) 495-0885, or email them at iran@njatchurch.com.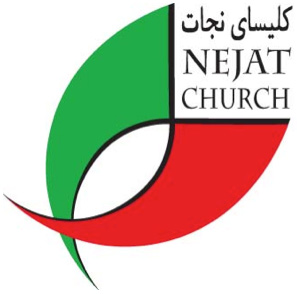 In recent years, the world is changing in front of our eyes at a very fast speed. Changes and strange happenings are occurring in lands far from us, such as the Middle East, and also right at home in the communities that we live. It seems that the end is fast approaching. If we look closely, we would easily see that the world's hunger (I meant spiritual hunger) is at its highest level. The world is in a desperate need for Jesus. In the midst of sounds of wars, fires, smoke, hates and bloodsheds, together with rumblings of ground from around the world, cries of seeking hearts and thirsty souls are being heard very loud and clear. All this is compounded with the expressions of hopelessness and helplessness expressed on the faces of countless women, men, and children in numerous places, especially in the Middle East.
We, the Church, must listen carefully and respond by diligently carrying out our Lord's great mandate. As our Lord said it well, the field is truly plenteous; and the good news is that God has raised us all (the body of the believers) for such a time as this as trusted laborers into this great field.
In this article, we will provide you with brief information about the Nejat Church ministries, with the focus of reaching Muslims from Iran with the Gospel of salvation, hope, peace, and healing through Jesus Christ.
Reaching the Muslim Nations for Christ

Pastor Massoud Sadeghi
Nejat Church Ministries
Although Nejat Church Ministries' (Nejat is a Persian word for 'salvation') mission is to reach people of all nations for Christ, our focus has been on reaching Farsi (Persian) speaking Muslims locally and globally. In addition to reaching the Muslims with the Gospel of our Lord, Nejat is involved with providing teaching and training for equipping the converts to effectively spread the Kingdom of Heaven in the areas that they live in. Our focus also includes raising pastors and leaders for effective Kingdom work. As part of our ministry, we strive to assist persecuted converts in escaping persecution and getting them established in safe environments.
It should be noted that among the books we have recently translated in Farsi and have used in our teaching and training, In Search of Timothy, authored by Rev. Tony Cooke, has had a great impact on the maturity and growth of the believers in our congregations.
For more information about the Nejat ministries involved in expanding the Kingdom of our Lord in the hearts of the Muslims, please visit our web site at www.nejatchurch.com. Also, if you are interested in getting involved, we suggest watching the short video on our rescue mission while you are visiting our web site.
Preaching the Gospel to Muslims
The great mandate that the Lord gave to His Church, as recorded in the Gospel of Matthew, is "All power is given to Me in heaven and on earth; Go therefore and make disciples of all the nations." If we take a close look around our communities, we will notice that our communities look like the United Nations – people of nations are all around us. I strongly believe that the Lord Himself is playing a major role in the fulfillment of His great mandate to the Church – He is allowing ways to the nations where the Church can readily reach them with the Gospel. It is like the fishes of the sea driven toward the fishermen! Just as our Lord described it over 2000 years ago, the field truly is plenteous and we must take this great opportunity and make disciples of all. Let us think about this for a moment; it is so wonderful for us (Pastors Massoud and Sarah) to think that the Lord had brought us here in this great country close to the Church, to receive salvation and become a disciple for Him. As the result, the Lord has enabled us to make disciples – especially from the very nation that we came from.
The Gospel is powerful. The world seems to have become increasingly a very dangerous and dreadful place with all the unrest, wars, and turmoil. But we must not lose sight of our commission nor forget that our Gospel is powerful. In Romans we read, "For I am not ashamed of the gospel of Christ, for it is the power of God to salvation for everyone who believes; for the Jew first, and also for the Greek. (Romans 1:16). The Gospel of Christ is more powerful than any of the power at work in the world; there is nothing we can compare to it. The Church has all the power to make disciples of nations. I am confident that there has not been any other time better than this that we (His church) are called to make disciples. It is time to cast our net into the deeps. The days of casting nets in the deeps (the nations) are upon us!
We are receiving calls from tens of hungry souls from Iran every week. The souls that have accepted Christ are hungry for the Word and desire to grow and be equipped. They are looking for the truth, hope, and healing. As the result of broadcasting our sermons and Bible teachings by satellite (TV) and having the resources available on Internet, we are receiving many e-mails, phone calls, and Facebook contacts daily. Despite all the negative things that we are hearing and seeing happening, God is miraculously expanding His Kingdom in the hearts of Iranian Muslims in Iran under the strict ruling of Islamic government, which harshly opposes the Gospel and openly persecutes Christians. Even with all these challenges, Iranians are coming to Christ at an unprecedented rate. People are receiving salvation, hope, sight, healings, and freedom. Millions in Iran depend on and receive their spiritual food, and training through programs such as those provided by Nejat Church through satellite TV and Internet.
Here are some examples of testimonies from Iran: Islamic clergies receiving healing, salvation, and baptism of the Holy Spirit; drug addicts receiving freedom. The Gospel is powerfully working as strong as it worked 2000 years ago. The Lord is faithful to His word. As we read in the Gospel of Mark, "And they went out and preached everywhere, the Lord working with them and confirming the word through the accompanying signs," the Lord is revealing Himself to people in remote locations in Iran in dreams and visions. All glory to His name!
The world needs salvation, and that is in our hands. We must reach the nations in far off lands and here around us. Together, we can reach nations — especially by making disciples of Christ from those very nations here at home, and by equipping them to make disciples of their own nations.