Condemnation vs. Conviction

Gerald Brooks
Gerald Brooks is the senior pastor of Grace Outreach Center in Plano, Texas. In addition to pastoring a thriving and vibrant church, Pastor Brooks continues to influence thousands of pastors with teaching on leadership. Check out his website.
I. Introduction
In life there are two Bible words everyone eventually deals with: condemnation and conviction.
Condemnation—which we are not to receive.
Romans 8:1
There is therefore now no condemnation to those who are in Christ Jesus, who do not walk according to the flesh, but according to the Spirit.
Conviction—which we are to receive.
John 16:8
And when He has come, He will convict the world of sin, and of righteousness, and of judgment…
II. Distinguishing Between These Two is Critically Important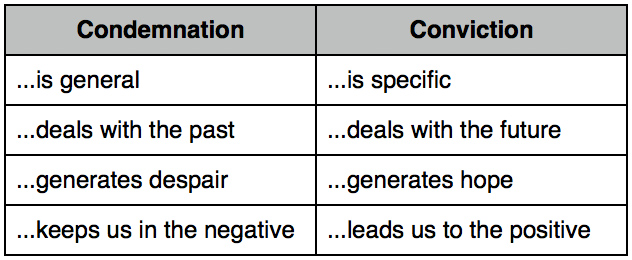 III. What Is our Take Away?
Condemnation is about everything you have done wrong; conviction is about doing something right.
Condemnation focuses on failure; conviction says you can grow.
Condemnation says people have given up on you; conviction says God never gives up on you.