Change Your Mind: Change Your Life!

John R. Carter
John Carter is the senior pastor of Abundant Life Christian Center, a culturally diverse church located in Syracuse, NY. He is the founder and president of Mercy Works, a charitable organization that creatively meets the practical needs in distressed urban communities. John and his wife, Lisa have three sons—Jordan, Joshua and Caleb.
This article is an excerpt adapted from The Transformed Life, by John R Carter. The Transformed Life is powerful discipleship tool that is designed to help believers experience personal transformation through a dynamic relationship with Jesus and the local church. The Transformed Life is now available for purchase through Amazon, Barnes and Noble, and Transformedlifenow.com.
The Architecture of the Mind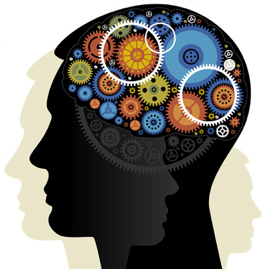 The human mind is a wonderful and fascinating gift from God. While the brain is the physical organ that houses and enables the mind to operate in the body, it is through a network called the central nervous system that the mind is able to make sense of the world.
The central nervous system is an intricate network of communication that transmits, receives, and interprets billions of chemical and electrical signals, which are continuously flowing between the mind and the physical world around us. Thinking is a function of interpreting these signals, giving them meaning, and ultimately choosing to act upon them.
For this reason, it is absolutely essential that the "data" we are receiving is accurate, appropriate, and interpreted correctly. When we have bad data, we will make inaccurate interpretations, and ultimately, wrong decisions. Therefore, we must make sure we are receiving the right data, avoiding the wrong data, and developing the skills of processing and interpreting that will lead to decisions that are good, God-pleasing, and conducive to living a transformed life.
God and Your Thought Life
God cares about your mind. He is very clear that our thoughts are both visible and important to Him. Psalm 19:14 says, "May the words of my mouth and the meditation of my heart (mind) be pleasing to you, O Lord, my rock and my redeemer" (NLT). That means that God sees what we think in our hearts and minds. Our thought life can either be acceptable or unacceptable to God. In Hebrews 4:13, the Bible teaches us that "all things are naked and open in the eyes of Him to whom we must give account." Not only does God see our thoughts, He will hold us accountable for them.
You cannot be held accountable for something over which you have no control. Many people have bought the modern lie that "I can't help what I think," or that the devil somehow has the power to control our thought life. Often people blame others for how they think, saying, "You made me think that." But in reality, if either Satan or other people truly had the power to make you or I think something, then it would be highly unfair for God to hold us responsible for our thoughts. Yet over and over in the Bible we are told not only what to think, but that our thought life is our responsibility. This means we can possess our own minds, manage our thought life, and choose what we will allow to play on the screen of our minds.
That doesn't mean that we can control every thought that arrives in our mind from the world around us. Every day, thoughts inspired by other people, our environment, and even evil spirits will come knocking on the door of your mind. These thoughts provoke many feelings that seek to take root in our minds. While we cannot prevent thoughts from coming to the door of our minds, we can choose which thoughts we are going to allow inside. Whether or not we invite a thought inside, entertain it in our mental living room, or let it live in a spare bedroom in our heads is entirely up to us. A wise man once said, "Thoughts will come and thoughts will go, but thoughts that are not put into word or action will die—unborn."
Our minds are like the wide-screen TV in your home. You cannot choose what the broadcasters will play on a given channel at a given time, but you can choose what channels you are going to allow to play in your home. This is why we must take ownership of our minds, and win the battle over the "remote." Because whatever you allow to fill your mind will eventually show up in your life. Proverbs 4:23 says "Keep your heart [mind] with all diligence, for out of it spring the issues [experiences and events] of life." Show me your mind, and I'll show you your future. You cannot fill your mind with worldly thinking, ungodly entertainment, unclean language and images, negative news reports, and fear-filled imaginations, then expect your life to be filled with the blessings and promises of God.
Components of Your Mind
The Intellect (The mind's "library") –The intellect has the capacity to gain knowledge and use it in thought. It has the ability to learn and associate.
Imagination (The mind's "eye") –The imagination has the capacity to create possibilities and form new ideas with the mind, and to envision them internally. It has the ability to create pictures in the mind.
Memory (The mind's "flash drive") –The memory has the capacity to recall information, experiences, events, feelings, and thoughts experienced by the mind. It has the ability to remember.
Emotion (The mind's "voice") –The emotions have the capacity to experience inner passions in association with particular events, memories, experiences, or thoughts. It has the ability to feel. Emotions are the voice of our thoughts. Emotion "tells" us what and how we are thinking. Emotion may also arise in response to physical events occurring in the body—hormonal changes, illness, or various stressors.
Reason/Will (The mind's "judge") –he will has the capacity to consider information, make judgments between conflicting options, viewpoints, or courses of direction, and initiate action by the mind or body. It has the ability to choose.
You Are What You Think
"As he thinks in his heart, so is he" (Proverbs 23:7).
Whatever we allow to captivate our thought life will eventually control our lives. The life you are experiencing today is largely a result of your thought life yesterday. Look at Proverbs 4:23 again. The New Living Translation puts it this way, "Guard your heart above all else, for it determines the course of your life." Whatever we continually meditate upon will begin to program our reason, feelings, and will. Over time, we will subconsciously make choices to speak and act in ways that are consistent with the prevailing thoughts in our minds.
Simultaneously, our thoughts carry the force of attraction. As we develop patterns of thinking, we begin to draw into our lives experiences, events, people, and resources that resonate with our thought life. This phenomenon is so consistently observed that nearly all world religions, philosophies, and sociological observers confirm it.
The great news about this law of the mind is that if you don't like the condition of your life, you can change it. If you change your mind, you change your life.
Your Mind is Your Responsibility
As we have previously discussed, it is common today for people to speak as if they were not responsible for their thoughts, feelings, and actions. We are disempowering ourselves from making real change by denying our responsibility over our own minds. Our thoughts are our responsibility, and while we cannot stop every thought that arises, we alone will be held accountable for what we allow to engage our minds.
Take Responsibility for Your Thoughts and Feelings
The first step to renewing your mind is to take ownership of your own thought life. The truth is that we are powerless to change anything for which we refuse to accept responsibility. Becoming aware of what and how you think is an important first step to developing a new mind that reflects the plans and purposes of God. What are the limiting and defeating thoughts that you find yourself returning to repeatedly during the day? When you are left alone to your thoughts, what patterns of thinking do you find your mind drifting towards? Do you keep your life full of activity with little time to be alone because you are afraid of your own thoughts, feelings, and fears? These are all signs that in some way you have to regain control of your thought life. Begin by saying out loud the following confession by faith:
In the name of Jesus Christ, I take responsibility for my own mind. I take authority over my thoughts, feelings, meditations, and imagination. I own the thoughts and images I allow to play on the screen of my mind. Satan cannot force me to think, feel, or meditate on anything I refuse to permit. My mind is a gift from God and I choose to fill it with thoughts that will draw me into the life God has planned.
Evaluate Your Thought Life by Examining Your Feelings
Feelings come from thinking. One of the best ways to evaluate the condition of your mind is to keep a journal of the negative and fearful things that enter your mind during the day. Just write words or phrases that reflect any thoughts or feelings that naturally come to your mind. Writing these things down gets them out of your mind and onto paper where you can evaluate them. One or two days should be enough. You will probably be amazed at how many times your mind drifts in the direction of fear, anger, lust, pride, jealousy, and self-condemnation. This is the natural state of the human mind that has not been renewed in Christ. Don't allow this exercise to discourage you.
Once you have a couple of days of thoughts recorded, look at each thought or fear and ask yourself how you could think differently about the situation. Ask, "Is this thought valid? Is it worth yielding control of my mind to think like that? What are other ways I could view this? Is thinking about this changing anything for the better? What would happen if I replaced this thought or image with something hopeful and positive?"
Then make a quick list of three to five positive things that you want in your life, and how you could think about them. Ask yourself, "What if I spent this time thinking about these things instead?" This exercise works because it gives you self-awareness and empowers you to take control over what you allow into the theater of your mind.
The Process of Reprogramming
The modern computer is a marvel of human progress. Yet in almost every way, the computer was conceived, designed, and produced as a replica of the human mind. Consider this: a computer has three basic elements—a screen, a CPU (central processing unit) and an operator (programmer). For the purpose of this illustration, consider these three components as metaphors for your own spirit, soul, and body. The screen is your natural or physical life. The operator is the spirit. The CPU represents the human soul or mind.
Before we knew Christ, we were using an old operating system. Because we were lost, we programmed all kinds of wrong things into the CPU—bad language, bad behavior, bad "short- cuts," and had some really bad "web-surfing" habits as well. This filled our CPU with ungodly material. Then, one day, we became born again. On that day the operator or programmer changed. A brand new righteous and spiritually alive operator was placed behind the same old computer and told to produce new images and results on the screen. However, because the CPU had already been programmed and operated by the person that used to sit there, it still produces those bad images. When you try to "surf the web" of your mind, the old habits, bookmarks, and historical data of the former user keep popping up. The old programs are still running behind the scenes even though new applications or thoughts are installed. Viruses and spyware from the world continuously try to enter and corrupt our new applications. Sometimes, the whole system crashes, and we fall back into our old patterns of thinking, speaking, and behaving. Thankfully, God has given us a special "recovery system" that will always restart and restore our minds—prayer, confession of sin, and faith in God's Word.
The only way to consistently change what is displayed on the screen of our lives is to reprogram our minds! Old files have to be meticulously found, deleted, and replaced with new data. For a while, as you look at the results on the screen, you may be tempted to think that nothing has changed. But if you will stick with the process, delete the old, and replace it with the new and good information, eventually the screen will display what the programmer desires. You will begin to see the reflection of Jesus in you.
This is really a large part of living the transformed life. We must devote ourselves to the task of deleting the old programmer's files, applications, and history, while simultaneously replacing them with new files and applications that reflect our new life in Christ. Just because your screen keeps displaying old programs, doesn't mean you have not changed. It just means you have to renew your CPU—your mind.
If your thoughts are fixed on God, His Word, and you trust Him with your problems, you will have real inner peace.
The Law of Exchange
God's Word does not just tell us what we shouldn't think about. Renewing your mind is not emptying your mind and using your willpower to keep wrong thoughts out. That is a nearly impossible task. The biblical concept of renewing your mind involves a spiritual principle that we will call the law of exchange. The law of exchange teaches that life operates on a constant stream of "trades" or exchanges. You must trade something you have in order to get something else. A student trades his time, attention, finances, and efforts to a college in exchange for knowledge that will help the student achieve his or her goals in life and a diploma that corroborates that he has completed the outlined degree. A single man trades his bachelorhood in exchange for a committed relationship with his wife in order to experience the joys of marriage and family. We all make decisions every day to trade our thinking, our time, our energies, and our attention to places, people, and things. Those decisions are producing the life that you are currently living.
The life that you are living today is largely the result of the trading choices you have made in the past about your time, talents, diet, money, words, friends, and thoughts. If you don't like the results—in other words, if you want to change some part of your current life—you are going to have to make some different trades. This may seem too simple, but the key to changing your life really isn't any more complicated than making the right exchanges. When you became born again, you exchanged the old, negative, sinful condition of your heart for a new heart that is softened by the grace, love, and life of Jesus Christ. Renewing the mind is God's way of extending the life of Jesus into every area of your life and relationships.
Developing New Mindsets
"If then you were raised with Christ, seek those things which are above, where Christ is, sitting at the right hand of God. Set your mind on things above, not on things on the earth" (Colossians 3:1-2).
"For those who live according to the flesh set their minds on the things of the flesh, but those who live according to the Spirit, [set their minds on] the things of the Spirit" (Romans 8:5).
In these verses, the Apostle Paul tells us to exchange our earthly way of thinking for Christ- centered thinking. He says we must "set our minds." Mindsets are more than just fleeting thoughts or ideas. A mindset is a deeply entrenched pattern of thinking that develops over time. They result from repeatedly thinking about something in a particular way until that perspective becomes second nature to us.
Mindsets are hard to change. This is a good thing if our mindsets are positive, helpful, and based on the Word of God. A godly mindset affords great peace and strength. In order to change wrong mindsets, we need to exchange our old thoughts for new ones. We must feed our hearts and minds on the truth of God's Word and keep those right images in our minds until they replace our old mindsets. Paul goes on to instruct the believer what kinds of "negative" or worldly thoughts and behaviors we need to "put off," and what new thoughts and actions we need to "put on":
"But now you yourselves are to put off all these: anger, wrath, malice, blasphemy, filthy language out of your mouth. Do not lie to one another, since you have put off the old man with his deeds, and have put on the new man who is renewed in knowledge according to the image of Him who created him…Therefore, as the elect of God, holy and beloved, put on tender mercies, kindness, humility, meekness, longsuffering…But above all these things put on love, which is the bond of perfection. And let the peace of God rule in your hearts, to which also you were called in one body; and be thankful. Let the word of Christ dwell in you richly in all wisdom, teaching and admonishing one another in psalms and hymns and spiritual songs, singing with grace in your hearts to the Lord" (Colossians 3:8-10, 12, 14-16).
The Power of Meditation
"Let the words of my mouth and the meditation of my heart be acceptable in Your sight, O LORD, my strength and my Redeemer" (Psalm 19:145.
"This Book of the Law shall not depart from your mouth, but you shall meditate in it day and night, that you may observe to do according to all that is written in it. For then you will make your way prosperous, and then you will have good success" (Joshua 1:8).
"My eyes are awake through the night watches, that I may meditate on Your word" (Psalm 119:148).
Believe it or not, the Bible teaches us to meditate. But the practice of biblical meditation is nothing like the meditation taught by the gurus and religions of the Far East. In those religions, one is taught that meditation is the emptying of the mind. The Bible never tells us to empty our minds! Instead we are to fill them with His Word. Biblical meditation is the practice of focusing our minds on Jesus Christ, the wonderful promises He has made to us, and the teachings of the Bible. Where most non-Christian philosophies teach that meditation is a skill that takes years to master, the simple truth is that mediation is a practice that each of us already does every day of our lives.
Heart "Sounds"
Mediation is simply the practice of focused thinking. It comes from several Hebrew root words. In Psalm 19:14, the word meditate comes from the word hig·gä·yon, which means to repeatedly strike the string of a harp so as to make a lasting sound. It is used in these other passages:
"Upon an instrument of ten strings, and upon the psaltery; upon the harp with a solemn sound" (Psalm 92:3 KJV). (See also Psalm 9:16.)
The word translated heart in Psalm 19:14 is leb. It is the Hebrew word for the core of one's soul, thought, imagination, and memory. These two words form a powerful image of what happens when we focus our innermost thoughts on a particular idea or thing. David was actually praying that the sounds of his mind would be acceptable in the sight of God.
When we think about anything for an extended period of time, we create a "sound" in our minds. This sound has a way of dominating our perspective of life, eventually making us sensitive to things that have the same "tone." Positive or negative, right or wrong, blessing or cursing, the focus of our meditations will begin to attract people, circumstances, and feelings that are tuned to that same pitch. And whatever we meditate on long enough will begin to control our thinking, impact the direction of our choices, and become our experience. Whatever we think about over time, we begin to attract. Our minds begin to draw associations and reinforce beliefs that cause us to fixate on the things we think. This is why it is so important to develop the right meditations. Whatever fills your mind will eventually fill your life!
As previously stated, each of us meditates every day. In our spare moments, while driving to work, or silently waiting in line, our minds drift towards the dominant patterns of thinking we have established. These are not empty thoughts! These meditations of our hearts are powerfully impacting the way we experience life and they are putting forth their particular sound—either attracting or repelling us from the promises of God. One of the best ways to see how we use the power of our minds to meditate every day is by looking at the things we worry about.
Defeating the Worry Habit
The Bible has a lot to say about the negative impact of worry in our lives. Worry is the practice of meditation in the negative realm. Note what Jesus and Paul taught about the worry habit:
"Therefore I say to you, do not worry about your life" (Matthew 6:25). "Therefore do not worry, saying, 'What shall we eat?' or 'What shall we drink?'or 'What shall we wear?'" (Matthew 6:31).
"Therefore do not worry about tomorrow, for tomorrow will worry about its own things. Sufficient for the day is its own trouble" (Matthew 6:34).
Worrying is imagining the future in a negative way. We don't worry about things that have already happened—only things that we fear might happen. Worry pictures the bills going unpaid, the promotion at work passing us by, or the pain in our chest becoming a heart attack. When we worry, we yield the power of our minds to imagine the worst outcome possible in every situation. Worry destroys faith. We become focused on our fears instead of God's plans and the possibilities He offers for our lives. Worry keeps us trapped in fear and avoidance. It never solves or resolves anything! This is why the Bible tells us to exchange our worried imaginations with targeted prayer requests. Instead of letting our fears and problems marinate in our minds, we are to take action by bringing them to God in prayer. Only God has the power to change our circumstances. When we pray, God comes to our aid. He exchanges our fear and worry for His peace in our minds, and our weakness in the face of our trouble transforms into a strong and renewed faith in our hearts in God's sovereign plan for us.
For example, instead of worrying about an upcoming bill or a negative medical report, turn the problem into an opportunity to exercise your faith through prayer. God already knows the problem so make this a time in which you can speak His Word over your situation. As you do, ask God for wisdom, help, direction, or healing. Add a generous amount of heartfelt thanksgiving and your prayer will release the power of the Holy Spirit over your situation. Your faith has dislodged your fear. This very practical technique is a powerful way to break the negative thinking patterns that keep us locked in fear and keep us from changing. Paul gives us a powerful cure for the worry habit. He tells us to use the power of our minds to switch our focus from fearing the worst to expecting God's answer!
"Don't worry about anything; instead, pray about everything. Tell God what you need, and thank him for all he has done. Then you will experience God's peace, which exceeds anything we can understand. His peace will guard your hearts and minds as you live in Christ Jesus" (Philippians 4:6-7 NLT).
The result of right thinking will always bring about God's perfect peace. In fact, one way to know whether or not your thought life is moving in the right direction is by checking your peace level. If your thoughts are fixed on God, His Word, and you trust Him with your problems, you will have real inner peace. This peace is not the result of everything in your life being perfect, or all your circumstances going well. It comes from relying on the Lord in your mind. In fact, this peace will stay the same, regardless of your circumstances. The Prophet Isaiah said,
"You will guard him and keep him in perfect and constant peace whose mind [both its inclination and its character] is stayed on You, because he commits himself to You, leans on You, and hopes confidently in You"(Isaiah 26:3 AMP).
A Diet for Your Mind
In the same way that your body takes on the character of the food you feed it, your mind and emotional health take on the character of the thoughts you feed them. It is vitally important that we are given a specific diet of God's Word for our minds. This diet may take some getting used to. It might be difficult to restrict your intake of mental junk food, unhealthy images, and high-calorie negativity at first. But if you will focus on the items on this list, and feed your mind with thoughts, images, and friendships that reinforce them, you can truly develop a fit and healthy mind. Here's the list:
"And now, dear brothers and sisters, one final thing. Fix your thoughts on what is true, and honorable, and right, and pure, and lovely, and admirable. Think about things that are excellent and worthy of praise. Keep putting into practice all you learned and received from me—everything you heard from me and saw me doing. Then the God of peace will be with you" (Philippians 4:8 NLT).
Paul gives us eight categories of mind food on which to fix our thoughts. Everything we are tempted to think about needs to go through the filter of these eight categories. If the thoughts don't pass the test, reject them and replace them with thoughts that do qualify!
Paul's Mind Diet:
Truthful Things. Our minds need to be rooted in truth, or real facts. We need to test our thoughts to be sure they are accurate and grounded in Scripture. The opposite of truth is lies, deception, and fantasy.
Honorable Things. This means our thoughts need to respect God, others, and ourselves. We need to think honorably towards our spouses, children, parents, pastors, and employers.
Right or Righteous Things. Our minds need to feed on things that reflect righteousness, justice, and the kingdom of God.
Pure Things. We should allow no unclean or morally polluted things, including those that are sexually impure, to taint our minds.
Lovely Things. We need to feed on beautiful sights, sounds, and relationships. If something is ugly or unattractive to our flesh, we need to avoid it in our minds.
Admirable Things. To admire something or someone is to feel inspired by them. We need to find people and things that inspire admiration within us and focus our attention on them. We are drawn to what we admire—good or bad.
Excellent Things. Our minds need a quality diet. Excellence means beyond mediocre or average. We need to read books, associate with people, and be in environments that challenge us to rise above the status quo and reach our potential.
Praiseworthy Things. One way to defeat dark thinking habits is to focus on things for which you can thank and praise God. If your mind is drifting towards the negatives in your life, immediately imagine one thing for which you can sincerely thank and praise God. It can be ANYTHING. Begin to verbalize to God your praise and thanks, while allowing yourself to feel grateful. This one action alone has a powerful effect in resetting the mind, and breaking negative thinking cycles.
Developing the Mind of Christ
"And we have received God's Spirit (not the world's spirit), so we can know the wonderful things God has freely given us….But we understand these things, for we have the mind of Christ" (1 Corinthians 2:12, 16 NLT).
The Holy Spirit lives inside every believer to help them in the process of renewing their minds. Having the mind of Christ within us refers to the ongoing process of the Holy Spirit revealing the thoughts and plans of God to our hearts and minds. Jesus taught that the Holy Spirit would be our Helper. One of the primary ways He helps us is in revealing the mind or thinking of Christ to us.
"When the Spirit of truth comes, he will guide you into all truth. He will not speak on his own but will tell you what he has heard. He will tell you about the future. He will bring me glory by telling you whatever he receives from me" (John 16:13 NLT).
Each believer can rely on the inner presence of the Holy Spirit to guide them. He lives inside us to tell us what Jesus and the Father want us to know. The primary way He speaks to us is through the Scriptures. We can ask Him to help us to understand God and His Word.
"Open my eyes, that I may see wondrous things from Your law [Word]" (Psalm 119:18).
Feeding on the Word
By far, the most important tool we have to renew our minds is the Word of God. The Bible is filled with God's thoughts and ways (Isaiah 55:8-11). It has the power to heal our toxic thinking and deliver our minds from destructive patterns of believing and feeling.
If we will change our minds, we can change our lives. If we can change our lives, God can change our world through us!
"Humbly accept the word God has planted in your hearts, for it has the power to save [heal and deliver] your souls [minds]" (James 1:21 NLT).
God's Word is a mirror of how God sees us in Christ. The New Testament letters written to the churches are filled with powerful images of what God has done for the believer in Jesus Christ. It describes over and over what we have become "in Christ." It tells us who we are in Christ, and reveals our true identity. The more we look into the mirror of God's Word, the more we will see ourselves as God really sees us—new creatures in Christ Jesus (2 Corinthians 5:17).
When we look at ourselves in a natural mirror, we see only our physical selves. We notice the imperfections, the mistakes, the realities we wish to change. But God's Word gives us the real picture of our true selves. As believers in Jesus, we have been made in God's image, and possess the love, peace, and wisdom of God. In our spirits we have been given His divine nature—the very life of God! He has made us to be more than conquerors, and given us authority over all the power of the enemy. This image is the one God longs for us to capture in our minds. He wants us to know in our heads what He has already made us to be in our hearts!
Ways to Feed on God's Word
Jesus said, "Man does not live by bread alone, but by every word that comes from the mouth of God" (Matthew 4:4). Just as our bodies feed on natural bread to gain strength and nourishment, our spirits and souls need to feed on the spiritual food of God's Word. The Bible teaches that there are numerous ways to feed on God's Word, and each one is essential for our development as believers.
The Teaching of the Local Church
The first way we receive God's Word is by regularly listening to it taught in the local church. The earliest Christians could only feed on God's Word in this manner. It was centuries before full copies of the Bible could be found in most churches, and many centuries later before it was printed in smaller copies and available to everyone. God designed us to gather with other believers every week in local churches so we could be taught the word of God under the leadership of His anointed preachers and teachers and allow His spiritual gifts to minister through us to the rest of the body. The local church pastor's primary responsibility is to feed the flock a balanced diet of God's Word. Notice in these passages that the pastors of God's church are responsible to teach God's people.
"Remember your leaders who taught you the word of God. Think of all the good that has come from their lives, and follow the example of their faith" (Hebrews 13:7 NLT).
"So guard yourselves and God's people. Feed and shepherd God's flock— his church, purchased with his own blood—over which the Holy Spirit has appointed you as elders" (Acts 20:28 NLT).
Personal Bible Reading and Group Study
Secondly, every believer should seek to study the Bible and good biblical teaching materials. This can be done individually or in groups. When we read and study the Bible by ourselves, we allow the Holy Spirit to speak through the Scripture into our lives using the stories, lessons, and teachings to help us think correctly. By joining a Bible study that is provided under the direction of the local church, we learn God's word in an accelerated way. Often believers help one another to grow by learning from the insights that others are receiving from God's Word.
Memorizing Scripture
One of the most powerful ways to feed on God's Word is to spend time committing helpful Bible verses to memory. This may sound difficult, but the fact is the average person has already memorized thousands of lines and verses to songs, movies, and popular media. Memorizing the Bible may take a little discipline and focus, but there is not a song in the world that will benefit you more than God's Word. Psalm 119 is the longest chapter in the Bible and every verse is a celebration of the power of God's Word in the believer's heart and life. It teaches us to commit God's Word to memory. Take note to these selected verses:
"I have hidden your word in my heart, that I might not sin against you….I will study your commandments and reflect on your ways. I will delight in your decrees and not forget [memorize] your word….I will never forget your commandments, for by them you give me life….Oh, how I love your instructions! I think about them all day long….Your laws are my treasure; they are my heart's delight….I have wandered away like a lost sheep; come and find me, for I have not forgotten your commands" (Psalm 119:11, 15-16, 93, 97, 111, 176 NLT).
Bible Teaching Materials, Conferences, and Media
There are many excellent resources for learning God's Word and enhancing your development available today. Look for books, e-books, podcasts, digital downloads, videos, and other media that focus on Bible teaching by reputable ministers who support learning that agrees with what you are experiencing and learning in your local church. Remember that supplemental teaching should always encourage you to be faithful to God and your local church. Any teaching that inspires division among fellow believers, or pulls you away from living your Christian life outside of a healthy local church community, is contrary to God's purpose for you and should be viewed with caution.
Healing Your Memories
One of the most important aspects of renewing your mind involves the healing of your past. Memory is a powerful component of the human mind, and has an enormous impact on the way we think and feel about our lives and our future. Because we live in a world that is filled with pain and brokenness, all of us grow up with experiences that scar our memories. Whether it is love and affirmation we failed to receive, or rejection and abuse we did not deserve, each of us develops thinking patterns that grow like scar tissue around these unhealed wounds. Often it is many years later—after we have reached physical adulthood—before we begin to face our painful memories and realize how they have impacted our thoughts, feelings, and decisions. In Psalm 23:1, 3, David said, "The LORD is my shepherd; I shall not want….He restores my soul."
As a born-again believer in Jesus, your spirit has been made new. The soul however contains these unhealed hurts, and patterns of thinking and feeling that are contrary to the love, joy, and peace that God has placed in your spirit. By following Christ and serving others in the local church, we begin a journey that, over time, will bring many of these wounds, and past hurts to the surface. When this occurs, God's desire is to heal the soul and give us a new way to think about our past as well as our future.
Getting Unstuck
Sometimes we seem to stagnate in our spiritual growth. Our minds get locked into patterns of thinking and feeling that prevent us from moving forward. When this is the case, it is important to take the time to examine our thoughts and feelings. Often the real reason we are "stuck" is because God is wanting us to examine old patterns of thinking we picked up in our past that are hindering us.
The Importance of New Relationships
Building healthy relationships with other believers is an important part of growing up spiritually and renewing our minds. When we move in new directions, we need people who are traveling with us. Often this requires us to lay aside the relationships that tie us to our past ways of thinking. If you want to get to California, you can't stay on a bus that's going to Boston. God uses people who are heading in the direction of our purpose and destiny to help us arrive at the right places in life. When believers really care for each other, share their hearts and hurts with each other, and take the time to encourage and pray for each other, an environment for growth is created in our lives.
Christian Counseling
Sometimes our minds and feelings become so troublesome that we need help to heal. God works through His Word, His Spirit, His church, and through other people to help us grow. Trained professional ministers, counselors, and doctors have spent their lives learning how to help people heal in their minds and emotions. Sometimes part of God's plan for our growth includes time with wise and well-trained mature people who have been called to this type of ministry. If you, your family, or your spiritual leaders feel that you may need this kind of help, try to locate someone who has a Christian-based worldview.
When the Brain is Sick
The brain is the organ that contains the human soul and mind. Just like any other part of the body, it can become run down, over-stressed, imbalanced, or physically sick. But unlike most other parts of our bodies, when our brains become imbalanced or sick, we often don't realize it. The brain is a wonderfully complex network of chemical, hormonal, and electrical signals that can fall out of balance. When this occurs, it manifests in ways we don't often associate with brain health. Our thinking can become confused, our emotions depressed, our sleep patterns disturbed, or our weight can rise or fall. It can become difficult to think clearly and control our impulses.
When the brain is weak or sick due to stress, trauma, hormonal imbalance, or other imbalances, we need to give ourselves permission to find the help we need to heal. Once, when God's prophet Elijah had finished a very intense time of ministry, he became vulnerable to the threats of his enemies. Elijah was so weary, he lost his capacity to think and feel well. The Bible says he ran away and hid himself inside a cave on a mountain, eventually praying to die. But along the way, the Lord let him rest, had angels prepare food to restore him, and eventually helped him out of his depression by sending a personal assistant to help Elijah carry the load. This shows the great mercy of God for His people when they fall into places of exhaustion and toxic thinking.
In the fourth chapter of Jonah, we see that God's prophet became depressed and fixated on negative thinking. Things didn't work out the way he wanted, and he actually prayed for God to kill him. Instead, we find that God taught the prophet a valuable lesson by gently correcting his perspective. God shifted his thinking so Jonah could change how he was feeling!
Sometimes, part of healing the brain may involve changes in diet, sleep, stress levels, and even medication. A believer should not feel condemned if, in the process of renewing their minds, they discover that part of God's plan for their healing includes counseling or medical treatment. The most important thing is that we do whatever it takes to have healthy brains, healthy minds, and healed memories and emotions.
The renewing of the mind is the single most important factor in living the transformed life. If we will change our minds, we can change our lives. If we can change our lives, God can change our world through us!
John Carter is the senior pastor of Abundant Life Christian Center, a culturally diverse church located in Syracuse, NY. He is the founder and president of Mercy Works, a charitable organization that creatively meets the practical needs in distressed urban communities. John and his wife, Lisa have three sons—Jordan, Joshua and Caleb.
This article is an excerpt adapted from The Transformed Life, by John R Carter. The Transformed Life is powerful discipleship tool that is designed to help believers experience personal transformation through a dynamic relationship with Jesus and the local church. The Transformed Life is now available for purchase through Amazon, Barnes and Noble, and Transformedlifenow.com.